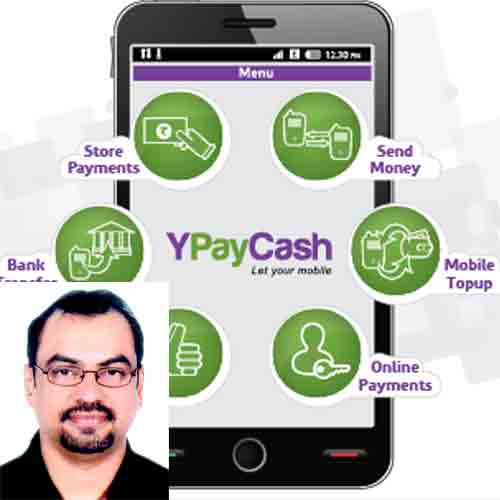 YPAYCASH: The new RBI approved wallet has forayed into Indian markets and plans to go global too. Now, you can forget carrying handy cash and fearing loss or theft as YPAYCASH will hold upto Rs 50,000 in an e-wallet for you.
But as every new electronic mode of cash payment system faces suspicion and has consumers running errands to figure out functionality, Vishal Manve spoke to Ravi Jagannathan, MD & CEO of YPAYCASH about the new system:
Q. What is YPAYCASH system? Please explain a bit about the e-wallet.
YPAYCASH was founded in 2011 by Y-Cash Software Solutions Pvt Ltd and aims to provide services using mobile technology. It is focused on the Mobile Payments space, as a RBI Authorized Mobile Pre-Paid Wallet issuer. Y-Cash has introduced a number of innovations in the Mobile Payment Space including a first of its kind QR code based mobile POS devices. It has different levels of security and will allow users to utilise e-transactions without carrying cash at the click of a smartphone button.
Q. What is difference between YPAYCASH insta and YPAYCASH Maxima?
There are two types of wallets that we provide on the basis of credentials provided and minimum cash limit. YPAYCASH falls under Reserve bank of India's Payment and settlement system act. YPAYCASH Insta has a maximum cash limit of Rs 10,000 and there are lot of restrictions in usage.
YPAYCASH Maxima has a maximum cash limit of Rs 50,000 and users can keep the cash stored in the account without any worry. But, to get a Maxima account, all KYIC documents need to submitted via postage to us. The whole process works just like the banking system.
Q. What kind of growth and market penetration are you looking at in India?
India is a cash driven economy and people carry cash for forms of transaction including shopping, retail purchases etc. Even the debit and credit card system penetration is very slow in India as people prefer using cash. Hence, we are targetting both Tier 2, Tier 3 cities and towns where internet and smartphone penetration is growing strong.
We plan to create at least 2 million point of sale system and grow to accommodate the need for electronic payment system. In future, E-wallet system which differs from crypto currency will gain ground and will be used extensively.
Q. How can people download the e-wallet system of YPAYCASH?
Our app is available on Andriod, IOS, Blackberry, Nokia, Java at no purchasing charges. While installing, basic details such as name, date of birth and other details need to be submitted and the wallet is registered on your number.
Q. People are worried about security concerns that crop up with usage of electronic fund transfer. How do you plan to deal with it and make secure payment connections possible?
We have a minimum and maximum limit for holding cash in the wallet. Besides, average customers have an amount of Rs 3,000-4,000 only. Plus, we register you on the basis of your mobile number which becomes your identity pin. We have a complete control of security measures. We have multiple levels of security and PIN is generated for every transaction as we monitor activity with our servers. If there is anything suspicious, then we don't allow transactions till the user makes a request for it.
Q. What about security in case of mobile swapping or lost phones?
Whenever an user switches his phone, he can delete all the old data and re-register again on a new phone. All the information will be back with the same number. In case of theft, the user can call and inform us. We will take necessary action and prevent any transactions.
Q. Are you planning to expand outside India?
Right now, our target is to expand our user base in India. We are targetting metros, Tier 2 and Tier 3 cities. As per the RBI guide-lines, we are not permitted for cross-border transactions but we may think about it in future.
Q. Did RBI approval help YPAYCASH in gaining credence among customers?
Obviously it did as RBI is the largest federal agency in India that controls monetary transactions and policy-building.
The validation helped us to gain credence and consumer confidence is high. We are talking about real money here and not crypto-currency and hence approval was a must.
Q. How will you get customers and retailers to use your system? How is the ground situation right now?
We have created a high-tech ecosystem and all the equipment and logistics are in place. It is a highly secure engine providing real time security. Our main target now is dissemination of information about YPAYCASH. We have around 3000 retailers in Tamil Nadu who have agreed to use this payment method and it is growing on a daily basis. Our customer acquisition is organic and helps us in getting good traction. Our target is to attract at least half million users in six months.