By the end of this year, Practo is expecting to have 2 million visitors per month with 50% doctors using Practo Ray software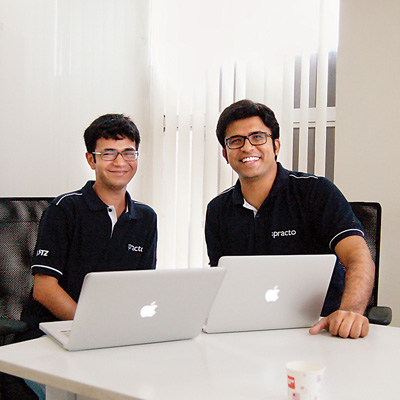 Next time when you go to a clinic or hospital, you may not be asked to provide your details by filing a form. Instead, you may be asked to do it on a tab that would record all your data as well as your feedback.
Health care and much more comes at the click of the tab as doctors and hospitals across the country are getting wired using a special software. Bangalore-based Practo Technologies has recently launched a tab exclusively meant for doctors to simplify the bookings procedure and maintaining patients' data. The company is also planning to provide a free software to doctors to manage and schedule appointments from July 1.
"In June, we have launched the first exclusive tablet for doctors called Practo Tab. This tablet can be used by hospitals and clinics to maintain patients data. Instead of patients filing up forms, their data can be recorded on the tabs which the patients can also use to give their feedback. By July-end we hope to have 50+ customers using this tab. The hospital and clinic staff can use the tablet to do scheduling, patient record management," Shashank ND, CEO and co-founder of Practo.com, the e-service provider for patients to search and fix appointments with doctors online.
The company also offers a clinical management software called Practo Ray to doctors through which the doctors can manage patients, schedule appointments, manage patient records, make bills and manage inventory. While the registration charges for doctors using Practo Ray is Rs 1,000 per month, the same if used on the new Practo Tab would be Rs 3,000 per month. The price of the tab is Rs 20,000.
Launched in 2008, Practo Technologies initially launched the software Practo Ray to build up the database of doctors, clinics and hospitals. In late 2012, it launched the website Practo.com which currently gets 0.5 million visitors per month and has touched the lives of 25 lakh patients so far by booking appointments through its websites. Practo Ray, on the other hand, books over 75 lakh appointments a year and supports health records of 6 million patients.
"We are currently doing 30,000-35,000 appointments every month and this is seeing a rapid growth. Around 1 lakh doctors across the country are registered with us which we are expecting to increase by another 50,000 by the end of this year," said Shashank.
It also covers around 50,000 clinics and nearly 2,500 hospitals across the country. However, the company has a higher concentration of doctors, clinics and hospitals in six main cities such as Bangalore, Delhi, Mumbai, Hyderabad, Chennai and Pune, with these cities together dominating 80% of its total healthcare service provider database. Among some of the major hospitals who are registered with Practo are Fortis Hospital (Cunningham Road and Bannerghata Road in Bangalore), Narayana Hrudayalaya Institute of Neurosciences (Bomasandra in Bangalore), The Medicity Medhanta (Delhi), Apollo Hospital (Jayanagar and Bannerghata Road in Bangalore) among others.
Started by two engineers, Shashank and Abhinav Lal for a sum of Rs 10 lakh, Practo Technologies is expecting a revenue of Rs 20 crore by the end of this fiscal. Funded by venture capitalist Sequoia Capital with advisory support from Morpheus Venture Partners, the company is in talks with two more venture capitalists to raise funds. It is also looking at increasing its talent base, presently at about 300, to nearly 500 by the year-end.
While the company is seeing a steady rise in visitors and patient accounts, Shashank said, it is facing some challenges in terms of doctors using the software. At present only 10% of 1 lakh doctors are using Practo Ray, the software developed for doctors.
"This number we want to increase as it will help doctors to schedule appointments and also manage patient records. This will also enable patients to have access to their own records which they can use for opinion purposes, reimbursement purposes, etc. If more and more doctors opt for this software, they can ask their patients whether the latter wanted to access their medical history and records just by an email," Shashank said. By the end of this year, Practo is expecting to have 2 million visitors per month with 50% doctors using Practo Ray software.
To make it more accessible, Practo has decided to offer the software for free to doctors from July 1. "While we are not offering the entire software which has many other features for doctors to use, we have planned to offer the appointment booking system (ABS) for free to the doctors, where they can manage and schedule appointment bookings. This new software has been named Ray Express," he said. By the end of this year, Practo is also planning to launch a mobile application, through which the patients can access their health records.
The company has also recently launched its services in Singapore it covers 4,000 doctors with a total of 16,000 users. The company is currently evaluating opportunities in Southeast Asia and the Middle East.