Election results day is most promoted date by far in TV history, say experts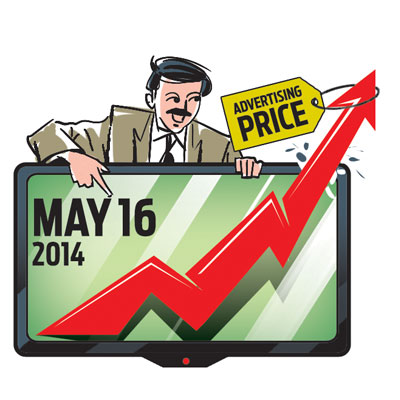 News channels on television are getting ready to vie with each other as the election results day draws closer. The made-for-TV general elections of 2014 are destined to see a huge spike in viewership and ad rates on May 16, when the election results are declared.
"More than 20 news channels will fight a fierce battle on the day. The results of this battle within the battle may have a long-lasting impact on our news television economy," says Shailesh Kapoor, television insights specialist and CEO of Ormax Media, adding that it has emerged as the most promoted date by far in the recent television history.
Live coverage of counting of votes and reporting from ground zero, along with interviews of top politicians will present an ultimate opportunity to them, say industry officials.
According to PrasanthKumar, managing partner, South Asia, Central Trading Group of GroupM, advertising demand for May 16 has been on the rise. "Advertisers have shown keen interest in election as a property with most taking 4-8-week sponsorship deals. For sponsors, about 10-15% of their campaign monies have been parked for the Results Day."
"Inventory on news channels is flexible and especially on a day when we feel there would be a lot of breaking news with results and numbers being declared, it would be difficult to put a fix on the bookings," added Kumar.
When asked whether her clients have chosen to advertise on news channels given the elections fever, Anita Nayyar, CEO of media services conglomerate Havas Media Group, India and South Asia, said, "It is a once-in-five-years opportunity hence many of our clients are taking advantage of the same. This is a captive audience for brands like auto and liquor, whichtypically target the male audience and has not been a deterrent."
This time each party has been extremely aggressive in its marketing, says Nayyar. Eyeballs are expected to be on news. Even no IPL matches are scheduled for May 16 when cricket by itself is hot property in India. All channels -- regional, Hindi and English (in that order) -- will see a spike from their regular viewership.
And what kind of advertisers will make a beeline for news channels?
"Elections tend to see a concentration of advertisers focused towards male audiences so does news. However, given the general elections, the female viewership is also better than the normal viewing of news channels," says Nayyar.
—In arrangement with MxMIndia.com