Faced with unpaid bill of Rs 1 lakh crore, the new finance minister plans to detail policy priorities and guidelines in two to three days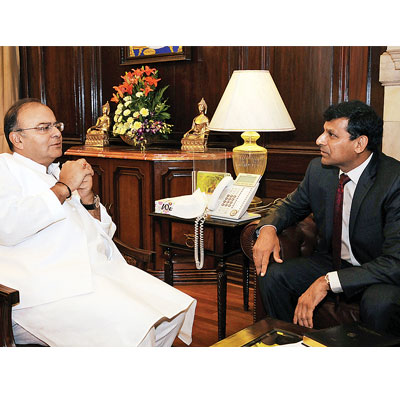 A grey Toyota Fortunner of new finance minister Arun Jaitley has replaced P Chidambaram's white Ford Fiesta outside the gate number two of the North Block – the colonial structure which houses the finance ministry at Raisina Hill.
Going by Jaitley's top priorities for the country's economy, the change of vehicles also points to sweeping changes that are about to follow in the finance ministry.
Jaitley – who assumed charge of the ministry along with additional charge of defence – has said a strict fiscal discipline, addressing the culture of default on payables, and adept handling of inflation are going to be the key guiding principles of his government.
To begin with, he plans to "undo all the wrongs that have been done by his predecessor on these fronts".
During a select media briefing after assuming office, Jaitley told dna, "The unpaid bills of the previous government is one of the key issues. We have to restore the pace of growth, contain inflation and obviously concentrate on the fiscal consolidation itself. A lot of balancing act has to be done. A detailed policy priorities and guidelines will be out in two to three days."
With the last financial year's payments carried forward to this fiscal, the new government has a liability worth almost Rs 1 lakh crore under various heads.
Former finance minister P Chidambaram carried forward last financial year's payables such as under-recoveries to oil marketing companies to this fiscal in an effort to somehow manage the fiscal deficit at 4.6% of the GDP. A senior finance ministry official told dna, "We would be looking at maintaining the fiscal deficit at 2.5%."
A sum of Rs 35,000 crore that was supposed to be billed last year itself was carried forward to this financial year. Another mega liability on Jaitley's shoulder is the Rs 50,000 crore to Rs 60,000 crore payable to the state governments in form of compensation for central sales tax cut, which the UPA II was not paying since 2010.
Asked which issue would he address first, Jaitley said, "I need some time to study the matter."
In the same breath he indicated that finance portfolio is high on his radar. "There is a lot of work here and I will devote more time here."
After taking charge, Jaitley held an hour-long meeting with the secretaries of all the finance ministry departments, after which he met Reserve Bank of India governor Raghuram Rajan. He is believed to have stressed on balancing growth and high inflation. The meeting lasted for 50 minutes.