Sets July 24 deadline for six pharma firms to submit pricing data of their cancer drugs, pulls them up for dithering to furnish pricing data
The National Pharmaceutical Pricing Authority (NPPA) is moving fast on reducing prices of cancer drugs. It has pulled up six pharma companies, including Ranbaxy, Biocon, Cipla and Pfizer, for not providing pricing data of cancer drugs sold by them.
NPPA required the data on cancer drugs, such as Cyclophosphamide 200 mg tablet manufactured by Biochem Pharmaceuticals and Drugs Dropship (under brands Cycloxan and Endoxan, respectively), Cyclosporine 10mg capsules made by Biocon, Ranbaxy and Cipla, Mercaptopurine 100mg/ml injection manufactured by Cipla and on Pfizer's folinic acid 3mg/ml injection (sold as Refolinon injection), to fix the ceiling prices on them under the National List of Essential Medicines (NELM-2011), as per the Drug Pricing Control Order (DPCO) 2013.
In separate reminder letters issued to these pharma companies, NPPA had asked them to provide data/ information in respect of moving annual turnover (MAT) value and price to retailer (PTR) of the drugs as on May 2012, and PTR (including excise duty excluding VAT) for the products under reference.
"It is regretted that the requisite data has not been furnished by your company even after considerable time. The submission of data/information as called for by this office is mandatorily required under the provisions of the DPCO 2013," NPPA said in its reminder letters. The authority has asked the companies to expedite and furnish the details of PTR and MAT value for May 2012 by July 24.
A Biocon spokesperson said, "We will be reporting results on July 24 (Thursday), so we are currently in the mandatory 'silent period'. We are thus unable to respond to the queries immediately."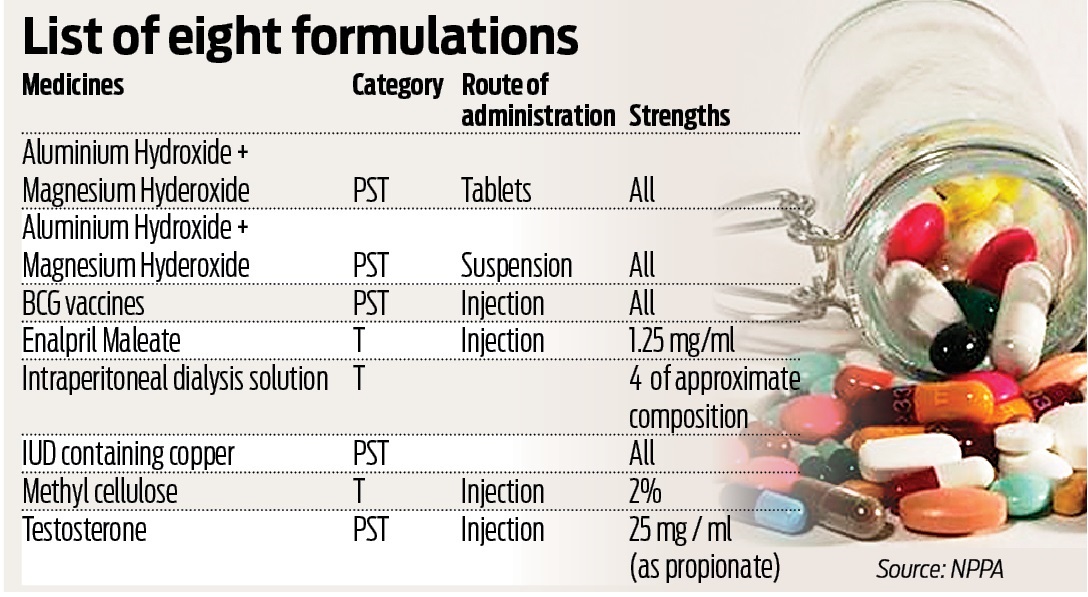 Queries sent to three others -- Cipla, Ranbaxy and Pfizer – did not elicit any response. NPPA will also fix the prices of eight formulations under provisions of DPCO 2013, where strength was earlier not indicated/ clear in the NLEM 2011.
"In respect of price fixation of eight formulations under provisions of DPCO 2013, where data relating to strength is not indicated/ clear with NPPA, all the concerned manufacturers/ marketing companies are requested to furnish the PTR and MAT in value terms for the month of May, 2012 within seven days positively from the issue of this office memorandum for taking further action in price fixation under Para 4 or 6 of DPCO 2013," NPPA said in its website.
If the information are not provided within the stipulated period, appropriate action would be taken under provisions of DPCO 2013 with the EC Act, 1955 for non-compliance/furnishing of data/information, it said. The notification was put by NPPA on July 15 on its website.
According to market expectations, more drugs are likely to come under the price control. The NPPA has recently brought 108 more formulations, outside the existing 652 formulations under NLEM, under the price control, with an aim to make anti-diabetic and cardiac drugs affordable for the masses.
"With this list the total market of cardiac molecules under price control including the earlier released stands at about 58% and anti-diabetic market at about 21%. Similar price cuts are also expected soon in six other therapeutic categories, including anti-cancer drugs, anti-retrovirals, vaccines and medicines used in treatment of asthma, tuberculosis and malaria," said a report by ICICI Direct.
According to Ranjit Kapadia, senior VP – pharma, Centrum Broking, NPPA is expected to announce price reduction for other therapeutic categories including cancer, Aids, tuberculosis, malaria, asthama and vaccines to make the drugs more affordable to masses.
"We expect increase in volume for these products to partly offset the price reduction by NPPA," he said.