Is India's best-known IT firm coming apart?
Eight exits from the Infosys's famed Executive Council in six months, the latest one being that of V Balakrishnan (Bala) on Friday, might provoke such a question, given speculation that all is not well at Infy and that Narayana Murthy's return as chairman in June, coupled with the induction of his son at the helm, has not pleased everyone.
But, all key financials (see box) seem to suggest that an unfettered Murthy has taken the bull (pun unintended) of creeping ineptitude by its horns, albeit quietly, determinedly, and, managed to tame the beast of competition from upstarts and start-ups.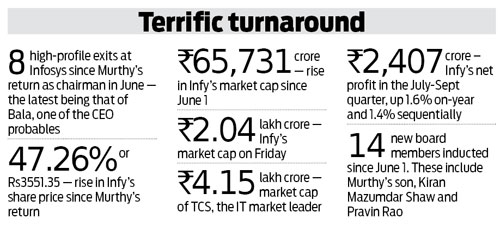 In Bala, Infosys has lost a 22-year veteran — he was BPO head, chairman of Infosys Lodestone, ex-CFO and member of the parent company's board, and said to be the most probable successor to current CEO SD Shibulal. But there are signs that his exit may well have been part of what appears to be an ongoing larger, but subtle management shake-up by Murthy.
For, Murthy has also inducted 14 new board members, including a fellow billionaire, the iconic Kiran Mazumdar Shaw, CMD of Biocon Limited. That's not all. He has downsized Infy's R&D team, given a new focus to the Infosys 3.0 strategy (products, platforms and services), turned up the heat on faster client delivery and large deal wins — all to get even with competitors like TCS, Cognizant and HCLT who have been stealing a march over it of late.
High-profile executives' exits have made headlines alright, but so have Murthy-led Infy's two wage hikes, elevation of top performers, improved profit guidance for two consecutive quarters — a transformation from just two quarters ago when Infy said it would do away with quarterly guidance, given the tough market conditions prevailing then.
That's not all. On Friday, Infy's stock scaled lifetime high, narrowing the gap in market cap with leader TCS. Evidently, the plethora of recent 'buy' ratings on the stock by analysts has been well received by the investor community, experts said. More so because Murthy had promised to turn around Infy within three years of his return, that too with just a token take-home of Re1 for him and his son.
So, is Infy making history by way of a terrific turnaround?
An executive from a top software firm said, "With Murthy at the helm, there is no doubt who is the boss — it's either his way or the highway. And he is prepared to take tough business decisions to reform Infy."
Another former Infy insider, disagreed. "These senior management exits only point to unhappiness at the new changes. With their wings clipped, Infy veterans are leaving for leadership positions at rival IT firms. There's no scope for disagreements, no place for non-performers, but significant rewards for outperformers. There will be more senior level exits."
Bala and others of his ilk, the so-called "blue-eyed boy" of Murthy, deny any friction with Murthy. "I am leaving to set up a private equity fund" with former colleagues, "which is awaiting Sebi approval. I have no plans to join a rival IT firm," Bala said. For his part, Murthy said, "Bala has been an early adopter and a keen anchor-builder of Infosys. It is difficult to imagine Infosys without Bala's passion, commitment, and intellect."
The fact that Murthy is able to persuade people as illustrious as the recent leavers to join Infy in various roles is another sign that he is focused on infusing new energy into Infy, to help it regain its lost glory. Hear Mazumdar, a corporate legend in her own lifetime, on her induction as an independent director: "I am pleased to join... I have always admired Infosys as a pioneering organisation that has built an impressive global reputation. I am confident under Mr Murthy's strong leadership, the company will continue to deliver strong performance."
Mazumdar-Shaw's faith in Murthy is so immense that its weight will likely bury any persisting doubts, sparked by recent high-profile executive exits, if Infy is coming apart, said one IT industry observer.