Pamper consumers with extreme customisation; personal notes from fashion designers, freedom to design jewellery, home eye check-up before buying specs online... are on offer.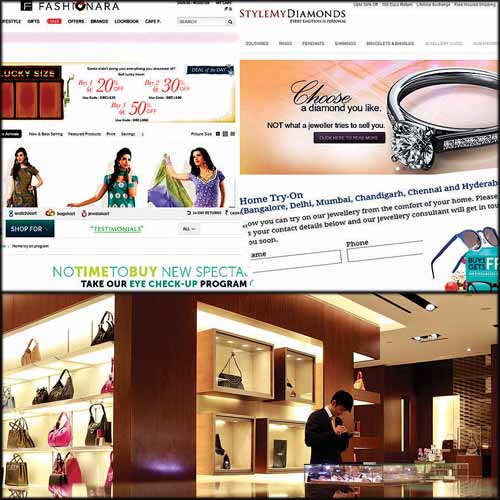 As global retail majors such as Tesco and Pavers (ready to) partake of the India market, existing e-commerce players are seeking to improve online sales by pampering buyers with extreme customisation.
The gap between virtual and brick-and-mortar retailers, it seems, is narrowing. The online push is driven by the fact that web-based retail sales in India were estimated by a Technopak survey to be $600 million in 2012. What's more, such sales are expected to grow manifold to touch a whopping $76 billion by 2021.
Which is why, online retailers are innovating to entrench themselves in a highly competitive market. Online purchases can now get you, the consumer, a personal message from a fashion designer; or, if you happen to be visiting stylemydiamonds.com or bluestone.com, you can design your own jewellery. Elsewhere, you can even choose what you want to display on your Facebook or eBay home page.
On several retail websites, you can now order and try different sizes in case you are not sure about the fit. This makes the return/exchange process instant and seamless, encouraging consumers to shop online, say e-retailers.
That's not all. Web-based retailers have started offering different size charts for a dress. Arun Sirdeshmukh of Fashionara, an online premium fashion retailer, says the idea is to take the trial room to the buyer's house and make online buying easier.
Lenskart.com, an online eyewear retailer, says that just offering goods for sale is not going to be enough these days. So, it offers personalised services. Like, before buying spectacles, you can schedule a home eye check-up for an additional fee of `100. "Offline competitors offer ophthalmologist services. So, in order to bridge the gap, we have also started offering similar services," said Peyush Bansal of Lenskart. The service, he said, has caused an uptick in demand.
Sirdeshmukh agrees that personalised services are a big help, offline or online. "We have started offering services like free alterations in select cities. Besides, people like to show off, particularly to their friends, what they have bought. We enable such consumers to 'pin' or share such content on their Facebook page. Then, we have a live page that tells you what others are buying, just like a shop where you can see what's being bought/sold."
Similarly, online retailer eBay's India site allows you to create your own home page based on your likes. This, in turn, makes information and ads about relevant products pop up on your screen, saving time and making shopping convenient.
For its part, Stylista.com, an online seller of designer merchandise, slips in a small note from the designer concerned inside its packaging, explaining the collection, lending a highly personal dimension to a seemingly impersonal transaction.
Such highly personalised services are on offer only in a few metro; but, if the push for higher sales and customer loyalty pays off, they are likely to be scaled up sooner than later.