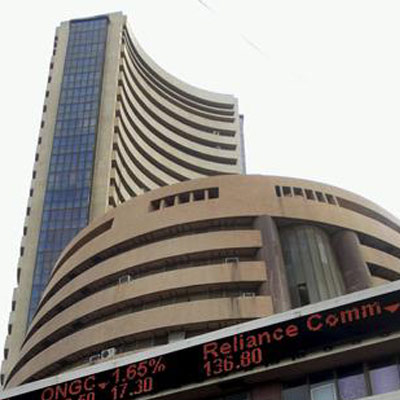 The BSE benchmark Sensex on Tuesday crossed the 24,000-point mark for the first time in its history, recording the third straight high.
At 24,068.94 points, it was the highest mark so far, surpassing the previous record of 23,573 points hit Monday as the exit polls showed the Bharatiya Janata Party and its allies closing in on a majority in the just-ended country's general elections.
The 30-scrip Sensitive Index (Sensex) of the S&P Bombay Stock Exchange (BSE), which crossed the 24,000 points in the morning session, opened Tuesday's trade at 23,729.78 points, and ended trade at 23,871.23 points, a record closing high (provisional), up 320.23 points or 1.36% from the previous day's close at 23,551 points.
The Sensex touched a high of 24,068.94 points and a low of 23,729.25 points intra-day.
The rally was led by the capital goods, oil and gas, information technology (IT), consumer durables and technology, entertainment and media (TECK) sectors.
The S&P BSE capital goods index gained 318.86 points, oil nad gas index surged by 302.34 points, IT index went up by 227.55 points, consumer durables index rose by 191.82 points, TECK index moved up by 109.78 points.
However, healthcare index fell 41.99 points.
The wider 50-scrip Nifty of the National Stock Exchange (NSE) too closed at a record high. It surged 155.45 points or 1.34% and closed at 7,108.40 points before climbing to an all time high of 7,172.35 points.
The prominent gainers were: Bharat Heavy Electricals, up 10.25% at Rs.218.80; Hero MotoCorp, up 5.39% at Rs.2,428.85; ONGC, up 3.81% at Rs.372.05, Tata Power, up 3.62% at Rs.84.55 and Wipro, up 3.36% at Rs.528.80.
The losers included Dr Reddy's Lab, down 3.99% at Rs.2,610.70; Tata Motors, down 0.94% at Rs.440.80; Hindalco Inds, down 0.84% at Rs.142.30; HDFC Bank, 0.63% at Rs.787; and Sun Pharma, 0.47% at Rs.610.20.