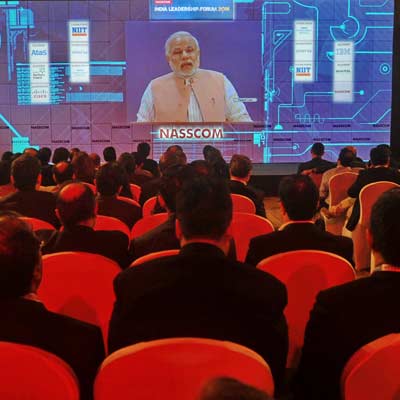 Investor sentiments were marginally up throughout the day and the markets have broken records on election rally. While BSE and NSE have been crossing benchmarks and setting records, even the 'satta bazaar' has been abuzz with high stakes on Narendra Modi followed with a small margin by Priyanka Gandhi Vadra and Rahul Gandhi.
Finally on the counting day, Sensex crossed 25,000 points thereby setting records on the back of confidence that a Narendra Modi led government will come to power at the Centre which was proven true as the counting tallies came.
Here's a look at how the markets ended on a high note today:
Creating history, the Sensex today surpassed the 25,000-mark on trends indicating a clear majority for Narendra Modi-led BJP in Lok Sabha polls before retreating on massive profit-booking to end at 24,121.74, a record close.
The 30-share index, which had a solid run in the past few days, surged 1,470 points to hit a new life-time high of 25,375.63 in early trade fuelled by hopes that BJP government would fast-track reforms and accelerate economic activity.
However, the index started losing momentum later and briefly slipped into negative territory to touch low of 23,873.16. Frittering away significant portion of its gain on profit booking, the Sensex nevertheless concluded at a new closing peak of 24,121.74, a gain of 216.14 points or 0.90%. This surpasses its closing of 23,905.60 on Thursday.
In terms of market capitalisation, investor wealth rose by a whopping Rs 1 lakh crore to end at Rs 80.64 lakh crore.
"While a lot of the positives are already factored in by the markets, now everyone will be watching out for actual steps to be taken by the government starting with Budget and Tax Reforms etc," said Nirakar Pradhan, Chief Investment Officer, Future Generali India Life Insurance.
The 50-share NSE Nifty crossed the key 7,500-mark to hit an all-time intra-day high of 7,563.50. However, profit-booking at record levels wiped off most of early gains to close at 7,203 – 79.85 points, or 1.12% higher.
In the forex market, the rupee climbed to 11-month high of 58.62 against the US dollar amid continued foreign fund inflows into the stock markets. It was last trading at 58.93. Among the 30-Sensex components, SBI (5.93%), HDFC Bank (2.11%), ICICI Bank (5.15%) Axis Bank (5.60%), Larsen and Toubro (3.52%), Reliance Industries (2.59%), ONGC (1.83%) and NTPC (2.01%) clocked smart gains. Maruti Suzuki (1.76%), BHEL (5.25%), Coal India (1.45%), Bharti Airtel (3.33%), Tata Power (3.72%) and Tata Motors (2.39%) were also among prominent gainers.
Sesa Sterlite was the best performer with 11% gain. Sectorally, the BSE realty index gained the most among the BSE sectoral indices, by rising 5.97%, followed by Banking index (4.39%) and PSU index (3.60%). The Sensex had surged over 1,560 points in the past five trading sessions after exit polls showed leads for the BJP-led NDA.
Unprecedented .... Nifty up 220 pts and Sensex over 750 pts, Re in the sub 59 zone @dna

— Ashutosh Kumar (@The_AK_84) May 16, 2014
Sensex record high 24,930.42, surges 1,024.82 points - now Breaking on http://t.co/O8Rh5Au356 #Mission272News

— Mission272+ for BJP (@India272) May 16, 2014
Read: LIVE 2014 Lok Sabha Election Result: NDA leads in 200 seats; BJP-215, Congress-69, Others-107
Banking stocks lead gains. Bank Nifty surges nearly 7 per cent. PNB, ICICI Bank, SBI, Kotak Mahindra Bank and IndusInd Bank each up over 7 per cent. ICICI Bank is up 6.7 per cent.
Sensex surges as much as 1051 Points to touch 24,956.60 as BJP and allies are set to form government.
Indian markets are so confident the opposition party led by Narendra Modi and its National Democratic Alliance coalition will win the country's elections that brokers fear anything short of a decisive victory could spark the worst sell-off in years.
Counting of votes will start at 8 am, and traders estimate a national tally could be determined as early as 1130 India time, although there is no certainty on the timings.
Here's a look at how the markets fared throughout the week and how is their expected performance today:
Track market updates here: Zee News business
May 15 2014: The BSE Sensex had edged up on Thursday to near the record highs hit earlier this week as blue-chips such as HDFC Bank gained on hopes the Bharatiya Janata Party and its allies would win a clear majority when election results are unveiled on Friday.
The Nifty has gained 21.8 % since Sept. 13 when Modi was named as BJP's prime ministerial candidate, with foreign investors buying 826.80 billion rupees ($13.83 billion) worth of stocks during this period.
Shares are also showing signs of being technically overbought according to several indicators, with the Nifty ending above a relative strength index of 70 for a fourth consecutive session.
The benchmark BSE Sensex rose 0.38 %, or 90.48 points, to end at 23,905.60, not far from the record high of 24,068.94 on Tuesday.
The broader Nifty rose 0.2 %, or 14.40 points, to end at 7,123.15, within touch of a record high of 7,172.35 hit on Tuesday.
Domestically-focused shares continued to lead gains on hopes a new government would improve the economy: HDFC Bank Ltd (HDBK.NS) rose 1.7 %, while ITC Ltd (ITC.NS) ended higher 0.7 %.
Hero MotoCorp Ltd (HROM.NS) gained 0.4 %, while Axis Bank Ltd (AXBK.NS) rose 1.7 %.
Tata Steel Ltd (TISC.NS) gained 1.8 % after posting January-March net profit that easily beat analyst estimates.
Apollo Tyres (APLO.NS) jumped 5.8 % after earlier hitting a record high of 182.90 rupees as company's January-March earnings beat estimates, helped by an improvement in its European operations.
However, Bajaj Auto Ltd (BAJA.NS), the world's largest maker of three-wheeled vehicles, slumped 4.5 % after its fourth-quarter net profit missed estimates, as slowing demand at home offset higher revenues from exports.
United Spirits Ltd (UNSP.NS) fell 2.6 % after Credit Suisse downgraded the stock to "neutral" from "outperform", citing a lack of immediate triggers.
May 14 2014: Indices hit yet another highs, but profit-taking slows bulls
Indices peaked another record high for the third time in succession on Tuesday.
The BSE Sensex pierced the 24000 mark, rising to 24,068.94 before settling lower to 23,871.23, while the broader index, NSE Nifty, hit a new record high of 7,172.35 before closing at 7108.75.
Both, Sensex and Nifty ended the day higher by 320.33 points, or 1.36%, and 94.50 points (1.35%), respectively. The volatility index closed down 13.63% at 32.05.
The mood was upbeat post the exit polls that predicted a clear win for Bharatiya Janata Party and its alliance.
However, the higher levels on the indices could not be sustained on profit-taking by domestic institutional investors that sold Rs 649.42 crore of stocks, as per provisional data released by the exchange.
Market participants expect some retracement on Thursday as profit-taking could continue at higher levels. However, over the immediate term, the bullishness is expected to stay, said most market participants.
Foreign institutional investors remained net buyers of equities at Rs 2,026 crore, taking the total in the last three trading days to Rs 4,500 crore, and for the month to Rs 6,048 crore. The inflows have had some impact on the domestic currency which has gained due to the glut of foreign exchange. The rupee opened on Tuesday firmer at Rs 59.74 to the dollar as against the previous close of Rs 60.05 and ended at 59.67 to the greenback.
Bank dealers had said the strengthening of the rupee was largely on account of surplus foreign currencies chasing the rupee following the upbeat mood on the stock markets.
Meanwhile, yields on the 10-year benchmark government bonds showed signs of firming up. Prices of 8.83% G-secs, 2023 fell from the previous level of Rs 100.65 to Rs 100.29 at close leading to a rise on yields from 8.73% to 8.78%.
Of the 50 stocks on Nifty, 39 advanced, 10 declined and one remained unchanged. Stocks that were significantly higher from Monday's close were Bhel at Rs 219.25 (up 10.37%), Hero MotoCorp Rs 2,441.40 (6.02%), Ambuja Cement Rs 221.80 (4.89%), Bank of Baroda Rs 878 (4.54%) and DLF Rs 152.40 (4.24%).
Market participants are anxiously awaiting Friday when the official poll results will be declared. "The market is expected to resume its upward climb then on," said a dealer at a brokerage. "But once the results are out, the next trigger would be the Budget of the new government, which is expected to be around June," he said.
Meanwhile in late trades Nifty futures on the Singapore Exchange were trading marginally above its previous close by 14.75 points (0.21%) at 7131.75. The trend is likely to reflect on the Indian bourses when the market resumes trading on Wednesday, dealers said.
May 13 2014: Sensex snaps record-setting spree, down 56 points on caution
Indian stock markets took a breather today with benchmark Sensex losing 56 points to retreat from a record as investors booked profits and ended four straight days of gains sparked by hopes of BJP-led NDA forming the next government at Centre.
The Sensex, which had gained 1,547 points in four sessions in which three saw it hitting successive record highs, moved in narrow 211-point band today and closed at 23,815.12, down 56.11 points or 0.24 %. Yesterday, the 30-share bluechip index had ended at its all-time closing high of 23,871.23 after surpassing the 24,000-mark in intra-day trading enthused by exit poll results. Sectors like IT, healthcare, capital goods and oil&gas saw selling. On the other hand, shares of realty, metal and consumer durables saw fresh buying enquiries. "Markets opened on a flat note.
After a strong rally in last three trading sessions and surging to new all-time highs, today they saw profit-booking," said Nidhi Saraswat, Senior Research Analyst, Bonanza Portfolio. Likewise, the 50-scrip NSE barometer Nifty, which had gained 456 points in past four days, concluded flat at 7,108.75 -- its record closing high logged yesterday. During tody's session it moved between 7,142.25 and 7,080.90. It had made lifetime intra-day high of 7,172.35 in yesterday's trade.
Traders said the market was in an "over-bought" position and cautious participants preferred to lock some gains. Among Sensex components, 14 stocks including the likes of Dr Reddys, M&M and HDFC succumbed to profit booking. Tata Steel, Coal India and Bajaj Auto led the 16 winners. Sectorally, the BSE Oil and Gas sector index suffered the most by losing 0.78 % as Reliance Industries fell 1.49 % and ONGC by 0.93 %.
Capital goods index slipped 0.36 %. IT index lost 0.31 %, Healthcare 0.30 % and Auto index 0.03 %.
May 12 2014: Sensex at new record high of 23,551, Nifty breaches 7,000 mark
The BSE benchmark index Sensex and NSE barometer Nifty today surged to their second straight record closing high on continued fund inflows on hopes of a stable government. The 30-share Sensex opened on a strong footing and rose to new intra-day high of 23,572.88 points.
It settled for the day at 23,551.00, a new record at closing, by gaining 556.77 points or 2.42%. Its previous record closing high was 22,994.23 reached on Friday. Of the 30 Sensex scrips, 25 led by ITC, HDFC Bank, RIL and L&T rose, while just five ended lower. Banking, capital goods, oil and gas, auto, IT and auto shares were in demand, while pharma sector counters were under some pressure. The NSE Nifty, comprising 50 shares, zoomed by a whopping 155.45 points, or 2.27%, to close at all-time high of 7,014.25.
The broader index touched intra-trade record high of 7,020.05 points, surpassing previous record of 6,871.35 on Friday. "Markets were on a fire as optimism increased in favour of BJP winning majority in Lok Sabha elections 2014," said Nidhi Saraswat, Senior Research Analyst, Bonanza Portfolio. Foreign institutional investors (FIIs) bought shares worth a net Rs 1,268.78 crore on Friday as per provisional data from the stock exchanges. Market experts said positive global cues and overall optimism also boosted the buying sentiment, lifting the indices to to their lifetime high levels.
Similarly, the rupee surged past the 60 level against the dollar and was quoting at 59.73 in late afternoon trade. The domestic currency had closed at 60.04 on Friday. "Gains in benchmark indices were also supported by strong buying by retail investors in small and mid-cap stocks", said Rajiv Malik, a Delhi-based stock broker. The BSE Oil and Gas index rose 3.07%, the best gain among sectoral indices. The Power sector index rose by 2.98% and Auto index by 2.88%. Midcap index ended 2.42% higher and the small-cap barometer by 0.51% at 7,632.29.
dna take: With the markets in a state of buzz, SEBI has put some regulations in place to prevent malpractices. Traders are investing all their faith in a BJP led NDA government at the Centre which is known for its pro-business friendly approach and if this falters, investors will face huge losses. But, on the plus side, all Exit Polls have predicted Narendra Modi led government at the Centre and hence there seems to be no room for worry as markets are cheering and placing all their bets on a better business climate.
With agency inputs