Historically, in a pre-election year, equity returns in December have been higher.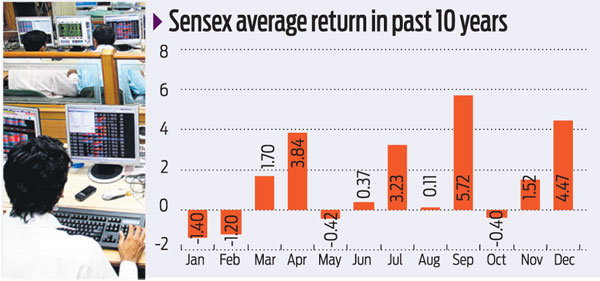 The last month of the calendar year is likely to be action-packed for equity markets with multiple key events lined up that may result in investors reacting aggressively on either side.
December has been good for equity markets with Sensex gaining on an average 4.46% and the markets ending in green on nine out of 10 occasions.
In fact, going by the average returns in last one decade, December has been the second best month after September, which has delivered an average 5.72% returns.
What's more, the returns in December in a pre-election year have been even higher with Sensex rising 15.74% in December 2003 and by 6.10% in December 2008.
So whether the markets can repeat the same kind of performance this year with Union elections due next year in April-May?
Experts believe that performance in December this year will depend a lot on outcomes of three major events — state assembly election results on December 8, RBI policy meet on December 18 and the biggest of them all US Federal Open Market Committee meeting on December 17-18.
Arun Kejriwal, director of Kejriwal Research and Information Services, said going into the December series the build-up has been quite strong and there are a lot of market expectations from assembly poll results due this weekend.
"The markets do not seem prepared to go down with FIIs coming back into action strongly on Friday – the day after expiry. While they will start reacting based on exit poll results expected by Wednesday, the markets will see a big move – either gap up or gap down – on Monday next week (December 9) based on actual outcome. This, in turn, will force participants to come into markets willingly or unwillingly," he said.
Also, the month is likely to see fresh paper issuances from public sector companies such as Power Grid (this week) and Indian Oil Corporation (expected next week), which are likely to suck a fair bit of liquidity of around Rs 10,000 crore.
Foreign institutional flows during December have traditionally also been positive in last nine out of 10 years with last year witnessing inflows of Rs 25,088 crore.
Though activity during the last week remains muted due to year-end holidays, experts said they nevertheless continue to be present in market during the month to prop up the net asset values of their funds.
Nikhil Kamath, director of Zerodha, an online discount brokerage firm, said the bulk of FIIs have vested interests in driving bourses higher in December to shore up P&L statements ahead of their bonuses and year-end reviews.
Experts said the election results and Fed meeting will set the tone for FII inflows that are just on verge of crossing Rs 1 lakh crore for the third time in last four years.