Many people love declarations of amnesty schemes for financial offenders.
Culprits yearn for it, because they can now get "purified", once again, by a law that washes away all past sins (Remember the sale of Indulgences by the church in the 15-16th centuries, which led to the rise of Protestantism).
Politicians too salivate at such schemes because many of them have huge ill-gotten booty overseas, which they would like to bring back as legitimate money. Of course, they can also have the advantage of claiming that they were acting in "national interest", helping the country bring back the money stashed overseas. Public piety and personal profit always make a heady concoction.
But, in spite of these powerful supporters, there were times when amnesty does not work. Maybe some politicians decide to object to such dubious schemes. Or it could be that some whistle-blower opt to rat on vested interests of the politicians and the money-makers before such a scheme could get launched. Or it could be that, almost unpredictably, the silent majority of honest taxpayers suddenly decide that enough was enough, and oppose any such moves. Or it could be the courts that choose to strike down such schemes of doubtful morality.
However, currently, the cry for an amnesty scheme from India has become shriller. Not surprisingly, Jefferies India Pvt Ltd, a prominent Foreign Financial Institution (FII), this month brought out a compellingly persuasive research document suggesting that India should go ahead with a Voluntary Disclosure of Income Scheme (VDIS). After all, the amount of black money generated each year is mind-boggling.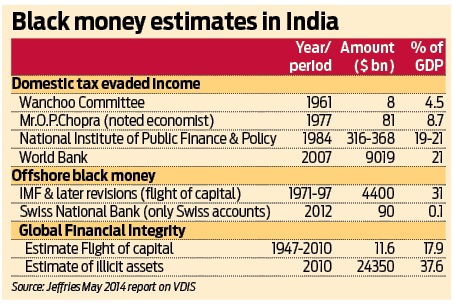 Basically, there are three 'justifications' for a VDIS. First, as the Jefferies report points out, keeping money overseas has become extremely unsafe: "Global crusade against black money that has intensified in recent years. Starting with the G20 crackdown of tax havens during the financial crisis, countries have used several means, including geopolitical coercion, financial penalties and bribes, to obtain information and repatriate illegal funds. In addition, tax administrations across the world have started working together to identify non-compliance with tax laws. In what is considered to be a watershed event, the OECD released a new standard early this year to tackle tax evasion, which would involve a mechanism for global automatic information exchange (AIE) as well as adoption of common reporting standards."
Second, the Indian economy is in a bad shape and will need funds quickly. A large amount coming into its coffers through VDIS would be most welcome.
But the third, and the more compelling, reason is that in India, despite the reluctance of the ruling party to disclose the names of tax dodgers, the Supreme Court has not only demanded and obtained the names of such account holders from the ministry but has also asked the government to make these names public. The third reason leaves culprits with just two choices.
One would be to walk away from the bank accounts and claim that the money does not belong to them. The beneficiary of such funds would then be foreign banks which would then forfeit the unclaimed money. True, India could get the banks to return the funds to the government, but that might involve cumbersome legal processes, unless of course the government had a stick to beat them with (as did the US). The second option is to bring the money back to India. But that would require the government to fix the applicable tax and penalties above the current tax levels – maybe at around 50% or even 60%. If the penalties and tax levels are low, and if they come with amnesty from further prosecution or raids, the VDIS could become cancerous. Such low penalty levels and protection from prosecution could tempt money-managers to declare more money than what they have overseas, in the hope that future generation of illicit earnings would also get covered.
At such times, there is a surge of moral repugnance. Common folk don't like a scheme which allows culprits to pay their way through the system. They could oppose easy terms of settlement. According to the Jefferies report it should be possible to garner around $100 billion through a VDIS. That could mean tax and penalty revenues of anywhere between $35 billion and $60 billion depending on the tax and penalty rates.
The BJP which is challenging the current UPA at the hustings, has made return of funds held abroad one of its key election planks. It remains to be seen whether it is through a generous VDIS, or one which penalises wrongdoers as well.