To manage medical gases at hospitals with its own staff and systems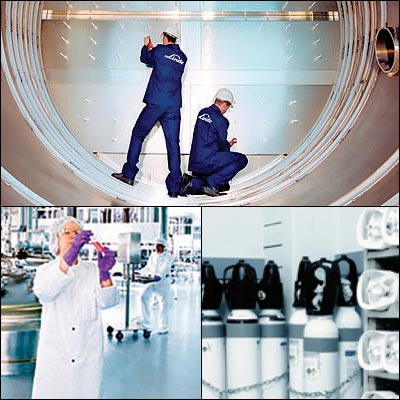 The world over, managing oxygen at hospitals is as critical to patients as it is for healthcare companies that run them. Yet, this specialised, delicate and challenging task of medical gas management is performed in India by already stretched and untrained hospital staff.
Linde India, producer of industrial gases and an arm of the Munich, Germany-based firm, is set to change all that.
Linde aims to take up the entire process of managing medical gases at hospitals with its own staff and systems, said its MD Moloy Banerjee. "This would be a new business for our healthcare vertical and we have just started a pilot project at Woodlands Hospital in Kolkata. Once established, we will replicate the model across the country."
Linde personnel would seek to perform inventory management and infrastructure maintenance, thereby helping staff at hospitals to focus on their primary duty of taking care of patients.
"Healthcare is now a focus area for us and we expect the business to grow," Banerjee said.
Linde is eyeing not just corporate hospitals in metros but even small- to mid-sized healthcare facilities in smaller towns and rural areas.
Globally, the business of medical gases and equipment is expected to grow at a compounded rate of 8% from 2012 to 2018, to reach an estimated value of $9 billion in 2018 from $5.3 billion, according Transparency Market Research.
Linde claims market leadership in this sector. In 2012, its revenues touched $1.3 billion, up 3.8% on-year. The 2013 data is awaited.
Linde is bullish that growth in emerging markets like India will be driven by factors like growing access to medical care, underlying demographic trends and improving diagnostic and therapy options would push growth.
Linde's overall gases business grew by 15% on-year during October-December on sales of Rs 463 crore. "With the completion of our two new 853-tonne-a-day (tpd) air-separation plants (ASPs) at Rourkela, we expect revenues and profitability to further grow in the coming year," said Banerjee.
A bigger 2,400-tpd ASP for Tata Steel's Kalinganagar plant is being built and would boost revenues in 2014 when commissioned.