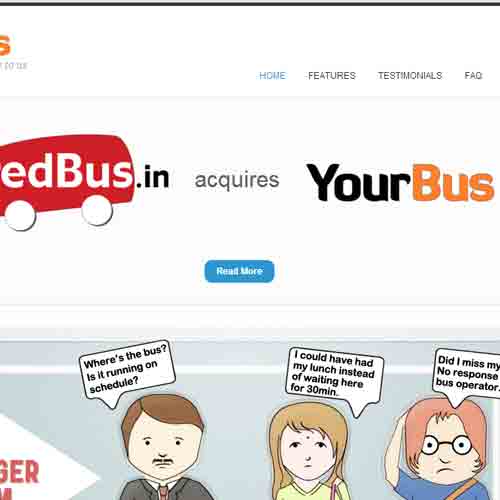 Bangalore-based tracking and analytics company 'YourBus' was acquired by ibiboGroup recently. This comes as a strategic plan for ibiboGroup to enter transportation services market after the group acquired redBus earlier.
YourBus has confirmed the acquisition on their website with a graphic about the merger but the financial details are not public yet.
YourBus was founded by Rajesh Mallipeddi and Satya Padmanabham in 2011. They both quit their jobs and started tracking every bus in the country to keep travelers updated about where their bus is so that they don't have to waste time waiting at the bus stop.
"We are very excited to announce that YourBus is acquired by ibiboGroup. It has been a wonderful and adventurous journey so far," says co-founder Rajesh Mallipeddi to YourStory.com.
A team of five, they had their share of problems during the start-up phase.
The entire team will be joining redBus except team-mate Satya who'll be pursuing his venture.
Ashish Kashyap, CEO of ibiboGroup said, "Our key motivations to acquire YourBus is to enhance passenger experience at redBus.in and Goibibo.com and at the same time provide more and more technologies and analytics to the Bus operators so as to increase the efficiencies in the marketplace."
IbiboGroup will integrate YourBus platform with both of its online travel properties, redBus.in and Goibibo.com to provide real time information on bus locations to both bus travelers and bus operators.
With this alliance, bus operators will be able to track their buses and get detailed analytics on punctuality and efficiency of their buses. They can sort this information by route, bus driver and vehicle number, and also get estimated time of arrival reports and other weekly/daily location based reports.
Around some 200 buses in south India, currently use the YourBus system. But ibiboGroup's reach will increase this count.