The yellow metal had touched Rs28,000 per 10 gm in August 2011 but corrected marginally after that.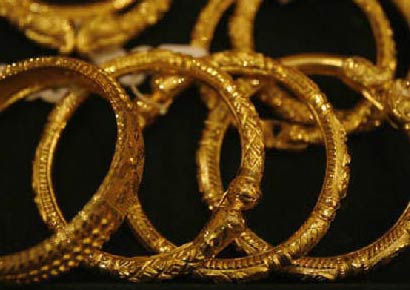 Gone are the days when it took months, sometimes years, for gold prices to increase by Rs1,000 per 10 gm. But it is very different now. The price of the yellow metal touched and crossed Rs24,000 per 10 gram in August 2011 and again jumped by another Rs1,000 in just a few days. In fact, in August this year, gold prices have increased twice by Rs1,000 in one day.
After a lot of volatility in prices, the yellow metal is trading at around Rs27,000 per 10 gram in Ahmedabad these days. With Dhanteras falling on Monday, experts say gold is likely to trade that day at around Rs26,500 to Rs27,000 per 10 gm. Talking about the prices of the yellow metal after Diwali, some traders said that because of the global turmoil, gold prices may touch a new peak of Rs30,000 per 10 gram.
Going by past experience, the possibility of gold touching the new peak of Rs30,000 per 10 gm is quite real. As per the gold rate data available from Choksi Mahajan Association of Ahmedabad, some 86 years back (in 1925), gold was sold for Rs21 for one tola (1 tola = 11.66 grams).
At the time of Independence, it was selling at Rs100 per tola but after Independence, gold prices took 32 years to touch the first Rs1000 level. The yellow metal crossed the price of Rs1,000 per 10 gram in October 1979, perhaps for the first time in recorded history.
Interestingly, in the next 32 years, prices of the yellow metal shot up 26-fold. From 1979 to 2011, gold prices increased from Rs1,000 per 10 gram to Rs28,000 per 10 gram in 2011. This year alone, gold prices rose by Rs1000 per 10 gm five times in just eight months. Of this, the last three thousands were added in just 22 days!
In the last three-four decades, bullion has seen many changes in its price trends. Earlier, gold prices witnessed a rise of Rs1,000 in years; now this happens in just months. Recently, gold prices have occasionally risen by Rs1,000 in just a few days. Before the 1980s, prices of the yellow metal were totally dependent on domestic demand but slowly, due to globalisation, gold prices are now decided in London and the whole world follows.
Another change has been seen in the buying pattern. Earlier, consumers used to buy gold or gold jewellery in kilos. Today, however, people buy it on what they can afford. "Ever since 2008 when gold prices touched Rs12,000 per 10 gram, people started buying the yellow metal on the basis of what they can spend. For instance, earlier, during marriages, people used to buy 2 kg to 4 kg of gold at one go. Now they ask for jewellery worth of Rs1.5 lakh to Rs2 lakh. This change has been observed in the last 4-5 years," said Shanti Patel, president of Gem & Jewellery Trade Council of India.
Currently, gold is being traded at around Rs26,100 per 10 gram but it is expected to rise to Rs30,000 per 10 gm soon. "Gold prices are stable for the moment and it is likely to trade at around Rs27,000 per 10 gram during Diwali. But we expecting its prices to rise to the new level of Rs30,000 very soon," said city-based bullion trader and analyst, Girish Choksi.
According to Choksi, experts are predicting that gold will rise to the level of $2,500 an ounce in the international market. "The metal is traded at the level of $1,700 an ounce; if it rises to even $2,100 an ounce in the next six months, gold prices in India will cross the level of Rs30,000 per 10 gram," he said.