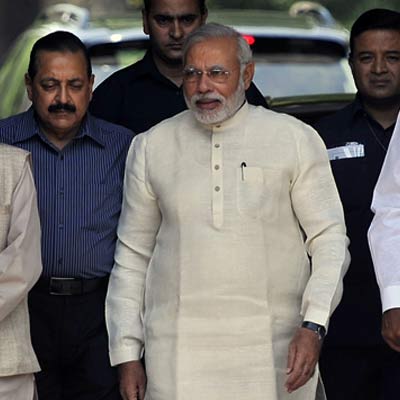 As the new government prepares to present the Union Budget, one both dreads and looks forward to it equally. Always a conversation starter and a point of argument, one can never tire about delighting over subsidies and mouthing expletives at inexplicable price hikes. The point being, an impending Union Budget is like a Bollywood film, packed with plenty of drama.
This year's budget session presented by Finance Minister Arun Jaitley is expected to reform labour laws, increasing the jobs available by a crore. Union Minister of State in the Ministry of Home Affairs, Kiren Rijiju has requested for a special North East and Arunachal Tourism package that might benefit the region. While finance pundits predict that costlier cigarettes and a hike in diesel and gas prices are on the cards, the e-commerce industry has a dramatic change in store.
The NDA government has hinted at allowing more Foreign Direct Investment (FDI) in defence, railways and e-commerce. The Modi government's predicted move to increase the FDI by almost 100% to spur manufacturing and consumption, has faced mixed reactions from e-tailers across the country.
One part of the e-commerce sector argues that this is going to benefit the market and make it more dynamic. There is going to be a lot of economic flow that will benefit the nation. Allowing foreign investors to partner with local manufacturers to source products will bring down prices, increase choices and make it convenient for consumers to shop online, like never before. Also, this move will eventually get rid of middlemen, leading to lower transactions, overhead, inventory and labour costs for companies. This economic reform will increase the contribution of e-commerce to the country's economy by about 4% by 2020.
However, our Indian market had been operating quite differently till now. The government had hitherto banned foreign operators unless they set up a platform for Indian suppliers to sell their wares. So while these foreign players – like Amazon or eBay – handle the logistics, the Indian e-tailers are those who are actually doing business. This marketplace environment helped ease out a lot of worries for small and medium-sized businesses.
The relaxing of this rule may mean that large players like Walmart, who have been vying for the Indian market, may jump in to capitalise. With about 20 B2B e-commerce operations all set to roll out in India next month, Walmart is already prepared to measure the environment and make a strategic move in time. With the advent of foreign players, an active retail sector is surely on the anvil, no doubt, but at the cost of many indigenous small businesses.
Apart from the government implementing a calibrated approach in this regard, the way out would be to figure out niche markets, customised products, innovative marketing etc. to keep one's business going. However, this bold move needs to be played out first, in order for us to find out how things work.
So while the entire nation waits to see what the Modi government has in store, for the e-commerce industry, the Union Budget sure seems to be an upcoming edge-of-the-seat entertainer.
Sandip Shah is co-founder and Managing Director at ShopYourWorld