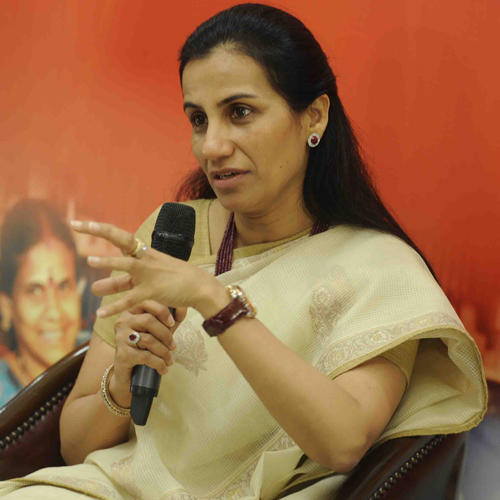 One of India's prominent Managing Director known for her articulate nature and immaculate sense of running the country's largest banking chain, Chanda Kochhar spoke to Zee news about her expectations from the upcoming budget. Below are excerpts from the interview:
All are believing that acche din aagaye hain and people have lot of expectations from the budget. This time the theme of Zee Business is abki baar sapne sakaar. Do you think this time it will happen?
I think our country has lot of potential to bring good days. We need to work towards that direction. Need to take some concrete steps and if taken then lot could be improved from here on.
2) When you say concrete steps, do you mean bitter pills. As Mr Modi had said for long-term good government will have to take bitter pills initially?
A) I would say, instead of going for bitter pills there are lot of low hanging fruits, government should work on that first. Most important there are lot of projects that are stuck because of approvals, environment issues. Government should start these projects Once this done, then production, supply will improve, prices will be reduced and more cash flow will come in. Secondly, we need to regain investor confidence and for that we need to tell them concretely that our policy, laws regulations will not change retrospectively implement. Few more low hanging fruits are if we can implement GST. Such things will boost the economy.
For a complete breakdown of budget and related stories visit: dna budget 2014

3) What about bitter pills? What kind of steps government can take?
A) Important challenges are to control fiscal deficit. Need to see the impact of oil prices on fiscal deficit. Government needs to structurally see the fiscal situation and take steps accordingly. Government needs to see what expenditures should be reduced and how we can increase revenues. Second bigger issue is inflation, on that front we need to see how can we increase supply. To handle fiscal consolidation and inflation government needs to look at much bigger structural steps.

4) Given the monsoon scenario so far, do you think inflation will be further pushed upwards?
A) Need to see the exact impact. Its little too early to say that the monsoon impact will be as bad as what has been feared. Next 7-10 days will be very crucial but even during that period the existing buffer stocks, buffer production we need to handle that efficiently, we need to try and reduce wastages. This way more or less we will be able to control inflation.

5) Government had said that they will be focussing on reviving the manufacturing sector. According to you what should be priorities for the government to kickstart manufacturing?
A) We will have to take many steps to revive the sector. We will have to identify some of the industries. can we identify electronic industry, food processing industry. We will have to take specific industries and make them priorities . We will have to make industry based approached. Secondly, we will have to improve the overall ecosystem, the third and the most important one is that the we will have to debottleneck all the stalled projects. Lot of corporate cash flow is stuck due to stuck projects . Till the cash flow gets free no corporate will think about increasing capacity.

6) What is your view on inflation? Do you see it come down to a level where RBI can think of tinkering with interest rates?
A) Interest rates will now remain stable as its difficult to bring down inflation immediately. If supply chain is improved on the agricultural side, then inflation will come down immediately. I think for couple of quarters interest rates will remain where they are.

7) What about GDP. Do you think by end of this fiscal the GDP figures will be at a comfortable level?
A) By end of the year, we should be easily be able to settle at around 5.5% if not more, so that the next year's growth can be even higher. If production starts in the stalled projects, supply chain is improved then it will also help to improve growth

8) What is your view on the banking system?
A) Given the overall economic scenario, the growth of banks have not been bad. Even currently the growth has been coming from the overall retail sector . Retail business continues to grow, our retail business is growing at almost 24% and the quality of secured retail auto loans has remained quite stable. There are no new projects that are coming up for sanction, corporate have become cash-strapped due to which NPAs have gone up. If right steps are taking to release cash-flow of projects restructuring and NPAs issue will be behind us. My expectations is in FY15, the additions of NPAs and restructured assets will be less than FY14.

9) RBI has been complaining that banks have not been aggressive in terms of recovery of loans from corporates. Being one of the largest private banks what is your perspective on this?
A) If we feel, there is no long-term viability in the projects, for such projects banks should go for aggressive recovery. There are certain projects that are viable for long-term but currently the cash flow is tight for such corporate we have to show hand-holding because you want the assets to revive and economy to revive. Banking industry has to look at the different projects and exposure in these 2 different manners. ICICI Bank has been actively monitoring portfolios. Where we need to recover money, we have been strict and see to it that the money is recovered.

10) Which are the sectors where you have to aggressively recover money?
A) Its not about sectors, it is about specific loans for specific exposure.

11) What is overall credit growth and how are you seeing it going ahead? Do you see revival in the credit demand?
A) Yes gradually revival will happen. Retail growth will continue to remain robust.The next improvement will come from the working capital demand for the corporate sector. The third growth will be for new projects which I don't think will come immediately. It will come after a lag of 2-3 quarters. For banking sector as a whole at 15-16% growth is possible this year. ICICI Bank is looking at a growth of between 18-20% in domestic business depending on how the economy picks up.

12) What is your view on NIMs, where are you seeing them by end of this financial year?
A) Every bank will have to work more efficiently in their cost of funding because when the credit growth is not too high, there is competition, lending rates do not go up. The only way to maintain or improve NIMs is to keep efficiency in cost of funds and that is how we are projecting performance. We are saying we are not really counting on lending rates to improve but we will have to make sure our CASA deposits remain high, our cost of deposits remain under control. This year our plan is to maintain net interest margins.

13) Any plans of making auto or home loans more attractive?
A) Current pricing is quite attractive. Overall we will continue to remain focussed on our cost of funds which is more directly under our control.

14) What will be your strategy for expansion and are you looking at aggressively launching any new financial products looking at the revival in the stock market?
A) We have almost all products and services across the financial landscape but we keep investing in branches. Last year, we increased our branches to more than 650. This year we would add between 350-400 branches. We are not just focussing on large cities. We are also focussing on rural areas, semi-urban, unbanked villages. Last year, of the total branches that we had added, 75% branches were from rural and semi-urban areas. So, we will keep widening our network.

15) Do you think this is the right time to look at inorganic growth or enter a segment which is linked to financial services?
A) As of now, nothing is in the offing. Any acquisition or a take over becomes relevant if it is of the right scale and at the right price.

16) Government has said CSR rules will be simplified for corporates. What is your take on this. What are your plans going ahead?
A) Our focus is on 4 areas. One is Elementary education, today we are positively impacted to about 13 million children through our elementary education. We have also worked on primary health patients along with the state government. Third focus is skill development and sustainable livelihoods and on fourth area is on financial inclusion. We have almost 1.8 crore financial inclusion accounts.

17) What is your budget wishlist?
A) First priority is to de-bottleneck the existing projects, other point is to give out confidence and clarity around our rules, regulations and policies and third is to look at tax related changes like GST to bring in more efficiency and fourth is to structurally look at fiscal deficit and inflation.