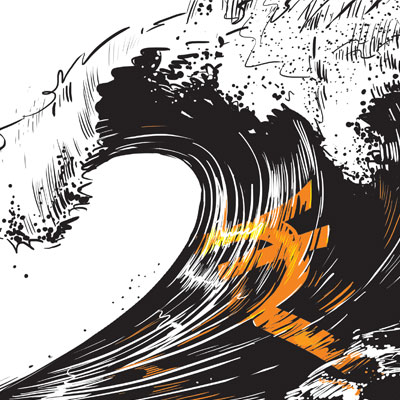 Despite unseasonal rains and hailstorms in a few agri-pockets and a threat of El Nino likely to harden essential food commodity prices, bankers and economists do not see any immediate spurt in interest rates.
The country has been hit by unseasonal rains and hailstorms in certain belts that have destroyed winter crops like wheat, jowar, bajra and strawberries, said a few market players dealing in commodities.
El-Nino, a current formation in the Pacific Ocean, largely causes drought-like situation and even excessive rains.
"Rain may be 96% of a 50-year average of 89 centimetres (35 inches) in the June-September period," said a Bloomberg report quoting two unnamed officials. "Actual rainfall may be 5% more or less than prediction," the report said.
But even the Indian Meteorological Department (IMD) cannot predict what lies in store.
"There is no one-to-one correspondence between El Nino and monsoon. Merely looking at this one component (El Nino) to construe if monsoon will be affected adversely or enhance rainfall will be premature. The strength of El Nino is more a determining factor," said IMD official.
For the moment, the facts remain that unseasonal rains and hailstorms have destroyed winter crops.
States affected are Punjab, Haryana, Uttarakhand, Maharashtra and Madhya Pradesh.
In Maharashtra, unseasonal rains hit Mahableshwar and Osmanabad district on Sunday, said a farmer from Osmanabad.
The official data on the monsoon forecast and El Nino is expected in another three days.
However, an IMD official told dna that despite 100 years of data available with IMD it is insufficient to establish a co-relation between El Nino and monsoon.
Meanwhile, bankers and economists are awaiting more data before taking a call on domestic rates. The official weather communique would come after the general poll results but before the budget of the new government, probably by June.
"Till a clearer picture emerges on the monsoon and the new budget, interest rates are going to remain flat," said K Harihar, head treasury at FirstRand Bank.
There is a strong possibility that domestic rates could firm up if weather conditions turn adverse.
Given the close to 48% weightage on food in the consumer price index and the current crop failures due to unseasonal rains, inflation on account of food will be a bigger worry than growth say bankers.
"There is a growth-inflation conflict presently," said Moses Hardings, group CEO and chief economist at Srei Infrastructure Finance.
The RBI in it April 1 policy had already said the food prices were unlikely to soften from current levels. In fact subsequently, CPI in March hit a high of 8.31% from the previous month's 8.03%.
The 10-year benchmark rates are currently at 8.80%-9.10% and a push above 9.10% could be an indication of markets gearing up towards a higher rate regime.
"It is too early to comment on El Nino and its impact on interest rates or inflation at the moment. We need more data," said Hardings. "If the monsoon is satisfactory, the trend may well reverse," Hardings said.