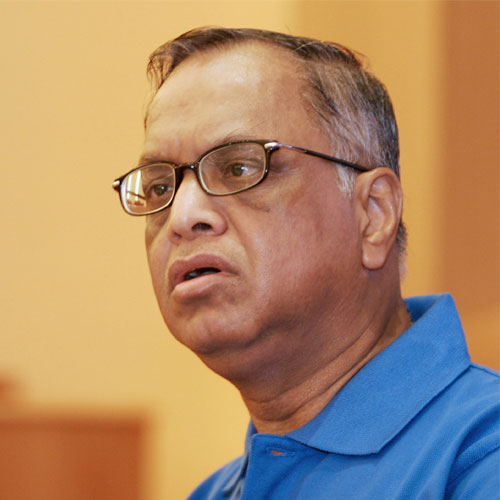 "It's difficult to imagine Infosys without Bala's passion, commitment, and intellect." That was Friday's farewell tribute of N R Narayana Murthy, executive chairman, to his beloved colleague. Of late, Murthy has been doing this rather frequently.
But according to industry insiders, Murthy has a very clear vision, imagination if you will, of how Infosys is going to shape up over the next few years as he oversees a difficult transition that is pushing the old order out and ushering in a new brigade to the software behemoth's helm.
The transition's not proving to be smooth. There's persistent talk among industry experts of intense power struggle. The old order, it seems, is not exactly giving way for upstarts, although media statements after every high-profile executive exit would like the world to believe otherwise.

There are whispers that Murthy's grip on Infy has been tightening, slowly but surely. "Watch out for more changes within the next year – leaders from within are being elevated; the entire company is being restructured," said analyst Nitin Padmanabhan of Espirito Santo Securities.
The Murthy-led recast will see Infy eventually having a play in not just in traditional outsourcing, but in onshoring (more local people at global delivery centres) and non-linear businesses (big data, cloud, analytics, mobility).
This shift in priorities, insiders vouch, is at the root of recent executive tumult. At least five out of the eight exits so far, one Infy insider said on condition of anonymity, were forced by Murthy, while the other three (Ashok Vemuri, V Balakrishnan and Goparaju) apparently quit, realising that their decades of loyalty and "passion, commitment and intellect" would not logically culminate in their elevation to the corner suite.
These very seniors were found wanting as Infy was upstaged by firms like Cognizant, losing huge chunk of its market share, something that brought about Murthy's second innings in the first place, said Dhananjay Sinha, an ex-Infoscion who now works as head strategist at brokerage Emkay Global. "They were unwilling to be more agile and flexible to change after Murthy's return."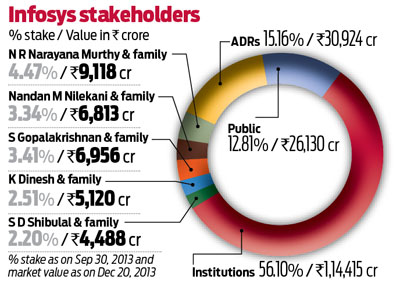 In June, Rohan Murty, Murthy's son, came in as executive vice-assistant to the chairman, and launched a drive for change and churn. One striking manifestation of his style was the downsizing at Infosys Labs: the 600-strong BPO arm was squeezed into a 200-fit unit.
The tilt in power scales saw Murty Junior wresting key decision-making avenues – refocus on sales, shorter time to market, corrections to the heavy tilt toward delivery. To pre-empt any vacuum building in place of the exiting old order, Murty Junior began implementing dad's plan to elevate middle level, and relatively younger, managers within Infy.
As many as 17 received a kick upstairs, while 12 were inducted into the Executive Council. The board was reinvigorated with iconic figures like Kiran Mazumdar-Shaw. Elevations were complemented by significant wage hikes.
Incumbent CEO S D Shibulal retires in 2015. One among the new brigade, most probably B G Srinivas, is now widely speculated to team up with Murthy at the helm to confirm the end of the power game.
Or, Murthy may bring in an outsider, said one Infy observer.
At any rate, Murty Junior is unlikely to inherit the Infy supremo mantle. Already, his induction is seen to be a trigger for many recent exits.
The churn and the exits have received bad press, creating doubts in both Infoscions' and prospective recruits' minds. "This may result in Rohan Murty leaving within a year, to ease some of the backlash," said a source, requesting anonymity.
Any such eventuality would not deter Murthy from consolidating his power. At stakes are not just thousands of lives and careers and business worth billions, but his grander vision – that of "making Infy relevant for the next 100 years," said Swami Swaminathan, former head of Infy BPO, and executive chairman of Manipal Health Enterprises.