In a meeting with top 20 industry stalwarts, Jaitley says the government will provide directional thrust for economy to grow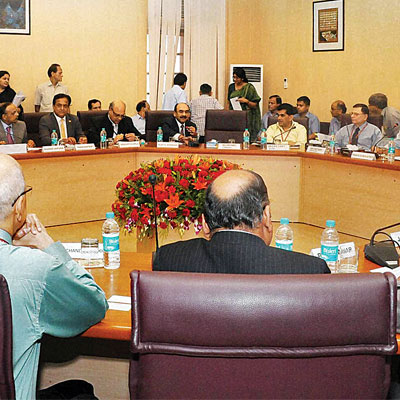 Finance minister Arun Jaitley on Friday assured industry honchos that the government will provide the directional thrust required for the economy to grow, while asking them to utilise their enthusiasm to tide over the challenging times.
In a pre-budget meeting with Jaitley, the country's top 20 business leaders presented a wish-list calling for addressing General Anti Avoidance Rules (GAAR), Minimum Alternative Tax and expediting the DTC and GST. Industry has also pitched for a stimulus package for the manufacturing sector.
Jaitley told the business leaders in the meeting, "The economic situation is very challenging, but there is enthusiasm in the industry, which it should use to its advantage. Our job is to provide directional thrust to convert this enthusiasm into better results." The meeting lasted for about two hours.
Biocon CMD Kiran Majumdar Shaw, Bharti Enterprises group CEO Sunil Bharti Mittal, YES Bank MD and CEO Rana Kapoor, Suzlon Group CMD Tulsi Tanti, along with the heads of the industry bodies were also present.
Various suggestions were received from the representatives of different industry and trade groups. Major suggestions include that the government follow the path of fiscal consolidation, curb inflation especially food inflation, push GST, defer GAAR for at least next three years, bring no retrospective amendments in tax laws henceforth.
Other suggestions include transparency and clarity in tax laws, especially those relating to transfer pricing, encouraging foreign subsidiaries of Indian companies to bring back the money by exempting dividend from MAT; no MAT on exempted income such as long-term capital gains, among others.
Exemption/rebate to new industry, banks recapitalisation through capital market, abolition of service tax on tourism activities to boost tourism, reduction in MAT, single assessment instead of multiple assessments for same period by tax authorities and revision of reservation list of items reserved exclusively for manufacture in MSME Sector, were some of the other suggestions to Jaitley.
Ajay S Shriram, Confederation of Indian Industry, Sidharth Birla, Federation of Indian Chambers of Commerce and Industries, Rana Kapoor, ASSOCHAM, Sharad Jaipuria, PHD Chamber of Commerce and Industry, M Rafeeq Ahmed, FIEO, Shashi Ruia, Essar Group, S N Subrahmanyan, L&T, Badish Jindal, Federation of Association of Small Scale Industries of India, B P Rao, CMD, Bhel, Venugopal N Dhoot, Videocon Group, Vipul Shah, Gems & Jewellery EPC and R Chandrashekhar, Nasscom, attended the meeting.