If you have been waiting to take a home loan, it's time to start the paperwork.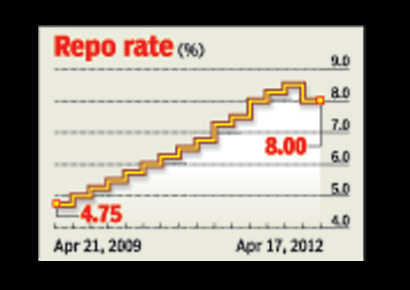 With the RBI signalling a shift in focus — from inflation to growth — interest rates are likely to start coming off from January. RBI stood pat on the key rates and ratios at its mid-quarter monetary policy review on Tuesday, belying expectations of some reduction.
The repo rate, or the rate at which RBI lends to banks, continues to be at 8%, while the cash reserve ratio, or the proportion of deposits a bank is required to park with RBI, is at 4.25%.
The central bank, however, indicated it is now open to easing, setting the tone for its next meeting on January 29.
"In view of inflation pressures ebbing, monetary policy has to increasingly shift focus and respond to the threats to growth from this point onwards," the apex bank said. "Overall, recent inflation patterns and projections provide a basis for reinforcing our October guidance about policy easing in the fourth quarter."
"The movement on policy starting with the diesel subsidies and now we have clarity on the FDI policy and other measures taken are all pointing to an overall improvement in the investment climate," RBI deputy governor Subir Gokarn said at an event later in the day.
The signal isn't lost on bankers, though few intend to move until the central bank actually does, knowing its panache for springing a surprise. "I expect the RBI to ease repo rate by 50 bps between January-March 2013 and by an additional 50-75 bps through the next financial year, which will strongly support growth recovery," said Rana Kapoor, founder, MD & CEO, Yes Bank.
Banks are currently offering home loans on a par or just 25-50 bps higher than their base rates, which is around 10% for large lenders at present. A reduction in the key policy rate would compel them to reduce base rates.
As such, most home loan products are on floating rates, which are likely to fall going forward. This is why it makes sense to take that home loan now, say experts.