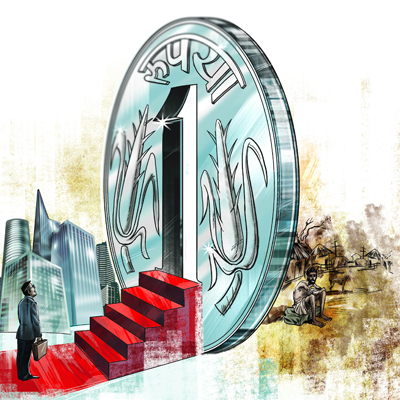 Here's a round-up of major business news for the day:
#1 NSEL promoter Jignesh Shah arrested by Mumbai Economic Offences Wing
Jignesh Shah, promoter of the National Spot Exchange Limited (NSEL) and wanted in the Rs 5,600 crore commodities exchange scam has been arrested by the Economic Offences Wing (EOW) of the Mumbai police on Wednesday.
The EOW is conducting its own investigations into the scam. It is alleged that the suspects had hatched criminal conspiracy, created forged documents and falsified accounts, which resulted in cheating of more than 13,000 investors.

According to the police, even though the NSEL is a commodities exchange, there are no warehouses in existence where physical goods could be stored. Allegedly, bogus warehouse receipts were being issues and trading was done only on paper. The scam first came to light when one of the investor came forward and complained to the police that he was duped.
#2 RBI asks banks not to levy penalty on loan pre-payment
The Reserve Bank of India (RBI) Thursday directed all the commercial banks not to levy any penalty on pre-payment of loans under floating rate scheme that cover housing, auto as well as personal loans.
#3 Minors over 10 years can operate bank accounts: RBI
Minors above 10 years of age can open and operate independently savings bank account and use other facilities like ATM and cheque books.
The Reserve Bank today issued the guidelines allowing minors to operate bank accounts independently with a view to promote financial inclusion and bring uniformity in opening of such accounts in banks.
RBI had earlier permitted minors to open fixed and savings deposit bank account with mothers as guardian.
#4 India's growth rate will pick up soon: RBI Governor Raghraum Rajan
Reserve Bank of India (RBI) Governor Raghuram Rajan has expressed optimism on India's growth rate going beyond the 5 per cent mark soon. "The economy has been growing at a flat rate of 5 per cent and hopefully we will see it picking up in the near future," he told PTI on the sidelines of a special talk at Oxford University yesterday.
Rajan also reiterated his view on the growth rate being inextricably linked with curbing inflation. "I have always stressed that stimulating growth and controlling inflation are not opposed to each other. Inflation is what is standing in the way of India's growth," he added.
#5 The final market report of the day: Sensex tanks 184 points as IT, banking stocks decline
The benchmark index Sensex tanked 184 points to close at nearly three-week low of 22,323.90 points today as technology, banking and auto stocks fell on fresh round of selling amid slowing down of foreign capital inflows.
The 30-share BSE barometer started on a negative note and fell further to touch the day's low of 22,286.26.
It closed down by 184.52 points, or 0.82% at 22,323.90, the lowest level since April 16 this year.
#6 Tata Motors to hire over 3,000 employees
Tata Motors has started a recruitment drive to hire over 3,000 staff across all company dealerships nationally ahead of the launch of compact sedan Zest and hatchback Bolt.
"In line with our vision and strategy to provide an enriched purchase experience, we have undertaken a revamp expedition of showrooms and expansion of our dealership workforce to prepare for the launch of our exciting global cars, Zest and Bolt," Ranjit Yadav, president, passenger vehicles business unit, said in a statement Wednesday.
#7 HDFC raises Rs 5,317 crore through securitisation deals with bank
Housing Development Finance Corporation (HDFC), the largest mortgage lender, which on Tuesday reported a 10.8% increase in its quarterly net profit at Rs 1,723.10 crore, has raised Rs 5,317 crore through securitisation deals with HDFC Bank.
Securitised loans sold by HDFC during the year stood at Rs 6,944 crore, but a majority of which (Rs 5,317 crore) was sold in the quarter ended March 31, 2014.
HDFC expects 2014-15 to be stable with a market growth of 18-20% largely spearheaded by the individual home loan segment.
With agency inputs