Narendra Modi's Union Budget may have brought some relief to consumers with prices of certain goods and products expected to fall following Finance Minister Arun Jaitley's proposal. However, with rise of excise duty on tobacco, cola and even sugar, products such as cigarettes and aerated drinks, will become much more expensive, much to Health Minister Harsh Vardhan's delight.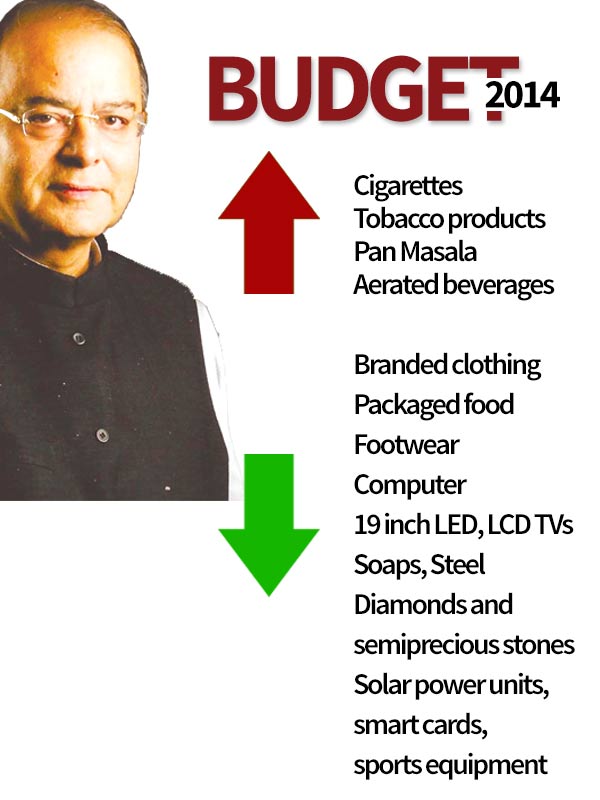 Here are goods that you can now expect to buy at a much cheaper cost:-
- Footwear: Excise duty on footwear has been reduced from 12% to 6%
- Packaged food: Reduction in excise duty for specified food package industry from 10% to 6%
- Solar power units, smart cards
- Sport equipment
- Cotton: With exempt loading/unloading and transportation of cotton from service tax
- LCD TVs: Basic custom duty on LED and LCD panel TVs below 19 inch made nil
- E-book readers
- RO based water purifiers
- Pre forms of precious and semi-precious stones
- Branded petrol
- Matchbox
- Life micro insurance policies
- HIV/AIDS drugs and diagnostic kits
- DDT insecticides
What's getting expensive:
- Cigarettes
- Aerated products
- Pan Masala
- Gutka and chewing tobacco
- Jarda scented tobacco
- Radio Taxi
- Imported electronic products
- Portable X-ray machines
- Half cut/broken diamonds.
(With agency inputs)
For more, read the Budget 2014 highlights