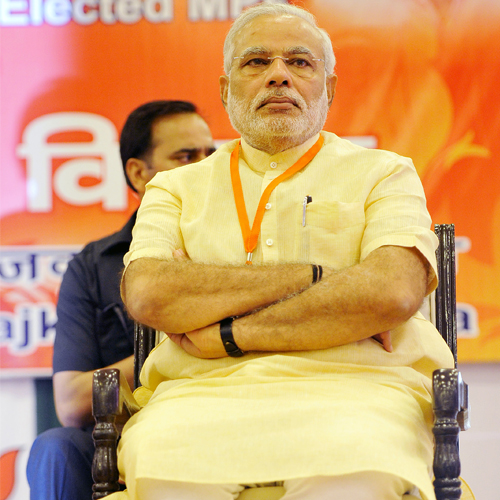 The country is two days away from the Union Budget 2014 being presented in the Parliament by a new government that is not saddled with coalition politics. The mandate is unambiguous -- to usher in "acche din" and the expectations are high. Many constituencies are reaching out to the Finance Ministry in a bid to seek an impetus and drivers for growth in specific categories. I speak for the youth and entrepreneurs, perhaps the most under-leveraged assets of the nation.
The large electoral voter turnout this year was fuelled by the youth and first-time voters, lured by a campaign that not only gave them a feeling of hope and change, but made them believe that they were truly involved -- the digital medium playing a big role. Many believe that their participation has made a difference and wish to carry on with increased involvement. The youth have huge expectations. They are a latent powerhouse waiting to unleash their talents in a new powered environment. The focused projections of development by a leader with mass appeal has fuelled this and the appointment of young ministers has added to these expectations further.
Narendra Modi has struck a chord with the youth. He represents independence and the character of a maverick with a purposeful image and someone who takes life on against odds – by default perhaps the subliminal image of an entrepreneur!
Youth and entrepreneurship are often synonymous. They have the spirit to take risks against odds.
Entrepreneurship is generally discouraged in our risk-averse culture. Any young person seeking to set out on his own has to first deal with family pressure – who amongst other reasons perhaps are well aware that it is a hostile environment with numerous challenges to start any business. From registering a firm to seeking legal solutions to getting capital or simply good advice – it's a minefield, which often breaks the entrepreneurs resolve in the first few stages.
He returns dejectedly either to a relative's trading business or the safety of a 'company' which his family had pushed him to do all along – with 'I told you so's' being thrown at him. A failed opportunity to unlock the aspirations of the youth to beak their mould
Can this budget recognise entrepreneurship as an industry? Even a mention of entrepreneurship would help. Giving assorted sops or incentives is unlikely to get this kick started. It requires a focused initiative.
Just like IT (Information Technology) was a few years ago, a Ministry of Entrepreneurship would be a magnet not just for India's untapped talent – but a huge 'Singapore' like signal to the world, of India's radical change in thinking.
There are enough youthful dynamos in the elected MP's to lead this. Like any new venture, this 'ministry' itself could lead from the front in a maverick manner. The ministry could be independent of old shackles. It could lay its own rules and governance & monitoring models for the industry. This itself can contribute significantly the economic matrices.
India is starved of role models for our youth. Involving both recognized achievers and unsung heroes and placing them visibly by itself will be a catalyst to harness and channelize this youthful energy and intent. If such a body is formed, the thoughts and actions will come on their own – weather it is to set up SEZ style "Entrepreneur Parks" or triangulation of national issues with entrepreneurship and funding!
The youth seek only an environment of growth and enablement – they will do the rest!
They wish the election promise script to be expanded.
They believe they have been the architects of this change and now wish to participate in bringing about the "Achhe Din" … at least for themselves!
Sanjeev Malhotra is a serial entrepreneur and founder – Alia Group