Finance Minister Arun Jaitley presented the Economic Survey for the year 2013-14 today, warning that the economy would suffer a further downside due to geopolitical factors. Inflation was high on seasonal factors, he said.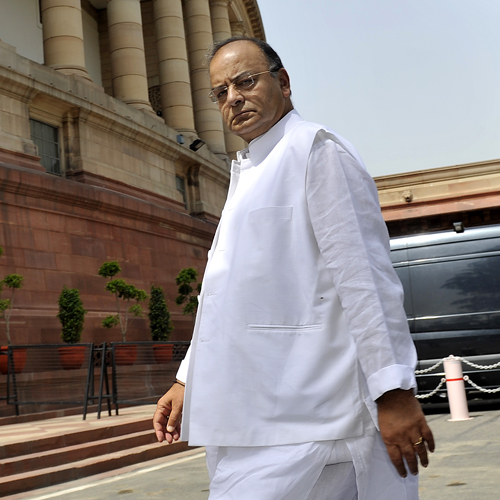 Finance Minister Arun Jaitley presented the Economic Survey for the year 2013-14 today, warning that the economy would suffer a further downside due to geopolitical factors. Inflation was high on seasonal factors, he said. The survey forecasts the gross domestic product at 5.4-5.9% for the financial year 2013-14. It also focussed on cutting down of subsidies and even introducing a new FRBM Act which has more "teeth." It spoke of the need to review nutrient-based fertiliser policies. It said it understood that inflation was making reducing interest rates difficult, but thought that the RBI would take more accommodative stance once inflation eases. It said GST was the need of the hour, and the Central GST introduction could be a first step towards full GST.
A flagship annual document of the Ministry of Finance, the Economic Survey reviews the developments in the Indian economy over the previous 12 months, summarises the performance on major development programs, and highlights the policy initiatives of the government and the prospects of the economy in the short to medium term. ​
Here are the major highlights of the Survey:
1. The GDP is projected at 5.4-5.9% for 2014-15. But it says the growth could be on the lower side of the projections.
2. India's current account deficit has improved dramatically from 4.7% of GDP in 2012-13 to 1.% in 2013-14. India's foreign exchange reserves increased from US $ 292.0 billion at the end of March 2013 to US $ 304.2 billion at the end March, 2014​.
3. The service industry consisted of 57% of GDP in 2013-14, up by 6 percentage points in 2001. India has the second fastest growing services sector with its Compound Annual Growth Rate at 9.0 per cent, just below China's 10.9 per cent, during 2001 to 2012. However, the industry grew by just 1.0 per cent in 2012-13 and slowed further in 2013-14, posting a modest increase of 0.4 percent.
4. India's external debt has remained within manageable limits with restrictions on foreign borrowings continuing. India's external debt stock at the end of March 2013 stood at US $ 404.9 billion (Rs 2,200,410 crore), recording an increase of US$ 44.1 billion (12.2 per cent) over the previous year's level of US $ 360.8 billion (Rs 1,844,167 crore).
5. Fiscal consolidations will remain crucial for the party with the fiscal deficit being contained at 4.5% of GDP. Total outstanding liabilities of both the central and state government has gone down as percentage of GDP.
6. The report has selected 5 sectors as most stressed: infrastructure, iron and steel, textiles, aviation, and mining. The survey has thrown caution over the banking system as bad debts have gone up and the quality of loans of the banks have also deteriorated.
7. High inflation, particularly food inflation, was the result of structural as well as seasonal factors. IMF projects most global commodity prices are expected to remain flat during 2014-15. The RBI with a view to restoring stability to the foreign exchange market, hiked short term interest rate in July and compressed domestic money market liquidity.
8. According to the Human Development Report 2013, India has slipped down in HDI with its overall global ranking at 136 (out of the 186 countries) as against 134 (out of 187 countries) as per HDR 2012. It is still in the medium human development category. The poverty ratio (based on the MPCE of `816 for rural areas and `1000 for urban areas in 2011-12 at all India level), has declined from 37.2 percent in 2004-05 to 21.9 per cent in 2011-12. In absolute terms, the number of poor declined from 407.1 million in 2004-05 to 269.3 million in 2011-12 with an average annual decline of 2.2 percentage points during 2004-05 to 2011-12. During 2004-05 to 2011-12, employment growth [CAGR] was only 0.5 per cent, compared to 2.8 per cent during 1999-2000 to 2004-05 as per usual status.
9. Record food grains and oilseeds production of 264.4 million tonnes (mt) and 32.4 mt is estimated in 2013-14. Due to higher procurement, stocks of foodgrains in the Central Pool have increased to 69.84 million tonnes as on June 1, 2014. The net availability of foodgrains increased to 229.1 million tonnes and that of edible oils to 12.7 kg per year in 2013.
10. Reforms needed for long term-growth prospects on three fronts- low and stable inflation regime, tax and expenditure reform and regulatory framework. Survey suggests removal of restriction on farmers to buy, sell and store their produce to customers across the country and the world. Rationalisation of subsidies on inputs such as fertilizer and food is essential. Government needs to eventually move towards income support for farmers and poor households.
India's economic growth remained subdued at 4.7% in 2013-14 and at 4.6% in the fourth quarter of the financial year, mainly due to a decline in manufacturing and mining output. The country's economy, or gross domestic product (GDP), had expanded at 4.5% in 2012-13, the slowest pace in the past decade. Growth in 2013-14 was less than the Central Statistics Office's advance estimate of 4.9%. The economy expanded 4.4% in the fourth quarter (January-March) of 2012-13, according to official data released by the Central Statistics Office (CSO).
Control fiscal deficit through economic expansion: Arun Jaitley
Ahead of his maiden Budget, Finance Minister Arun Jaitley said that fiscal deficit needs to be maintained at an acceptable level through expansion of economy and tax buoyancy rather than contracting expenditure. In his pre-budget address, Jaitley stated that tax exemption and middle income housing will remain the key focus in the upcoming Budget along with manufacturing stimulus, impetus on education, and expenditure reforms. Replying to supplementaries during Question Hour in the Rajya Sabha, he said fiscal prudence is required because if the deficit goes out of control it would mean borrowing more to finance current expenditure. "So, if we are borrowing more in order to finance the current expenditure, we are spending beyond our means. If we are spending beyond our means, we are going to leave behind a legacy of debt," Jaitley said. Read more
ALSO READ: Highlights of Narendra Modi government's first #RailBudget