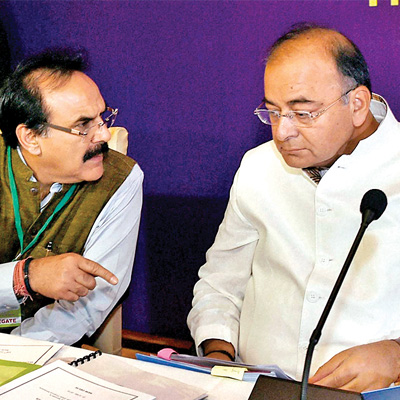 The BJP led National Democratic Alliance (NDA) government is working on a model of national development driven by the state governments, with the Centre providing the 'necessary flexibility' in achieving this.
During a meeting with state finance ministers, union finance minister Arun Jaitey said 'Team India' shall not be limited to the government sitting in Delhi but will also include the states as equal partners.
Addressing the state finance ministers, as a part of the pre-budget consultations, Jaitley said, "My Government is committed to evolving a model of national development, which is driven by the states and we intend to extend necessary flexibility to States in achieving this. I urge the states to be fiscally responsible with this greater devolution of power. Inter-generational equity must be kept in view while deciding today's spending. I appreciate the fact that most of states have been conforming to the fiscal responsibility and budgetary management targets. We must carry this forward."
"It is the policy of this Government that Team India shall not be limited to the government sitting in Delhi but will also include states as equal partners in the growth of this great nation," Jaitley added. He also emphasised the need to address regional disparities through evenness of growth between states.
"Union and the states must complement each other in managing the economy and the fiscal policy. This is the essence of cooperative federalism. It has been noted that while the growth of the country has crawled at sub 5% in the recent years there have been states registering much robust growth. This is clearly a case of sum being less than its parts and needs to be addressed through our concerted efforts," Jaitley added.
The greater autonomy to the states will begin in the form of greater commitment to flexibility to the states in scheme implementation.
States expressed concerns regarding certain provision of new land acquisition law and its impact on infrastructure projects and investments. They also pointed towards provisions of environmental laws and their adverse impact on completion of critical infrastructure projects.