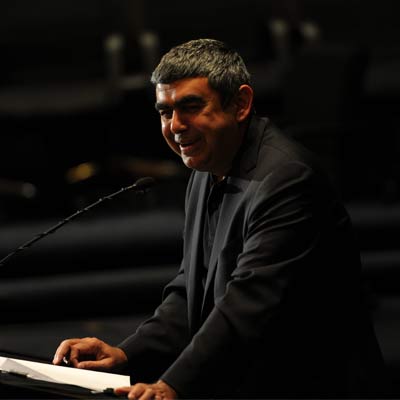 "Sikka means coins and Vishal means big. So Vishal Sikka implies big money. This is what we need for Infosys. He is the man who represents big money and intellectual competence," said N R Narayana Murthy while introducing the new CEO and MD designate, Vishal Sikka.
In a paradigm shift from the Infosys tradition of having founders as CEOs, the company Board has decided upon a rank outsider, a products man and a former SAP honcho as the new CEO to steer the company ahead. "I am honoured to lead Infosys, an iconic company built by pioneers in the technology industry. I look forward to working with and learning from talented Infoscions around the world," said Sikka.
The appointment of Sikka coincides with Murthy and his remaining founding team, including current CEO SD Shibulal and executive vice-chairman Kris Gopalakrishnan calling it quits. "The mandate given to me when I was brought back, that of finding an excellent CEO and creating a strong foundation for the future growth of Infosys, has been completed. Hence it is appropriate to leave," says Murthy, whose son Rohan, brought in last year as executive assistant, would also leave.
The move is seen by industry experts as a 'clean-up drive' to revive the company's image and growth that had taken a beating of late, especially in the wake of the 11 top-level exits in the last 1 year.
According to Moorthy Uppaluri, CEO, Randstad India, though Sikka is the first non-founder professional CEO, the challenges will not be very different than what earlier management had faced.
Analysts feel the move of bringing in Sikka will boost Infosys' image in investors and shareholders minds. "We believe that clarity in senior leadership will also improve confidence of employees, as well as the investors. Vishal is young and has enough time to drive his strategy within the company," says an analyst from Religare Capital Market.
Some analysts feel the new CEO should be given a free hand to run the company with no dual power centres.
"Narayana Murthy not continuing as the executive chairman basically gives the new CEO a free hand to run the company, instead of what could have been otherwise a dilutive/conflicting dual power arrangement," said Ashwin Mehta, analyst from Nomura.
Mehta also feels that Sikka's appointment raises the profile of Infosys in the eyes of clients, given Sikka's earlier position as a board member at SAP, and "brings the company at par with key competitors like Cognizant and TCS."
Partha Iyengar, country manager, research, Gartner India, says the new CEO will have to move very quickly to first calm the three key stakeholders, that is employees, customers and the investors, in that order. "Infosys cannot afford any more resource departures especially at senior levels. He will next have to establish credibility with those stakeholders."
However, some believe that the move can lead to fresh round of attrition. "Infosys has made an unorthodox choice with respect to the CEO which separates it from its peers. We see a possibility of fresh round of attrition at the senior management level," says Shashi Bhushan, senior research analyst, Institutional Equities, Prabhudas Liladher.
Employee reactions:
Sikka addressed us today after his name was announced as the new CEO and managing director. He looked someone who gives out positive vibes. Lets hope he will be able to bring back Infosys to what it was -- IT bellwether, says an employee who is working in the HR department.
Though the move looks positive, we feel a little orphaned since from now on we will not be able to see any founder in the company. Murthy was supposed to continue for five years. Hence his stepping down comes as a shock, says an employe in the product division.
Sikka looks charismatic, something needed to be a good CEO. His SAP background will send signals that from now on the company will give performance more weightage over legacy. However, I feel Murthy and Gopalakrishnan could have continued for sometime," says an engineer at Infosys.