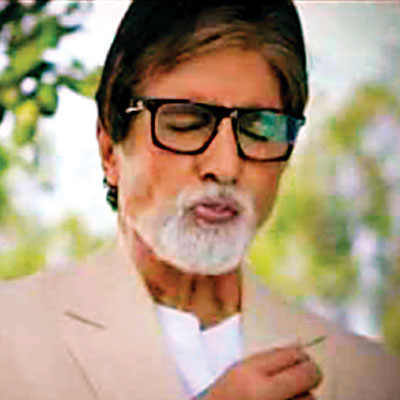 Bollywood actor Amitabh Bachchan's stone throwing act in a television commercial (TVC) for candy brand 'Kachha Mango Bite' by Parle Products has been pulled up by the Consumer Complaints Council of the Advertising Standard Council of India (ASCI).
Bachchan, who was roped in December by Parle as brand ambassador for the candy brand, is seen throwing a stone at the mango tree that eventually breaks a glass window of an adjoining house. On consuming the candy in the end Bachchan exclaims, "Aha! Bachpan yaad dila diya" (reminded me of my childhood).
Responding to consumer complaints, the council noted that Bachchan's actions may be replicated by children, which is not only harmful to them but also to people around them.
Accordingly, the council has upheld the campaign as it violated one of ASCI's four codes that says advertisements should not encourage unsafe practices.
Parle did not respond to dna queries till the time of going to print.
Dhunji S Wadia, president, Everest Brand Solutions P Ltd (the agency that created this television commercial), said they have not received any communication from ASCI or their client (Parle). "Hence we are not in a position to comment."
Interestingly, Parle is not the only company employing such tactics to promote their products in the market. Cadbury India Ltd's television commercial for its Cadbury Bournvita shows one of the boxers without a helmet. "This," ASCI said, "promotes an unsafe practice." Cadbury India could not be reached for a comment.
On rising trend of advertising and product companies not following the ASCI code, Anand Halve, brand consultant, advertising professional and co-founder, chlorophyll, said, "ASCI is handicapped on the one hand by its own rules that are subject to individual interpretation, and on the other hand they do not have the power to enforce the decision."
According to ASCI's consumer complaint council, in January 2014, it received complaints against 144 misleading advertisement campaigns from consumers and competing companies and that the council has taken action against 134 of them.
Among other companies whose advertisements have been pulled up include Dabur and Emami, Havells India and Philips Electronics, Titan Industries, Tata Motors, Aegon Religare Life Insurance (insurance), etc. When contacted, Dabur did not offer a comment. A Havells India spokesperson said, "ASCI's objections have already being taken note of and the company has made relevant modifications to its geyser advertisement."
A Titan Industries spokesperson said, "We acknowledge that the current campaign has hurt the sentiments of some sections of the society. In light of this, Fastrack has already withdrawn this campaign and has pro-actively replaced it with another advertisement."
Defending their campaign, however, a Tata Motors spokesperson said, "The advertisement for Manza was not misleading and did not violate ASCI regulations. It clearly mentioned the offer as applicable for a limited period on select models and stocks. The offer and the advertisement were discontinued from December 31, 2013."
The 'misleading' ads
Titan Industries' Fastrack advertisement was about the sexual objectification of women in the media. The campaign showed a woman covered in yellow tape with the words 'SALE' across her body. The complainant questioned, if there is a sale on bags, wallets and sunglasses, why is a woman's body being objectified?
Tata Motors in its advertisement claimed to offer a discount of Rs 1.56 lakh on Tata Manza cars. Complainants said that on enquiring with the dealers mentioned in the ad, not one was able to supply the car with the said discount. It was felt that the objective of the advertisement was just to create a hype and that the said model cars could not be supplied at a discount mentioned in the ad.
Philips Electronics India's Kerashine range claims that it 'does not damage hair even when styled every day'.
Emami's Zandu Kesari Jeevan TVC shows Pandit Birju Maharaj with the footnote stating 'Padma Vibhushan Pandit Birju Maharaj. The approach was in breach of the law and a commercial exploitation of a civilian award.
Dabur Chyawanprash's packaging claims it provides 'three times more immunity'. The fineprint says that the claim of '3 times more immunity' is based on 'preclinical study on NK cells'. It also claims that it is scientifically proven.
Dabur Shilajit Gold claims for complete vigour and power. The visual with the line 'His vigour amazes me' implies product meant to enhance sexual pleasure.
Aegon Religare Life Insurance Co Ltd claims a guaranteed return of 135% as bold headline. This is clear misrepresentation of facts and uses incorrect calculations to attract naive customers with false promises.