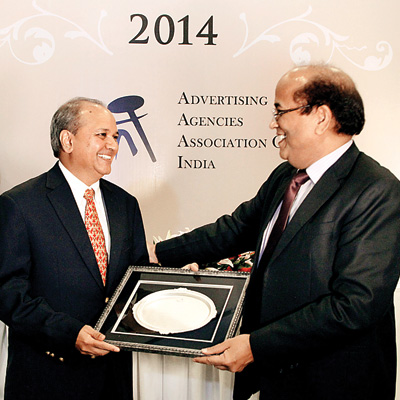 Veteran ad and media personality Ramesh Narayan was felicitated with the lifetime achievement award by Advertising Agencies Association of India (AAAI) last evening (Thursday, July 24) at an event attended by top ad and media trade professionals.
Accepting the award from AAAI, Mr Narayan thanked his friends and peers who had flown from all over the country for the occasion. He also remembered his father, the late CA Narayan, who had made the maximum impact on him.
In his opening remarks, AAAI president Arvind Sharma said, "Everybody says do good to others but Ramesh is one guy who actually follows it. He practices it and has been doing it for over a quarter of a century. That's why he has many admirers in the industry. He has made so much of a difference to the industry."
Narayan started his career in media in 1982 and established his agency Canco with no experience in advertising and without a client in hand. However, soon there were clients who came on despite having the bigger agencies empaneled and Canco had on its roster among the biggest advertisers in the country. Mr Narayan wound down his agency in 2006 even as there were some serious overtures for an acquisition.
He has been active in all trade associations and was instrumental in organising Ad Asia conventions in the country.
Said Nagesh G Alai, group chairman, FCB Ulka: "Ramesh has been a long-time advertising veteran who believed in some ethical way of doing business. However, since the ethics were moving out of the business, he decided to move away rather than falling prey to it. Even after retirement, he has been quite active in terms of engagement with the industry like awards, recognition of young achievers so on and so forth. He truly deserves the award because of his continuing engagement and professional approach to it. At a personal level, he is a good human being. I have known him for 25years. He truly deserves it. "
Summing up the sentiment of the fraternity, Ashish Bhasin, chairman & CEO South Asia Dentsu Aegis Network, and Honorary Secretary, AAAI added: "A lot of credit for the work on policies and the strength of the AAAI goes to Ramesh. If one person deserves the lifetime achievement award, it is him."