In a recent survey conducted by Chinese research firm, Hurun, Mukesh Ambani ranked as India's richest man. Top five rich people in the world include Bill Gates, Warren Buffett, Amancio Ortega, Carlos Slim Helu and family and Larry Ellison. The list ranked 1,867 billionaires from 68 countries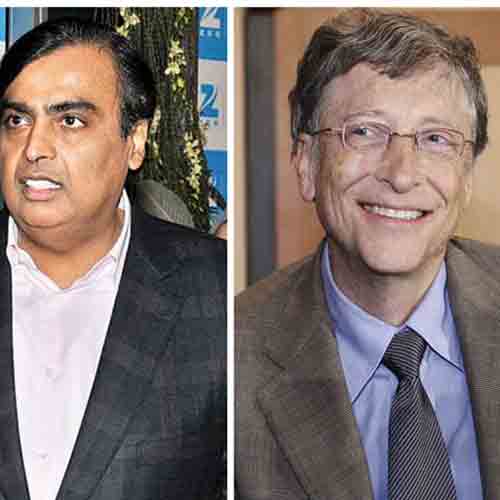 A Chinese research firm, the Hurun Report, compiled a list of world's richest billionaires—Hurun Global Rich List 2014.
Seven in the top ten of the list are from the United States. Bill Gates is at the top of the wealthiest men list with a fortune of US$ 68 billion. This is an increase by US$ 14 billion as compared to last year.
As per the website, wealth calculations are a snapshot of January 17, 2014. The list ranked 1,867 billionaires from 68 countries.
This is the third year that Hurun Report has released a ranking of the billionaires in the world, the so-called 'Nine-Zero Club'.
India has a larger number of super rich individuals as compared to Germany, Switzerland, France and Japan. Mumbai, with its 33 billionaires, is among the top six billionaire cities in the world.
Not surprisingly, the report reveals Mukesh Ambani is ranked 41st in the list that was topped by Bill Gates. The combined wealth of the Indians billionaires comes to $390 billion.
The US has 481 billionaires, followed by China with 358 billionaires. The US and China now have half of all billionaires on the planet, the report added. UK, Japan, Switzerland, India and Russia are growing fast in terms of billionaires.
So who are the Indians who featured in the list?
Lakshmi N Mittal was ranked 49th with a personal net worth of $17 billion. Dilip Sanghvi of Sun Pharmaceutical Industries and Wipro's Azim Premji both ranked 77th with a personal wealth of $ 13.5 billion each. Tata Sons' Pallonji Mistry ranked 93rd with a personal wealth of $ 12 billion.
SP Hinduja and family was ranked 93rd on the list, with a net worth of $12 billion
Chairman of Wipro Limited, Azim Hashim Premji made it into the list at 77th position while news corp owner and media mogul Rupert Murdoch came at 83rd position.
Founder and chairman of HCL, Shiv Nadar makes it to the list at 105 position while Kumar Birla enters the list at 175th position.
Chairman of Poonawalla Group, Cyrus S Poonawalla made it into the list at 261th position.
Worldwide report:
Bill Gates is followed by Berkshire Hathaway's Warren Buffett (2nd) with a personal wealth of $64 billion and Amancio Ortega of Inditex was ranked 3rd with $62 billion fortune
Warren Buffett, 84, and Amancio Ortega, 78, are in the second and third place in the list, for the second consecutive year, growing 10% and 13% to US$64 billion and US$62 billion respectively
The fourth position is held by Carlos Slim Helu & family ($60 billion) while Oracle's Larry Ellison with $60 billion was ranked fifth
The report mentions that during the 2013 due to fed tapering, Indian rupee weakened 12% against the US Dollar, making it harder for Indians to make it to the list

New York is officially the 'Billionaire Capital of the World' as 84 of the Hurun Billionaires live in the 'Big Apple', up 14 from 70 last year

The total wealth of these super rich people amounts to $6.9 trillion
The average age is 64, up one year from 2013. One in nine billionaires is a female, compared with one in ten last year, the report said

Carlos Slim Helu, 75, lost the top spot that he had been holding for the past two years, after seeing his wealth drop by US$6 billion, mainly on the back of a 9% drop in the value of the Mexican telecommunication company America Movil and a weak Mexican Peso

Media baronets David Thomson & family alongwith Rupert Murdoch are in the list.
Some of other prominent Indians on the list:
Uday Kotak-

Vice-chairman and managing director of Kotak Mahindra Bank

J

amshyd Godrej-

managing director and chairman of Godrej & Boyce

Adi Godrej-

chairman of the Godrej Group

KP Simgh -DLF India

Brijmohan Lall Munjal & family -Hero MotoCorp

Desh Bandhu Gupta-

Founder and Chairman of Lupin Limitedz

Ravi Ruia and Shashi Ruia -Essar group

Ajay Kalsi-

first generation entrepreneur

Yusuf Hamied

Cipla group

Kalanithi Maran

-

Managing Director of Sun Group

Rishad Naoroji

-Godrej

GV Prasad

-Dr Reddy's lab

Ajay Piramal-

Piramal enterprise

Ashwin Dani-

Asian paints

Nandan Nilekani-

Infosys

Vijay Chauhan

-Parle products,

Baba Kalyani

-

chairman and managing director of Bharat Forge

Glenn Saldanha

-Glenn Pharma

Gautam Thapar

-Crompton Greaves

Lachman Das Mittal-

sonalika group

Mangal Prabhat Lodha

-Lodha developers

Mallika Srinivasan

-TAFE
Writer's take: Perhaps the most interesting aspect of the list is 'source' section where people are classified in two categories. Either self-made or inherited, indicating the source of income. While Bill Gates is self-made, Mukesh Ambani's source of income is inherited. Also, Facebook founder Mark Zuckerberg has made it into the list alongwith WhatsApp founder Jan Koum.
Economists usually club developed and developing countries to identify their growth. In 1990's, BRICS was formed due to surplus investments and opening of stock markets but these countries could not sustain their growth pattern in the start of twenty first century. Hence, any sort of categorisation does not work as the equations of GDP induced growth ranking changes.
This list has taken into account various parameters such as revenue, investments, mode of revenue generation and expansions giving all the countries billionaires an opportunity to be listed.