IT, tech, banking and capital goods sector stocks led the fall.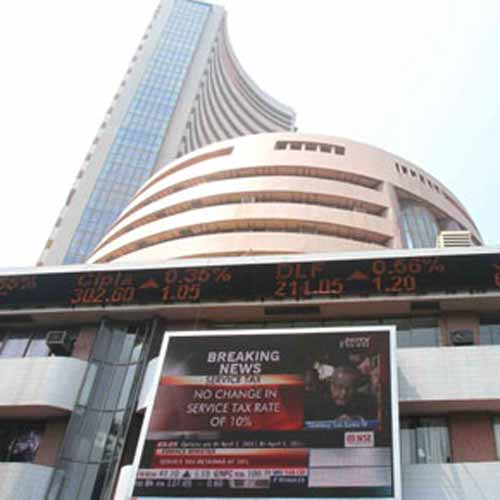 A benchmark index of Indian equities markets Friday slumped 202 points or 0.95 %, as information technology (IT) and bank stocks dipped.
The 30-scrip S&P Sensex of the Bombay Stock Exchange (BSE), which opened at 21,236.65 points, closed at 21,063.62 points, down 201.56 points or 0.95 % from its previous day's close at 21,265.18 points.
The Sensex touched a high of 21,270.11 points and a low of 21,015.61 intra-day.
The wider 50-scrip Nifty of the National Stock Exchange (NSE) closed trade 57.25 points or 0.91 % down at 6,261.65 points.
In Friday's trade, the S&P BSE IT index was down 246.11 points followed by bank index which lost 199.44 points and technology, entertainment and media (TECk) index was 198.83 points down.
However, the S&P oil and gas index was up 21.87 points, fast moving consumer goods (FMCG) gained 4.26 points and automobile index was up by 4.19 points.
The major gainers were: Bajaj Auto, up 1.37 % at Rs.1.934; BHEL, up 1.30 % at Rs.171.30; Cipla, up 1.27 % at Rs.417.90; Hindustan Unilever, up 1.27 % at Rs.559; and Mahindra and Mahindra, up 0.62 % at Rs.898.10.
The main losers were: Tata Consultancy Services (TCS), down 5.77 % at Rs.2,215.65; Wipro, down 3.15 % at Rs.552.45; HDFC, down 2.58 % at Rs.838; ICICI Bank, down 2.44 % at Rs.1,035; and Axis Bank, down 2.05 % at Rs.1,152.80.
Among the Asian markets, Japan's Nikkei closed 0.39 % down, while Hong Kong's Hang Seng gained 0.37 %. China's Shanghai Composite Index was marginally higher by 0.02 %.
In Europe, London's FTSE 100 was trading 0.09 % up. However, Germany's DAX Index was lower by 0.09 % and the French CAC 40 Index edged up by 0.07 %.