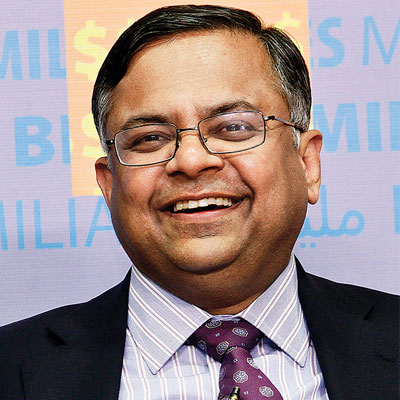 N Chandrasekaran, CEO, TCS, tells Beryl Menezes the Indian IT industry may well beat beat software body Nasscom's cautious guidance for next fiscal, given the robust growth in SMAC (social, mobility, analytics and cloud), 4G and discretionary spends. Edited excerpts:
Nasscom has been cautiously optimistic in raising guidance for FY15 from 13-15%, up from 12-14% last fiscal. Given this scenario, does TCS continue to be confident of beating Nasscom guidance?
Yes, as I have said earlier, I am confident of us performing better in FY15 that FY14.
Your closest peer, Cognizant reported disappointing Q3 results and expects a challenging year going forward, due to slowdown in the US market – which is also the largest market for TCS, mainly due to project delays. However, TCS had earlier said there were no project delays and discretionary spends are seen growing…
What we hear from clients is that this year there'll be more discretionary spending this year than last year, we are seeing traction, we are seeing customers making decisions, deal cycles are good, and so there is momentum.
Is this only in certain verticals?
No, the growth is broad-based across verticals. If you see our business in the last few years, we have been growing in all markets, so we are quite positive.
Nasscom also drastically cut domestic guidance this year, when last year Nasscom had estimated that the domestic market revenues will exceed export revenues. Do you expect a similar slowdown for TCS, after the company witnessed 8% India revenue growth decline in Q3?
I have already said that being election year, I expect the next two quarters to be very soft. Based on what we see in the market, we have factored in soft next two quarters for India in our internal planning and after that we think decision making will pick up. But we will have to wait and see.
The telecom vertical which saw a slowdown for two years has finally seen to be picking up for Indian IT firms. With all the buzz around the auctions and 4G, will there be more telecom business for IT companies, like TCS?
TCS telecom revenues have been growing for the last 2-3 quarters and winning deals, after a muted performance and even de-growth last year. So I think it won't grow dramatically, but we think for TCS, telecom vertical will witness growth. Main reason is opportunities in terms of digital as well as optimization. Convergence is also a major play and in that respect 3G/4G networks always help – content from 3G and 4G in that respect will be a major growth driver in the future.
What is the SMAC opportunity for TCS?
While we don't give out our numbers for digital separately, we are doing a lot of work in the digital space, so in the next few years we expect this to be an opportunity of $3-5 billion for us, across industries, especially from US and Europe. India also represents a big SMAC opportunity, but adoption in India will take time.