Economist and Columbia University professor Arvind Panagariya bats for Narendra Modi as the next Prime Minister, but cautions that unless and until the BJP gets close to 220 seats in the April-May Lok Sabha polls, the economic reforms agenda cannot be duly implemented. Soon after delivering the C D Deshmukh annual lecture at the NCAER, Panagariya told Rakesh Khar (https://twitter.com/rakeshkhar) of the Zee Research Group that the blame for not paying any attention to economic policy formulation should rest squarely with the Manmohan Singh government. Edited excerpts from the interview: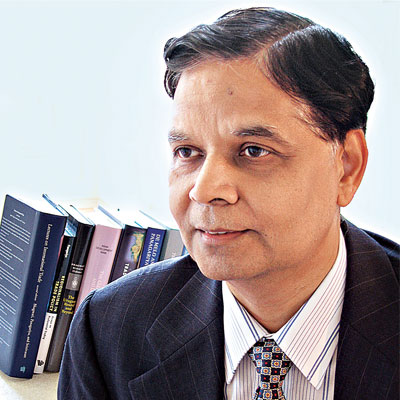 With less than 60 days left for polls, why is economic policy not centre stage in political discourse in India?
During the last 10 years, political discourse in India has moved far away from the growth imperative. Sadly, discourse has moved to the left and politics of entitlement and sops with no focus on the core policy reform issue.
You have studied the Gujarat growth model at length. Why is Narendra Modi too silent on the core economic agenda?
Even he feels, at this point, what is the purpose of discussion of reforms? Why get into any needless controversy? He has been keen to restrict himself to talk of building infrastructure (that connects directly with the voter). Modi, however, has been careful not to talk of entitlements and sops. He talks about the need for 24-hour electricity but does not either say it is going to be free or to be subsidised.
So is economy not going to be an important issue going forward in the 2014 Lok Sabha election?
The narrative can surely change. Rahul Gandhi will go back to focus on entitlement politics. Release of manifestos will change the situation though it (economy) may not be at the forefront of the campaign.
You are said to be assisting the BJP in building its economic manifesto. What is your advice to Modi?
This is not correct. Occasionally, friends in the BJP ask my advice and I pass my advice; like, (chartered accountant) Piyush (Goyal, Rajya Sabha MP and BJP treasurer) came to New York and we had a chat.
Will Modi and the BJP pitch economic reform agenda as part of their election strategy?
The apparent current lack of interest in economy by Narendra Modi is a strategic move and not a symptom to come. He is best positioned to deliver the growth story from among the various aspirants for the PM slot.
But will Modi buy into your economic prescription to dismantle the Planning Commission and MNREGA and promote privatisation and usher in labour reforms?
Modi has to be judged on his successful governance track record in Gujarat. Going forward, he must pick up his learning from the likes of Narasimha Rao and A B Vajpayee who religiously pursued the reforms agenda. The Manmohan Singh-led government abandoned the path totally during the last ten years.
Opinion polls predict an NDA-led coalition government. How can Modi move forward at a pace you would love him to do?
You have got to see Modi as distanced from traditional BJP leadership. But indeed there will be pressure on Modi if he gets less than 200. If only the BJP gets close to 220-230, then only can Modi truly implement reforms. My own sense is, he will let his government fall and seek a fresh mandate like Vajpayee did in 1999, if he is not free to act on his own. This means, reforms may have to wait further for a couple of years.
But assuming Modi gets the right numbers, do you think he will be able to dismantle politically sensitive schemes like MNREGA?
As an economist, I would like him to do so, but I know no politician would actually do that. Hence, my recommendation is to give an option to people to choose between a direct cash subsidy and PDS (public distribution system) and indirect sops. I am all for being pro-poor but the mechanism has to be sound, leakage-free, and pro-asset creation.
State-Centre relationships have come under strain, especially on issues of jurisdiction, financial empowerment and delivery. Going forward, what should be the agenda for the new PM?
States and the Centre need to work more closely. There are interesting models of growth across states in India. Learning from one another has to be institutionalised. The entire action is in states where the projects are located: You need water, electricity, infrastructure, land, so on, so some partnerships there are necessary.