RBI governor Raghuram Rajan turns 50 today. At the recently concluded 'Young Changemakers Conclave' presented by dna, he spoke to Siva Sankar about RBI as an institution and his efforts to keep in touch with reality. Below are the excerpts.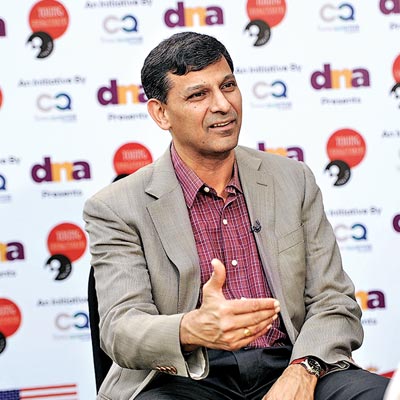 When the RBI governor Raghuram Rajan, who turns 50 today, visited the US consulate in Mumbai on Saturday to take part in 'Young Changemakers Conclave', an event presented by dna, he did not come with a prepared speech. While still among the audience, he quickly scribbled a few points on a business card. And when the time came for him to speak, he enraptured the audience with his extempore speech about the kind of India that needs to be built, which drew frequent applause.
In a chat with the event organisers while leaving the venue, he made it clear that he wouldn't want to be a central banker who rests content by making splendid speeches and effecting sensational interest rate hikes. He really sees the RBI as an institution that needs to keep in touch with reality. For, its decisions affect hundreds of millions of poor people. So, he asks for a visit to Dharavi, Asia's largest slum in the heart of Mumbai, to get first-hand experience of how a community outreach programme works at the ground level.
Amid all this action, he took some time out to tell Siva Sankar why it is "extremely important" for everybody to know what the RBI does, why he loves Mumbai. Edited excerpts:
Do you like Mumbai?
Mumbai is a vibrant city. It's a very interesting city. There are lots of interesting places to explore. I've been around the historical Fort area. It's fascinating – the history of how this city was built. Of course, it is, as Suketu Mehta puts it, the Maximum City.
Would you buy a house in Mumbai with your hard-earned money?
I don't know. I mean, I have a house now. So, I don't need one now. In terms of investments, I think as and when I start needing a house, I will decide. But it is not something I thought about.
Won't you be dissuaded by the prevailing high home loan rates?
High home loan rates have to be offset against house price appreciation which, depending on where you are, how you expect that to move, you will decide whether that makes sense. Also, remember, the wages for the upper middle class have been growing in the past so many years. I don't know how much the wages are growing just now. But I know they have been growing at more than 10 to 10-and-a-half %.
Everybody, including the so-called common man, or aam aadmi, seems to be keenly following every move made by the RBI. Does this make you nervous?
No, it doesn't. I think everybody should know what the central bank does. I don't expect everybody to know every detail. But knowing how it works, what kind of risks it is managing, how it is taking care of your money, how it is trying to preserve the value of your money… it is extremely important for the aam aadmi to know about it, and to start asking questions about it.
Well, should the aam aadmi approach you and ask you whether his money is safe with you at the RBI helm, what would be your response?
I would not invite every individual in the country to come up to me and ask if his or her money is safe with me. It would be a tax on their time. But certainly, the elected representatives of the people – we meet them. We have meetings with the parliamentary standing committee on finance, and they do ask questions on behalf of the aam aadmi. And I think they should. Because ultimately, a regulator is responsible to the people via the elected representatives.
But, for the common man, inflation remains a concern. And people look toward the RBI.
We are certainly trying to bring down the inflation. We are doing our best towards that goal. I hope that over time we will be able to bring it to a level which is more comfortable than the current level of 9.87%. There are other things that we do. For example, we regulate the financial system, manage the foreign exchange reserves of the country. So there are lots of things we are involved in. It would be good if they (people) try to understand what we are doing. We will try and explain, if necessary.
Explain what?
Awareness is important. Let me take this occasion to give out an important message to people. If you (people) receive an email from me (that is, in my name) saying 'send money', don't send any money. I don't send email messages asking for money. The RBI does not send messages asking for money. We don't have this hoard of a million or two that we want to give you. We don't give out money. So, beware of rogues and thieves operating over the internet.
Your recent move to withdraw pre-2005 currency notes has not been fully understood yet.
Let me clarify about the currency notes. The notes that you have which may be old will still be valid. You can use it as a means of payment. What we are trying to do is, withdraw them from circulation so that new notes which have better security features will replace them. And you won't have the old notes which are more easily counterfeited. That will not mean they (pre-2005 notes) no longer will be legal currency. This is not demonetisation. That old note will still be usable in transactions. You can certainly take it to a bank and you can get it exchanged. I don't think there is any desire to subject the public to any hardship here. It's just a process of withdrawing these notes from circulation. This kind of thing happens all the time. In this case we are saying that public should help us in the process.
So, it's not a move against black money?
Let me differentiate between black money and counterfeit. Counterfeit is illegal manufacturing of money. Black money may be illegal earning of money. This is not a move against black money. There are other ways black money can be targeted. And the government targets that at different times. This is purely a technical process to withdraw old currency notes and reduce the extent of counterfeiting.
Everybody knows Raghuram Rajan the RBI governor. Not many people seem to know Rajan the person. What do you do after work?
Well, the usual stuff. I either do some exercise, run, play tennis, play squash, or I read a book or newspapers, or I watch a movie. The usual stuff that anybody else does. My wife is also working. If she's at home, we chat.
You run marathons and attend film award functions these days. How do you relate to Bollywood? Any favourite movies?
Well, I don't relate to Bollywood. I'd not say I relate to Bollywood. A friend invited me to a film awards ceremony. I thought it would be interesting to see how it is done. It was quite an eye-opener. But I don't consider myself part of that circle. I don't know enough about movies to be part of that circle.
Slowly but surely, there seems to be consensus building among women that like tabla maestro Zakir Hussain had been, you are now the sexiest Indian male.
(Laughs.) I don't even go there. I am a boring central banker. I am trying to establish how boring I am. The central banking should be a conservative, boring business. So let's stay there.
You have been interacting with hundreds of youngsters. What is the sense you gather?
I am extremely energised by my interactions with the young people of this country, by their enthusiasm, their intellect, their capabilities. When I feel dejected, I look at our young people.
Let me tell you a story that I have not shared with anyone else before. This story really makes me happy. When we were going through turmoil in September 2013 (when the rupee's value fell to lifetime lows of almost 70/dollar), I got a letter from a young girl in Delhi. Her letter said, 'Look, I feel very badly for the country. I was out on a foreign trip. And I managed to save this twenty-dollar bill. Here it is. Why don't you use it as part of what you need to help stabilise the country?'
I thought that was a wonderful gesture. I wrote back thanking her and saying, 'We don't really need this twenty-dollar bill but this is a tremendous gesture on your part'… because all that money was savings from her trip. Mind you, twenty dollars is a lot of money. I told her, 'We don't need it now, and we have $300 billion worth of reserves'. But it is truly heart-warming that there are kids like this. She later came and met me in Mumbai. I was very pleased to see her.
What are your views on the fact that India's youth are a divided lot? Only some of them seem to have the opportunity to succeed in life.
The divide between youth (with one section reaping opportunities while the other feels left behind and craves hand-holding) is an important issue. We have to bring opportunity to those left behind. Which means better health, better education, better nutrition. At the same time, I think for those who have had the schooling, the nutrition, the health… I think we have to create the right environment where they can compete with the best in the world. Which means job environment, the university environment… So, while working with those who have, we should be careful that we don't forget those who have not, and vice-versa.
How can we head towards that goal?
Creating jobs for all the kids we see around is just hard work. It's step-by-step. It's doing many things. It's about creating infrastructure; we've massive projects underway. We've to make sure they are built on time. It's about creating human capital. Build out schools. Build out universities, attract good, strong, high-quality professors. It's about creating an environment where people can go out and start businesses. Make business regulation friendly towards the youth. It's not who you know but what you know that matters in that situation. That's what we at the RBI are working on. Make finance inclusive. Reach everyone, reach every small business. Make sure they can make payments anywhere they want. Make sure then can invest.
If you make sure you do all this, you don't have to have a grand vision. Take everything step by step, a day at a time, but keep making sure you are moving ahead. I think we will create that environment and opportunity for everybody.
What's the RBI doing in this direction?
We have a good document prepared by some seasoned, experienced participants from the financial sector. That has a lot of ideas. The RBI itself has been pushing a lot of ideas over time. I think bringing the two together and focusing on a few thrust areas -- I think we can make a difference. For example, a lot of our focus in the past has been on expanding credit. If you look at the Nachiketh More Committee report, if you look at some of the strengths that we have, maybe, part of the answer is, let's focus on payments, let's focus on remittances, let's focus on having access to savings accounts. If you take care of these things, credit might come automatically after that, rather than making credit the first priority. So a little bit of change in emphasis, without abandoning the old thrusts, may help us expand quite a bit.
Watch excerpts from the interview: