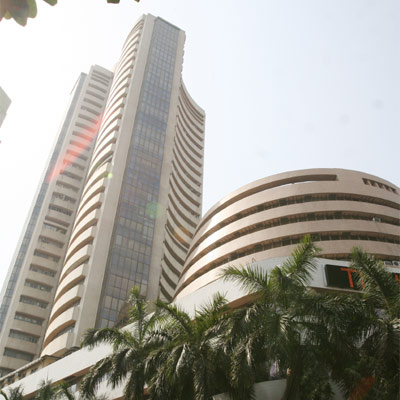 In highly volatile trade, the BSE benchmark Sensex today erased initial losses and jumped over 434 points after Finance Minister Arun Jaitley in his maiden Union Budget announced steps to strengthen investor confidence, improve fiscal situation and boost growth.
All the sectoral indices, led by realty, power and metal sectors, were trading in the green on emergence of buying driven by budgetary proposals.
After slumping over 300 points at around noon, the 30-share benchmark Sensex was trading higher by 434.23 points, or 1.71 per cent, at 25,879.04. Intra-day, the index has swung nearly 665 points as investors resorted to alternative bouts of buying and selling.
The broad-based National Stock Exchange index Nifty regained 7,700 point mark by surging 125.15 points, or 1.65 per cent to 7,710.15 point after shuttling between 7,713.45 and 7,479.05.
Atul Kumar, Head-Equity Funds ,Quantum AMC said: "Plan to reduce the fiscal deficit gradually to 3 per cent which is good for economic health. The focus of the budget has been on increasing manufacturing activity, agri growth and controlling inflation through investment in storage. There is also an intention in simplifying taxes aimed at attracting FDI..."
Experts also hailed Jaitley's announcements on tax front.
"The announcement that the government will not introduce any retro amendment and mechanism to issue clarification on grey areas will certainly go a long way to bring clarity and certainty on such issues and reduce tax litigation," said Rahul Garg, Leader Direct Tax, PwC India.
Jaitley also said income arising from transaction in securities to Foreign Portfolio Investors (FPIs), who have invested about USD 130 billion in India, will be treated as capital gains. This also triggered buying, traders said.
The Finance Minister proposed to set up Infrastructure Investment Trust to finance infra projects. Besides, proposed raising Foreign Direct Investment limit to 49 per cent in insurance through FIPB route. Budgetary proposals of custom duty relief to imported coal, also bolstered the sentiments, brokers said.
Post budget presentation, the markets have shown some cheer and recovered from the fluctuations.
*Sensex has recovered by 400 points at 25,681 points after a anxious free fall which led to other sectors witnessing fall. Meanwhile, nifty has also recovered and is stable above 7,700 points.
CURRENT:7,654.20, CHG:69.2/0.91%, HIGH:7,682.20, LOW:7,479.05 - Jul 10, 2014 13:27:29

— NSE_NIFTY (@NSE_NIFTY) July 10, 2014
13:30 PM IST, Thursday
*Sensex recovers, now down only 72 points to trade at 25,372.13 and Nifty trades lower by 23.55 points at 7,561.45.
*Tourism sector shows upward gains as Thomas Cook's sensex rises 119.20 and Nifty rises by 119.35%.
*Now the big thing, tax proposals: Direct Taxes- No change in tax rates. FM increased the taxable income limit to 2.5 lakh from 2 lakh.
*80 C limits increased to 1.5 lakh from Rs 1 lakh.Interest exemption on housing loan increased from Rs1.5 lakh to Rs 2 lakh.
*Nifty above 7,500 points while BSE sensex recovers 250 points by mid session.
*Basic tax exemption limit raised to Rs 2.5 lakh, and Rs 3 lakh for senior citizens.
*No changes made in corporate or other direct taxes. Limits under section 80C raised to Rs 1.5 lakh - as indicated in raising the PPF limit to Rs 1.5 lakh.
*EMI exemption for self-occupied property raised to Rs 2 lakh.
*Public Provident Fund annual limit increased from Rs. 1 lakh to Rs. 1.5 lakh. Domestic household savings to improve with this measure.
*Jaitley says bank will be provided funds for financing long-term infrastructure projects.
Sensex declines over 300 point in late morning trade
*Government announces plans for setting up airports in cities where currently there is no airport currently. This is positive for stocks like GMR Infrastructure and GVK Power and Infrastructure.
Wiping out early gains, the BSE benchmark Sensex was trading nearly 328 points lower as selling pressure emerged soon after Finance Minister Arun Jaitley began his Budget speech.
After rising to 25,613.72 points at the outset, the Sensex slipped into negative zone by falling sharply 327.81 points, or 1.28 % to 25,117.00 at 1145 hrs. All the sectoral indices led by consumer durables, power, banking and capital goods sectors led decline. The Sensex thereafter showed some recovery.
The broad-based National Stock Exchange index Nifty dipped below the 7,500 mark by plunging 102.10 points, or 1.35 %, to 7,482.90, after climbing to 7,626.85 at the outset.
Brokers said selling pressure emerged, dragging down the Sensex even as Budget proposed 49 % FDI in insurance through FIPB route, among other budgetary proposals.
Assuring investors that retrospective amendments to tax laws will be undertaken with extreme caution, Jaitley said all fresh cases arising out of the 2012 amendment of I-T Act will be looked into by a high level CBDT committee.
He also said public sector banks need Rs 2.40 lakh crore equity to conform with Basel-III norms by 2018. Bank capital is to be raised through retail sale of shares and government would continue to hold majority in PSU banks, he added.
Emergence of profit-booking in recent gainers also influenced the sentiments, brokers said.
Major losers were SBI (1.48 %), Axis Bank (2.04 %), Sesa Sterlite (3.10 %), L&T (1.54 %), Dr Reddy (0.97 %), Cipla (1.25 %), BHEL (2.42 %), RIL (0.90 %) and Bharti Airtel (2.37 %).
*Sensex is down over 250 points while Nifty falls over 90 points.
*Markets witness broad based selling. Except IT all other sectoral indices see red as Sensex and Nifty continue their free fall.
*Government to conduct open market sale of food grains, this will help reduce food inflation specifically of food grains.
12:15 PM IST, Thursday
Sectors such as electricals, banking and infrastructure saw a major fall. Bharat Electricals saw a fall of -7.17% at 1820.05. This was followed by Apollo Tyres which saw a fall of -6.37 at 171.30. Other major losers were Indian Bank and Unitech.
*SEZ's will be developed. Inland navigation will be developed too says Arun Jaitley.
*Talks about project Ganga and commercial navigational project. Will be finished in six years at Rs 6,200 crores.
* Arun Jaitley has said the Central Board of Direct Taxes (CBDT) will scrutinise all cases under 2012 law on retrospective tax cases. However, he has not scrapped the controversial low, which has been a big overhang on markets.
Highlights of the budget:
*FDI in defence, insurance raised to 49%
*5 new IITs and IIM's proposed
*Rs 4000 crore proposed for affordable housing
*NREGA- Productive asset creation
*No retrospective taxation, ends 'tax-terrorism'
12:00 PM IST, Thursday
While the markets were upbeat about budget 2014 and expected a steady rise, both Nifty and Sensex are fluctuating since morning.
*BSE Sensex falls by 200 points at 25,192 points.
*Sectrors like Power, Oil and Infrastructure are down by 5%.
*NSE Nifty experiences fall by 100 points.
11:55 AM IST, Thursday
Here's what Arun Jaitley has proposed so far in the budget 2014 at the parliament:
Allocation of Rs. 100 crore for Beti padhao, beti badhao yojana: Arun Jaitley #Budget2014

— ANI (@ANI_news) July 10, 2014
Propose to set up 5 new IIMs in HP, Punjab, Bihar, Odisha & Maharashtra: Arun Jaitley #Budget2014

— ANI (@ANI_news) July 10, 2014
I propose Crisis Management Center for women at Delhi, funds to be provided from Nirbhaya fund: Arun Jaitley #Budget2014

— ANI (@ANI_news) July 10, 2014
Propose to set up 4 more AIIMS in AP, West Bengal, Vidharba and Purvanchal, Rs. 500 crore to be set aside for this: Arun Jaitley #Budget2014

— ANI (@ANI_news) July 10, 2014
I propose to maintain allocation for NREGA, to focus on more productive asset creation under NREGA: Arun Jaitley #Budget2014

— ANI (@ANI_news) July 10, 2014
*BSE Sensex showed gains by 100 points but again fell by 60 points.
*NSE Nifty falls by 31.25 points and stands at 7,553 points.
*Rupee is trading at 58.79 against dollar as the budget session begins.
*According to reports, about 799 shares have advanced, 1422 shares declined, and 84 shares are unchanged.
11:40 AM IST, Thursday
Watch the video update below:
Below are market expectations as mentioned by Moneycontrol.com
1. Rationalisation of subsidy
2. Relief on retrospective taxation
3. Fiscal consolidation
4. Meaningful divestment target
5. Time line for GST
6. Recapitalisation of PSU banks. All eyes will be on the fiscal deficit number, FY15 Budget estimate for fiscal deficit is at 4.1 percent, however the market is expecting it around 4.4 percent. But the bigger question is will the government stick to 4.1 percent fiscal deficit target or revise it.
11:30 AM IST, Thursday
*Arun Jaitley makes proposals at the Parliament. Below are some updates:
In order to give major boost to tourism, e-visas would be introduced at 9 airports. This facilitates visas on arrival: A Jaitley #Budget2014

— ANI (@ANI_news) July 10, 2014
I propose "Deen Dayal Upadhyay Gram Jyoti Yojna" for electricity supply to rural areas: Arun Jaitley #Budget2014

— ANI (@ANI_news) July 10, 2014
200 crore aid to Guj Govt for the building of Sardar Patel's "Statue of Unity": Arun Jaitley #Budget2014

— ANI (@ANI_news) July 10, 2014
I propose 7060 crores for the development of 100 smart cities: A Jaitley #Budget2014

— ANI (@ANI_news) July 10, 2014
*As the budget session begins in parliament, markets show some gains. BSE Sensex gained 100 points and stood at 25,541 points. While NSE Nifty stood at 7,611.60 by gaining 26.60 points.
11:00 AM IST
As the anticipation for budget 2014 intensifies, markets are flat and falling lower. While the BSE Sensex fell -34.23 points and stood at 25,438.51 points. Nifty also fell gradually by -11.45 and stood at 7,578.45 points.
Tracking a firming global trend, the benchmark BSE Sensex today rose by nearly 75 points in early trade ahead of the Union Budget 2014-15.
The 30-share barometer gained by 74.93 points, or 0.29 %, to 25,519.74. The index had lost 655.27 points in the previous two sessions. Sectoral indices led by capital goods, power, metal auto and PSU were trading in positive zone with gains up to 0.44%.
Similarly, the wide-based National Stock Exchange Nifty index moved up by 6.25 points, or 0.08 %, to 7,591.25. Brokers said fresh positions built-up by cautious participants on expectations of some sops in the Union Budget 2014-15 to be announced later in the day buoyed the trading sentiment. Besides, a firming trend in the Asian region, taking a strong lead from Wall Street, in response to an upbeat outlook for the US economy by the Federal Reserve influenced the sentiment, they said.
Among other Asian markets, Hong Kong's Hang Seng index was up by 0.45 %, while Japan's Nikkei index gained 0.10 % in early trade today. The US Dow Jones Industrial Average ended 0.47 % higher yesterday.
Markets opened marginally higher after the sharp fall in the previous two sessions even as market participants adopted a wait-and-watch stance ahead of Finance Minister Arun Jaitley's maiden Budget presentation later today.
The Sensex has opened higher by 51 points at 25,496 mark and the Nifty has gained by 6 points at 7,591 levels.
Expectations are rife that Finance Minster will announce measures in the Budget aimed at boosting economic growth.
Asian equities rose and the dollar dipped on Thursday, after the Federal Reserve indicated that it was not in a rush to end quantitative easing and begin hiking rates.
MSCI's broadest index of Asia-Pacific shares outside Japan gained 0.2%.Tokyo's Nikkei rose 0.1%, despite a sharp drop in machinery orders reported minutes before the opening bell.
Japan's core machinery orders unexpectedly fell 19.5% in May from the previous month, casting doubt over the outlook for a pickup in capital spending.
Rupee up 12 paise against dollar in early trade
Rising for the third straight day, the rupee strengthened by 12 paise to 59.63 against the dollar in early trade today at the Interbank Foreign Exchange market on sustained selling of the US currency by exporters amid a higher opening of the domestic equity market.
Forex dealers said besides selling of dollars by exporters, strength in other currencies against the American unit overseas also supported the rupee.
The domestic currency had gained three paise to close at 59.75 against the dollar yesterday. Meanwhile, the benchmark BSE Sensex rose by 74.93 points, or 0.29 %, to 25,519.74 in early trade today.
10:50 AM IST
with agency inputs