dna's guide on how you should go about investing in the coming year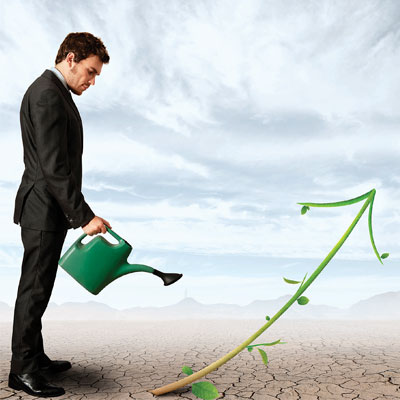 Before planning investments of any sorts it is important to know the first place from where your monies eventually move out to assets seen profitable– banks. Every banker is first taught never to let funds idle even for a day without earning a return and the same logic applies to investors.
There are no quick rich schemes to make one a millionaire but the essence of investments starts with capital protection, taking losses and investing in stocks of healthy growth-focussed corporates. Several fund schemes float around in the market giving past performance as a bait to make gullible investors part with their hard-earned money, at times even based on reputation of a company. Yash Birla group is a well-known name in recent news for all wrong things. Several companies under this brand name have defaulted in deposit-payments on maturity. The matter is being heard by the Company Law Board to date.
Senior citizens, for the love of higher rates have become easy victims because they lack the agility and the will to move court. There are banks, especially co-operative banks, that offer anywhere between 100 basis points to 200 basis points higher on deposit rates over state-owned banks. Investors have been duped after a few months of regular payments as many such banks have failed for mismanagement or misappropriation of funds, same goes for a few private banks too. This should explain why the Reserve Bank of India has made rules stringent rules for issuance of new bank licenses.
Several retired investors who have fallen victims to the higher interest rates have been left in the lurch. Depositors fail to realise how a bank earns money to pay that `extra' rate over the rest. The obvious answer to this is through lending at higher rates than competitors and to borrowers whose credibility fail to attract cheaper loans from other banks.
dna has been receiving several such letters from aggrieved depositors from time to time. There is little legal recourse to recover such monies except to the extent of the insurance cover which has an upper ceiling of Rs one lakh per depositor. Bank deposits are largely covered by Deposits Insurance and Credit Guarantee Corporation (www.dicgc.org.in) but only to a limited extent.
Staggering risks are crucial to investments. For those closer to retirement age or the retired, it is usually safe to bifurcate deposits up to a maximum of Rs 1 lakh in each individual's name with any bank.
The same logic applies towards investments in equities, especially those with a little over a decade of residual service in hand. The risks should be minimised through a balanced portfolio comprising triple `A ' bonds and equities. Equities tend to have higher risks but investors also get rewarded handsomely for the risks. Not all would have the ability to study the market or pick up stocks when low to sell them at higher prices.
One of the commonly heard recommendations is to invest in Index stocks or Nifty stocks, which to a very large extent holds water. Fifty stocks form the composite Nifty index.
But then there have been aberrations in the past. Going back in history, Satyam Computer Services, the fourth largest IT software company in India and once a Nifty-50 stock, crashed from a high of Rs 550 in January 2007 to a low of Rs 6.30 on 1st January 2009. The stock fell steeply after it was unearthed that the management had inflated more than $1billion in cash and bank balances.
Satyam crashed 77 per cent! The fall continued and lucky were those who could pick them up at its all-time low of Rs 6.30 and sell it around Rs 55.60 by the end of the same month (January 2009) after Mahindra & Mahindra's IT arm, bailed out the ailing company. The company is now merged with Tech Mahindra, shares of which trade at Rs 115 currently.
But then this is a one-off case. A similar swing in Kingfisher Airlines (a non-Nifty-50 stock, KFA) made many investors repeat a Satyam in the hopes of a likely bailout. This was even after knowing the fact KFA default rate across several banks had touched a whopping Rs 8000 crore! KFA slipped from a high of Rs 315 on 18th December 2007 to a double-digit figure on 20th June 2008 to Rs 93. Chances of KFA coming out of the brink were bleak. Currently, the stock quotes at Rs 2.60 a share.
In short, direct participation in stocks without the backing of market intelligence is a risky affair. In short, direct participation in stocks without the backing of research and market intelligence is a risky affair. But then that does not absolve mutual funds from making risk-calls.
So how should an investor go about investments through mutual funds? Today is the era of ratings where even individuals borrowers are rated (by Cibil). Hence it has become less cumbersome for investors to get an independent rating of mutual funds and that too for free-thanks to the internet that has shrunk the globe.
One of the tried and tested methods financial advisers advocate is to spread risks across large cap performing funds and fixed income. The ratio between the two would depend upon how aggressive or conservative one chose to be.
With a healthy portfolio and a horizon of 3-5 years are of prime importance to yield the fruits of investments. Fixed income schemes alone fetch a return of 11-13 per cent, much above the current consumer inflation rate of 8.8 per cent.
Medium and small caps do give higher returns as well, but the risks are far higher as well. For the moment, it's best to avoid them as the economy is under stress.
India's growth has been stagnant due to mismanagement of the current government under which we have witnessed a series of scams in mining-coal, sand and minerals-, 2Gspectrum and the common wealth games, to name a few.
However, this does not mean economic growth won't pick up. Any government coming to power at the centre will first have to address the stumbling blocks and improve the country's rating globally to win back the lost confidence among foreign direct investors. All these are time consuming.
It would therefore be prudent for investors to not only understand the inherent investment risks but to also take into account a longer term perspective for returns on their investments made today. Under the circumstances, with a dismal sub-5 per cent level growth and an inflation of 8.8 per cent, it would be worthwhile entering into a long term systematic investment plan with a healthy portfolio mix to reap the benefits when India turns around the corner and regains its double digit growth status in the years to come.
The author is the editor of dna Money