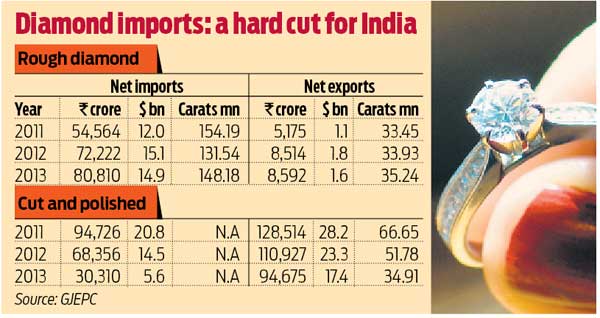 The finance ministry on September 18 raised the Customs duty on imported jewellery from 8% to 15%. The idea was, obviously, to protect the domestic industry. Hence, import duty on gold metal remained at 10% while that for jewellery got hiked to 15%.

It was a good move, notwithstanding this correspondent's opposition to any hike in duty on gold imports, without a corresponding move to harness (duty-free) local gold stocks for use by the domestic trade. Increased import duties on gold pushes it underground. Official imports decline.

Smuggling increases (see http://www.dnaindia.com/money/1855442/column-policy-watch-from-gold-to-dust-if-the-government-has-its-way).

But this good move by the finance ministry is a half-step. It has not been extended to diamond imports.

Like gold, the diamond cutting and polishing industry is also a big employer of labour. Some 600,000 to 800,000 people are employed by this trade. Over the past four decades, this industry has made its mark accounting for the cutting and polishing of over 90% of the world's diamond roughs.

Since India is not a producer of these diamond roughs, almost all the roughs are imported for cutting and polishing in India. They are then exported, though some of it gets used in locally made diamond studded jewellery – a rapidly growing market.

Logically, it would make sense for India to allow import of diamond roughs duty free, but enhance the existing import duty of 2% to at least 15%, if not 25%, on imported cut and polished stones. Strangely, this logic does not appear to have dawned on policymakers.

Consequently, look at what has happened (see table). India has begun importing more cut and polished diamond stones from the world, instead of cutting and polishing them within India. The value has swelled over the $100 billion mark. This hurts India in several ways. It undermines the strength of the local diamond cutting and polishing industry. It destroys job formation in India, and creates employment for cutters and polishers overseas. It also makes India lose foreign exchange.

The available data also provoke another question: If India is indeed the world's most cost-effective cutting and polishing centre for diamonds, why is the country importing cut and polished diamonds? Diamond traders are unwilling to provide answers.

But informed sources say some such imports can be traced to diamond mines located overseas (often in Africa). These mines are joint ventures where the stake holders are invariably local African governments, De Beers and Indian diamantaires.

Two decades ago, these mines sold only diamond roughs. But local governments, keen on generating employment for locals (referred to as beneficiation) have begun insisting at least 50% of the diamond roughs produced there are cut and polished within those countries. Indian stakeholders in these mines consequently try to sell these cut and polished diamonds to India on the pretext that they are meant for re-export. But the data show this is not the case, and that they are sold within India.

Some imports can be traced to diamond cutting and polishing centres located overseas, but owned by Indians. They seek to lower the cost of their overseas operations by selling some of their produce to India.

The third explanation is diamond import values are being inflated to ferret precious forex overseas.

All three methods hurt India, and its work force. The beneficiaries are people settled overseas. Should any government permit such a policy?

Ideally, the diamonds used in Indian jewellery should be those cut and polished in India. If imported gemstones are required, even if it is to make India a diamond trading centre, such imports should only be allowed through Customs bonded warehouses – in special export promotion zones – where one can ensure that they are actually shipped back to the place they came from.

Any other method will hurt India's finances on the one hand and India's workforce on the other.
The policy needs to be amended urgently.