India's legislators, often in connivance with self-serving bureaucrats, have a tremendous capacity for introducing businesses which are not covered by any legislation. With the benefit of hindsight, it is as if the legislators and bureaucrats actually permit scams.
This was evident when India's regulators allowed money managers to take loans against government securities using the route of Bankers' Receipts (BRs). The only entry that existed was in the Subsidiary General Ledger (SGL) form in the Public Debt Office(PDO), with no provision for ensuring that the same instrument had not been offered as a security twice over, or even if the security offered for mortgage was genuine in the first place. The result: fake BRs flooded the market during the Harshad Mehta era, allowing more money to be lent out than the actual securities would have warranted.
Even then, oblivious of what had happened earlier, legislators and bureaucrats allowed trading in commodities using warehousing receipts, without a central registry backed by statutory third party inspections. The result: money managers inflated claims of stocks in warehouses, thus allowing the NSEL scam to take place. No bureaucrat or legislator has been investigated, let alone being penalized, for such lapses – which can either be incompetence or, more probable, collusion. This is nothing short of premeditated invitation to larceny.
Also Read: Auction off NSEL defaulters' assets to restore investor confidence
Now, thanks to acts of commission and omission, the government has turned a blind eye to the manner in which courier companies are allowed to function in India.
First, unlike the telecom sector (or even the banking sector) where there is some sort of Universal Service Obligation (USO), courier companies have been allowed to function without any obligation to service smaller areas. That may be good for promoting competition, but it is bad for the small village resident who is neither serviced by the courier company, nor finds India Post's services as nimble as before.
India Post has slipped because courier companies are allowed to charge a higher price for delivering letters which it is prevented from doing. Moreover, courier companies are not compelled to service rural areas which are not profit generation centres the way urban areas are. The result: India Post makes huge losses on some of its most popular services (see table).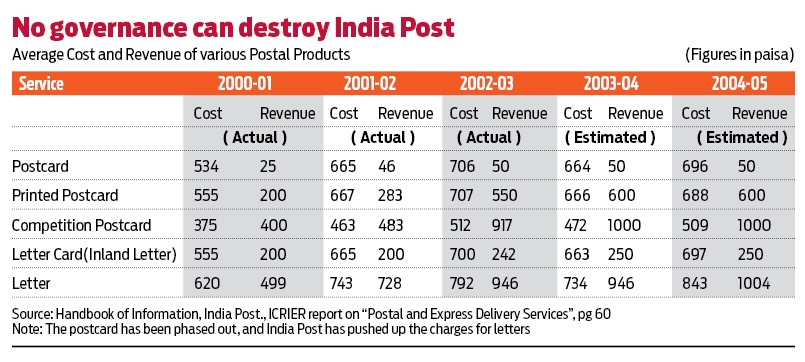 Second, unlike India Post, where consumers can complain if a letter posted has not been delivered, or if the postman does not perform his duties as is required under the laws, courier companies can thumb a snook at customer services. Many courier companies have courier boys who do not deliver letters to select houses and return the letter with the legend "Addressee not found". There is no intimation note, no phone call (even though provision of a telephone number is mandatory for most couriered letters. Most complaint is treated in a cavalier manner, unless the sender (the source of income) decides to opt for another courier agency. There is no ombudsman and no regulator, no manner by which consumers can demand that the service licence of courier companies should be withdrawn. At best, consumers can file a complaint with the local police station against courier companies that have been reckless with their 'property' (i.e. letters).
Third, there is no clear method of computing compensation in case a critical document is not delivered. Hence, many customers still opt for the old reliable "Speed Post" for dispatch and delivery of critical documents within India.
Thus, courier companies are allowed to make money, but without the code of conduct and conditions that any organisation that offers a public service should be bound by.
This is also true of fleet taxis. There is no way of penalizing a taxi which takes a booking and cancels it at the last hour (often without even any sort of intimation). Shouldn't the fleet taxi services be compelled to pay a penalty not less than ten times the fare that it could have earned?
These are issues that the country's policy makes have chosen to ignore. It will result in the rapid decay and death of a robust organisation that India Post used to be, and it will allow for the proliferation of the most irresponsible of players into the public service arena.
Surely, the prime minister's dictum of "little government, more governance" needs to be put into place in all these areas as well.