Tony Wheeler set off in the 1970s to go see places and ended up as the boss of Lonely Planet. Venkatesan Vembu decodes a traveller and a tourist.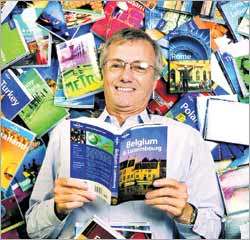 Tony Wheeler set off in the 1970s to go see places. He ended up being the boss of Lonely Planet. Venkatesan Vembu decodes a traveller and a tourist.
Sometimes the best career move you can make is to pass up that boring 9-to-5 job — and go on a round-the-world trip. Just ask Tony Wheeler…
In 1972, after graduating from the London Business School, Wheeler took a raincheck on his first job, with Ford Motor Company, to take a year off with wife Maureen to see the world. That decision opened up a whole new world — a whole new planet actually — for the couple.
At the end of an enchanting six-month trip across Asia, the Wheelers arrived in Sydney, half a world away from home, jobless and virtually penniless. Besieged by questions from friends and acquaintances about their low-cost, high-adrenaline travel experience, they put together a primitive guidebook titled Across Asia on the Cheap, personally stapling the 1,500 copies in a basement in Melbourne. When that did remarkably well — with several reprints — the Wheelers reckoned they could make a living out of travelling to exotic places and writing guidebooks.
Thus was born Lonely Planet. After years of struggle, it is today the world's largest publisher of travel guides and a privately-held business valued at over $75 million, by some estimates. Last year, it brought out 600 titles and sold nearly six million copies.
"It took off because, in the 1970s, the first generation of baby boomers began to travel," notes Tony. It was also when airfares fell and democratised air travel. "It all came together for us," he adds.
Lonely Planet started off as a backpacker's bible, the footloose hippy's essential travelling companion. But today, shoestring guides account for less than three per cent of overall Lonely Planet sales. And as the guidebooks reach a wider audience, critics argue, they've lost some of their narrative verve.
Tony grudgingly concedes that some of the narrative "funkiness" has perhaps ebbed over the years, but rejects the notion that this implies Lonely Planet has lost its soul. "Our shoestring guides are essentially continental guides, and they still sell very well, but they're a small proportion of our total business, which has expanded over the years," he explains.
So how has the experience of travel — and the profile of the traveller — changed over the decades? Tony reckons that technology (and credit cards) have made it easier.
"There was once a time when I'd never bother with hotel bookings. I'd just show up. But now, travelling with a family, you can't expect them to knock around for a hotel at midnight." It's also easier to get a hotel — and great deals — on the net today.
Although intended for leisure, travel writing and publishing can be intensely political. Lonely Planet's Myanmar guidebook was pilloried by activists who, while campaigning for the restoration of democracy in that country, argued that encouraging travel was violating jailed leader Aung San Suu Kyi's call for an economic boycott of the military junta.
But Tony is resolute in his defence. "For 20 years nobody even noticed the book," he says.
"Suddenly Myanmar came on their political radar, and they went ballistic. We've always been critical of the military government, but no way am I going to back down on the Myanmar guidebook."
As the head of a flourishing business, is Tony conscious of the political sensitivities of the places he writes about? "I'm very aware of them," he says, "but I'm not going to back down on them. If someone says your China guidebook isn't going to be allowed in China anymore because of some things we said about Tiananmen Square or Tibet, I'd say 'tough luck!' I might, however, put a warning in to say 'This book might be confiscated, so you'd better hide it'."