Zarina Begum, the last living singer of the Awadh court, performed in the capital recently despite frail health and years of living in the shadows of penury, says Gargi Gupta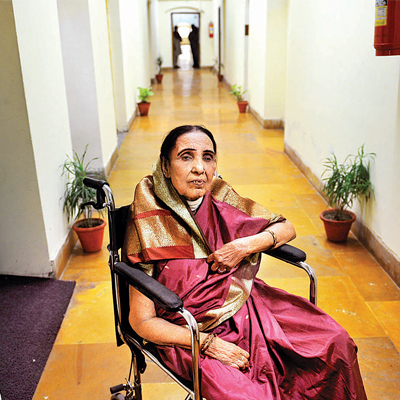 The voice — strong, slightly nasal and tuneful — that breaks into an extended taan belies the thin body that sits on stage. It's the first line of the ghazal, "Diwana banana hai to diwana bana de", made famous by Begum Akhtar, and the capital's culturati breaks into spontaneous applause. Zarina Begum, the "last living singer of the Awadh court", has not lost her magic.
Which says a lot, because Zarina is nearly 80 years old and partially paralysed from a heart attack three years ago. But the ada of the star singer that she was in her youth is intact — her face carefully made up with a layer of powder to smoothen the wrinkles, brows thickly lined with a black pencil, lips with a coat of colour, a thick pearl choker around her neck, and a tasteful Benarasi silk with a hint of gold zari in the pallu pulled over her jet-black dyed hair. The entire effect is old world, evocative of mehfils (soirees) where courtesans sang thumris, dadra and ghazals for nawabs, zamindars and rajahs.
This was the world that produced legendary singers like Malka Jaan and her daughter Gauhar Jaan (the first woman to record on a gramophone disc), Janaki Bai (also called Chhappan Chhuri for the 56 knife wounds on her body), Mushtari Bai and her daughter and the last and the best known of them all — Begum Akhtar. who was also Zarina's guru. The legendary singer, says her daughter Rufina, heard Zarina at Ghulam Hazrat's house when she was just a teenager and liked the girl's voice so much that she invited her to become her shaagird. Akhtar's influence is marked in Zarina's singing — close your eyes and, despite the occasional off-key notes and coughs as she catches her breath, it could, almost, be the mallika-e-ghazal.
In her heyday, Zarina was a much sought-after singer, says Manjari Chaturvedi, a Delhi-based Sufi Kathak dancer, who organised The Last Song of Awadh, the event at the Indira Gandhi National Centre for the Arts that brought the singer to the capital.
Aamir Raza Hussain, theatre director and scion of an aristocratic Awadhi family, speaks of how Zarina apa would come and stay at his family home, Mausiki Manzil, in the 1950s and 1960s and perform along with ustads of Hindustani classical music such as Vilayat Khan, Sadiq Ali Khan and Mushtaq Hussain Khan. Among her patrons were the nawabs of Awadh and the raja of Mahmoodabad, by whom she was accorded all the respect and privileges of a top artist. In an anecdote in Saba Dewan's 2009 documentary The Other Song, on the art and life of tawaifs, Zarina speaks about how thugs —"daku sahab", she calls them — raided one of her soirees. Terrified, she began to sing the thumri, "Nazar laga tere...", and the daku was so moved that he gave her all the money and gold he'd looted.
Zarina's present life of penury is a far cry from those glory days. "She lives in a single-room house in the Aminabad area of Lucknow. There's a wooden divan on which she lies all day, thinking. She practises regularly, but cannot play the harmonium after her paralysis," says Chaturvedi who runs an organisation called Sufi Kathak that supports Zarina Begum with a monthly pension of around Rs2,500 a month and also pays her medical expenses. After she was paralysed she stopped going anywhere because she does not have a wheelchair and so would need to be lifted up and carried, says Chaturvedi.
Zarina Begum is one of the last exponents of Baithak gayaki, a style of singing that was popular in the late 19th-early 20th century in Lucknow, Lahore, Delhi and Calcutta (now Kolkata). Sung by female courtesans, it was a romantic, intimate gayaki, suited to a smaller audience the singer was generally familiar with. It had a steady audience until a few decades ago, and Zarina was a graded artist of both All India Radio and Doordarshan, besides singing for a few films — all of which makes the indifference of government cultural bodies shocking.
"Zarina Begum has not been good at selling herself," says Chaturvedi. Unlike others of her generation, she has no gramophone records. Neither did she have any students to pass her art on to. "Zarina Begum was brought up in an oral tradition and she still remembers 250-300 compositions. When she dies, all these will go with her," she adds. Looks like few will care.