Karate and Taekwondo are passe, Pune youngsters are now opting for old Kerala and other international martial art forms to stay fit and be safe.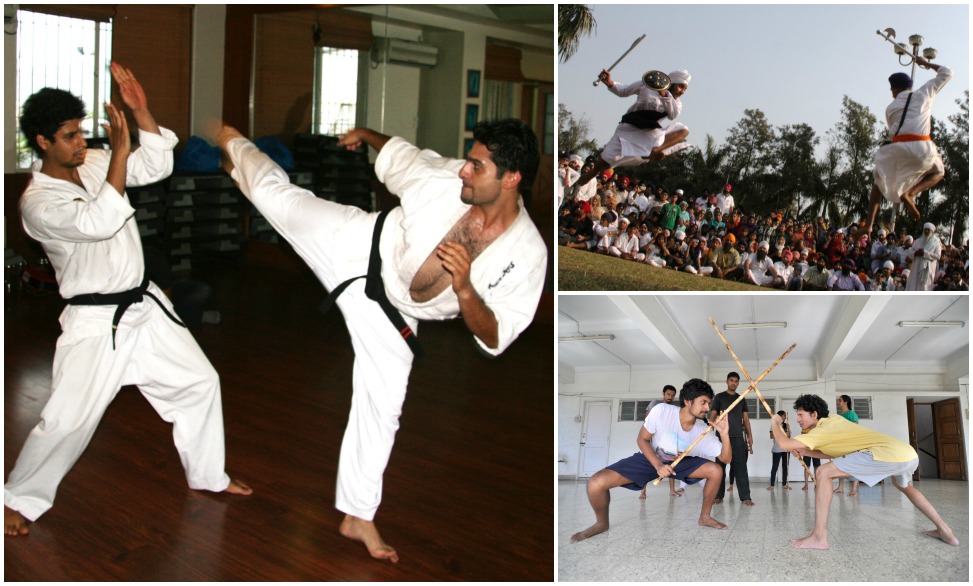 Youngsters in the city have always been fond of activities like music, dance, theatre and literature. But now there's another addition to the list. An increasing number of students and young professionals are showing interest in learning various forms of martial arts. While some prefer the traditional arts like Kalaripayattu and Gatka, others prefer to learn modern techniques like Mixed Martial Arts. We spoke to professionals in the city to know more about these arts.
Kalaripayattu
It's one of the oldest forms of martial art from Kerala, and includes combat feats such as strikes, kicks, grappling, preset forms, along with weaponry and healing methods. According to Belraj Soni, who specialises in Vadakkan Kalari (Northern Kalaripayattu) and has been conducting Kalari workshops in the city for the past fives years, this is also one of the best self-defence techniques, which are especially helpful for women. This particular style places more emphasis on weapons. "I have been practicing this art since the age of 10. We are living in the time when women safety is one of the biggest concerns, I urge all the parents to encourage their children to learn this art, not just as a hobby, but also for their safety," said Belraj. Kalaripayattu is also a form of exercise, and the training aims at coordination of mind and body. This technique is very useful for dancers and theatre artists as it helps to improve posture, flexibility, balance and stamina, which are the basic elements of any dance form.
Gatka
Another form which is very popular among the Sikh community in the city is Gatka. It is considered to be one of the most popular combating arts in Sikh Shastar Vidiya (knowledge of the sword). For Ravinder Singh, who lives in Yerwada area, Gatka is not just a sport. "I have been practicing this art for over 15 years now and have taught many Sikh groups in the city. Though it's a very old Indian art, Gatka has now started becoming popular due to extensive media coverage," he said.
He also said that they are taught to use the weapons and techniques not just for self-defence but to develop physical fitness, endurance, flexibility and agility. While the sport form is played by two opponents wielding wooden staves called Gatka, the ritual form is purely for demonstration and is performed to music during nagar kirtans, weddings, or as part of a theatrical performance on stage. A practitioner of Gatka is called a Gatkabaj.
Mixed Martial Arts
Popularly known as MMA, it is a combination of striking and grappling moves adopted from ancient, medieval and modern martial art techniques. It has become popular in the last couple of years after people started following UFC (Ultimate Fighting Championship) on television and web. As a sport, it is relatively new, but the concept of mixing various martial arts dates back to the ancient Greece. Today, the techniques, which have recently gained popularity in the city are contemporary forms that include techniques from kickboxing, Muay Thai, Ju-Jitsu, Judo and wrestling.
From warm-up exercises to full-contact sparring, this art makes sure that you utilise every muscle of your body. Unlike weight-lifting, MMA techniques make you use your body weight to increase muscle strength. This results in uniform development of muscles. What's even better is that the session doesn't drain your energy, but revitalises your body and mind.
City-based martial art instructor, Vibhor Kaul, who has been practicing this martial art form since 2010, said MMA not only helps in developing reflexes, agility and self-confidence, but also teaches us how to fight and disarm armed opponents bare handed, which in today's unpredictably unsafe environment, will come in handy. MMA has no age barrier, but someone who starts early will find it easier to grasp the moves. "Age will not affect the ability to learn the techniques, but strength and stamina might be an issue. While learning MMA, one must not rush towards learning the fancy moves without being physically fit or it may result in fatal injuries or even death. It will take a couple of years for a new student to become an efficient martial artist, but that can be achieved only by regular practice," he added.
There are three regional variations
Northern Kalaripayattu: This one places more emphasis on weapons.
Southern Kalaripayattu: In this, the stages of training include solo forms, partner training, long stick, dagger flexible sword and grappling.
Central Kalaripayattu: This technique places heavy emphasis on lower body strength and speed through thorough practice of flexible swords, only after which students advance into weaponry.