Following the tragic death of actor Robin Williams, Malavika Sangghvi writes him a letter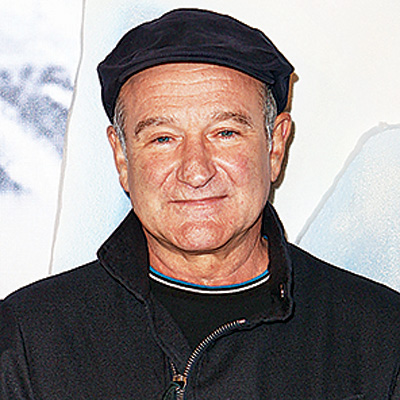 Dear Robin Williams,
Two days and the motes of sad dust are beginning to settle over your tragic death and the waves of melancholia it caused across an already sad-enough world. Reeling from wretchedness and despair from the provenance of Gods of small and big things, we looked to people like you to relieve the pain.
The redeeming effect of art on human misery is not to be underestimated. When the world cannot get any more unbearable for instance, I have consoled myself with the thought that even so there exists a Woody Allen, even so The New Yorker will publish another installment of 'Shouts & Murmurs'; even so AR Rahman and Begum Abida Parveen will play on my Ipod.
Recently when a dentist's drill caused me more pain than I could handle, I consoled myself that across from where I sat was a print of a painting by one of my favorite artists Wassily Kandinsky.
Your work for many had the same effect. Your brilliance made life a little easier and the dark nights, not so long.
So one half of this letter is of gratitude.
But the other reason for this letter is for a subject I know given your unparalleled humanity and compassion you must be concerned about. The coverage of your suicide and its effect on those suffering from diagnosed or undiagnosed depression.
We are facing a global epidemic of mental health issues, from the suicides of people known and unknown to issues of mass shootouts, violence against women, hate crimes to the silent deadly despair that people struggle with, the issues of loneliness, heartbreak and anxiety that walk besides us, every step of the way.
The Guardian, which has incidentally had the most mature and thoughtful response to the news of your death than any other publication I've seen – carried a column by Mary Hamilton.
Quoting from the Samaritans' guidelines on media reporting of suicide, which cite evidence that "vulnerable individuals may be influenced to engage in imitative behaviors by reports of suicide, particularly if the coverage is extensive, prominent, sensationalist and/or explicitly describes the method of suicide", she noted that there were papers who cheerfully ignored them.
"Let's be clear," she writes, "this is not a hypothetical danger: a review of almost 100 studies worldwide has found a strong, coherent and consistent association between certain types of media reporting and increased risk of suicide in vulnerable people.'
The need to report and respond to your death responsibly are for many reasons: evidence shows that romanticizing it, drawing a link between genius and suicide is putting those who harbor thoughts of it at risk.
Censuring those who have committed it for being 'selfish' or 'unable to cope with a minor ailment' makes those struggling with suicidal thoughts even more alone and wretched.
Trying to draw links between money problems and your suicide could foster the belief that there are legitimate reasons for considering it.
And of course, the most shocking of all, carrying lengthy descriptions of how some one killed themselves, the methods and means – is highly dangerous – given the influence and insidiousness of the media.
Dear Robin Williams, in your life you spoke of your own struggle with clinical depression and by doing so, helped many to understand it a little bit more.
Your tragic death I hope will further help people to embrace and empower and enable the lives of those who carry humanity's cross – and curse!
Shine on sweet sad clown. And thank you for the laughter.
Yours sincerely etc
The writer believes in the art of letter writing.