A year after waters swept through their homes and ravaged their lives, the widows of a village near Kedarnath are still traumatised and grieving but are also rebuilding their lives, finds Gargi Gupta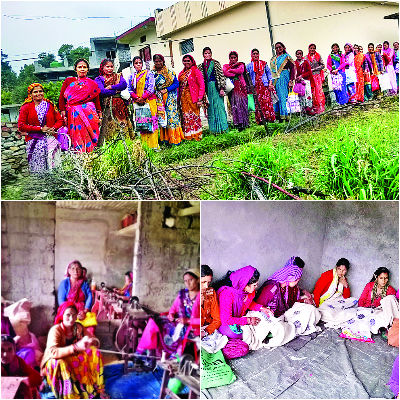 Kiran Purohit, 24, is a little tired of speaking to journalists. In the past 10 months, several 'reporters' have come to Dewali Bhanigram, a tiny village of around 150 families located a few kilometres from Uttarakhand's Guptakashi town on the road to Kedarnath, asking her again and again about incidents she would rather not revisit. "Don't they understand how painful it is? I am doing my best to get on with life," says the young woman, tears welling up as she pulls her trembling arms close around her.
It was almost a year ago last June when flash floods and landslides ravaged Uttarakhand, killing thousands, including five members of her family — her husband, father-in-law, two brothers-in-law and a cousin. Her son was then less than six months old.
Kiran's father-in-law, Pashupati Prasad Purohit, was a priest at Kedarnath while her husband Akhilesh and his brothers ran two lodges and a grocery shop catering to the thousands of pilgrims who visited the shrine on the char dham yatra — Kedarnath is an important stop on the pilgrimage that also includes Gangotri, Yamnotri and Badrinath. The men made a decent living, evident from the large pucca house where Kiran lives with her mother-in-law Bijaya Devi. But the morning of June 17 changed it all when the waters swept through Kedarnath. In the end, even their bodies were not found.
The village of Dewali Bhanigram was one of the worst affected, reporting as many as 55 casualties.
Given its proximity to the shrine, most men in the village had depended on the yatra for their livelihoods. Many were priests, or owned and worked in the numerous lodges, restaurants and shops that did brisk business for about six months of the year when devotees would flock to the temple. Several villagers accompanied pilgrims who couldn't do the strenuous climb on mules and dolis. The disaster left 34 women widowed, and Dewali Bhanigram hit the headline as the 'village of widows'.
For Kiran and the other women in deeply conservative Dewali Bhanigram, life has come to a standstill. Remarriage is not an option, says Shakunatala Devi, a member of an NGO. "That won't do here. We believe that ek baar ho gayi, to woh janam bhar ka naata hai." A group of men from the Sachha Dera Sauda cult had tried to come up to the village after its chief Gurmeet Ram Rahim announced that his followers were ready to marry the widows, but they couldn't go beyond Guptakashi. "We drove them away," says Saurav Tiwari who was up in the hills for four days after the disaster until he was airlifted to safety by the army.
With the male, earning members dead, the families have no source of income. Though government compensation — Rs 5 lakh for every person dead — has reached, they know it will run out. "How long will that last?" asks Binita Devi. Anyway, the yatra is not a viable livelihood option for even survivors like Saurav who feel that fear is going to keep away all but the most devout pilgrims for many years to come. "It'll take years to rebuild after last year's destruction," he says. There is also fear of nature's wrath — "These days, my heart beats faster even if I hear a loud clap of thunder," says Shakuntala.
But there is a sliver of hope. In the last five months, the lives of Shakuntala and the widows of Dewali Bhanigram have got new direction with the Mandakini Mahila Bunker Samiti, an NGO set up by social activist Hare Krishna Bagwari that wants to train the women in spinning, weaving, knitting and stitching so they can produce handcrafted textiles to sell in metro cities in India and also the West. "Our model is the Pachachauli Women Weavers in Almora, which has completely transformed the lives of women in Kumaon," says Bagwari.
Bagwari has set up two centres in the village itself, with a few looms in his office in nearby Lumgaundi village, where the women come in two four-hour shifts to learn the craft. They get a stipend of Rs1,500 a month. Bagwari's plan is to organise the women into a cooperative society once they have bagged a few orders and can manage the initiative on their own.
For the women, especially widows, of the village, Bagwari's centres are a welcome change from their dreary, care-filled routine. Rekha Devi, who lost her husband, son and brother to the floods, says it's a way of getting out of home. "When I am at home alone, even the walls seem oppressive. Here, I am forced to talk to others. We exchange pleasantries, speak a little about our day, our problems, and all go away feeling better," she says.
"None of these women have ever gone out to work for a living. Going out is giving them a sense independence. I am hoping it will help to socially empower them too," says Bagwari, who has got eminent Delhi-based designer duo Abraham and Thakore to give design inputs to the women. "I have spoken to a few buyers in Italy and France, who say they will buy from us once we have produced enough," he adds. Already, Dipa Bajpai has managed to save Rs5,000 from her salary to buy a knitting machine.
But most importantly, the hours they spent working together is helping the women forge a new kind of support system. "My children are grown up," says Binita, "so my neighbours leave their children with me when they go to work. Similarly, when I am away, they keep an eye on mine."
As Binita says, "We are all sisters united in grief."