Yogesh Pawar on the miracle that is Pt. Chitresh Das - A scientific study is trying to unravel why and how Pt Das is able to achieve such "unfathomable levels of endurance and mathematical precision with his body and how it can be replicated with training intervention to create a way for future generations".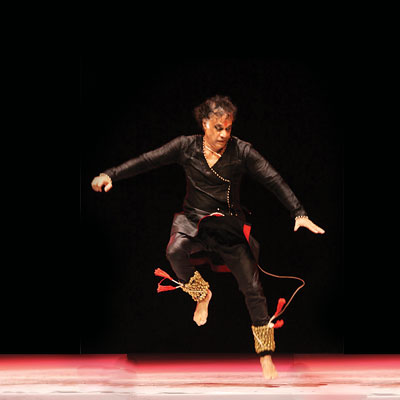 The ultimate dream is to stop ageing. Can the regimen of traditional dance help arrest the symptoms of ageing and optimse the human body?
He maybe turning 70 in November, but the sheer energy, speed and rigour in Pt Chitresh Das' dance would put teenagers to shame. And now the internationally renowned kathak maestro's capacity to undertake physically tough two-hour dance routines has aroused the curiosity of sports bio-mechanics.
A scientific study is trying to unravel why and how Pt Das is able to achieve such "unfathomable levels of endurance and mathematical precision with his body and how it can be replicated with training intervention to create a way for future generations". It is being undertaken by internationally renowned sports bio-mechanic Shyamal Vallabhjee, who has accompanied the South African athletic team for three consecutive Olympics. This exercise scientist for the Indian Davis cup team also works exclusively with Mahesh Bhupathi, Sania Mirza, Rohan Bopanna and Aisam Qureshi on the ATP and WTA tour.
Pt Das and Vallabhjee's paths crossed over the latter's interest in high performance. "I was curious when told of Pt Das' age and his strenous routine, often stretching for more than two hours. While there are others like Pt Birju Maharaj who is 76, his emphasis is more on stylised grace and not intense high-energy dancing." Through his Mumbai disciple Seema Mehta, Vallabhjee reached out to the maestro. Pt Das, who has a Kathak dance school in California since 1979 and runs 10 worldwide, agreed to the study and preliminary tests were done in January at the The Heal Institute, a sports medicine and high performance centre run by the sports bio-mechanic in Central Mumbai's Parel.
A rapid 45-minute dance routine on January 16 found Pt Das works at over 90% of his heart capacity (calculated with a formula for age, heart rate and other parameters) and it often crosses the 100% mark and stays there for long periods of time. "This is comparable to sprinters or athletes who achieve these levels for short periods during peak performance. However this is unheard of in a nearly 70-year old and hasn't been heard of in dancers," Vallabhjee told dna. "Most athletes when they reach 90% levels can endure it for a maximum of five minutes after which they have to slow down or stop, whereas Pt Das continued to dance. Though he was sweating because of the activity, he continued to smile and wasn't even panting."
Vallabhjee said: "In fact, his resting heart rate is approximately 60%, which indicates a superb level of fitness at almost 70, achieved purely through the practice of Indian classical dance form of kathak."
On Monday, the dance maestro will be put through a high-endurance routine of exercise and the findings of heart rate and lung function analysis will be co-related with that of his dance performance when his calorific burn rate was 1003 in 45 minutes.
So how does he do it? The expert credits his resistance training with kathak-yoga, a routine which Pt Das has designed and has been practising for over two decades. "Along with the 5kg in each foot ghungroos he often dances with dumb bells in hand while practising. His dancing at higher and higher resistance has helped him build endurance," said Vallabhjee.
It also not like the dance-guru is into any special diet. "I need very little to eat," said Pt Das who begins his day at 5.30am with chai and toast. "Chai and water I can have throughout the day but I prefer chai without milk or sugar... I go for a run with three layers of clothing and that makes me sweat a lot. Again I'm drinking a lot of water to rehydrate. I never ignore the dryness I feel just because I'm caught in my routine unless I'm mid-concert. I keep sipping water, preferably warm."
This is followed by some oatmeal porridge with banana after which he heads to school to dance till noon. Around 2pm he alternates his meal with steamed fish or baked meat or a bowl of dal with freshly chopped cucumber. As he returns to dancing till sun down he keeps sipping on a vitamin supplement drink. "I get home, shower and settle to an early dinner of cherried tomato and avocado salad.
After this its family time with my wife Celine and daughters Sadhvi (9 month-old) and Shivranjani (3-year-old)," he told dna. "The first was born on August 15 (Indian Independence Day) so I call her tandoori chicken while the younger one was born on August 4 (American Independence Day) so I call her barbecue chicken."
Don't his Kolkata roots make him crave for sweets? "Oh no! I have never been too eager about sweets. What I ocassionally allow myself is a samosa or two... But then I compensate immediately for that with my next meal or routine."
Happy that a scientific study of kathak is being undertaken the maestro said: "This study will put kathak in the league of several aerobic sports and indicate the richness of ancient Indian arts in a global perspective."