If there's no happier thought for you than walking around cities haggling for fares and filling up your shopping bag, our short list of the most interesting high street shopping districts in the world will have you wishing for a limitless credit card.
There's shopping that's mundane and then there's shopping that's an adventure. After Hrs indulged in some couch surfing to unearth shopping haunts where the heart would be glad without having to worrying about post-purchase dissonance and the like. Amid the regular favourites, we found out four shopping districts in the world where shopping is anything but a task...

Via Montenapoleone , Milan, Italy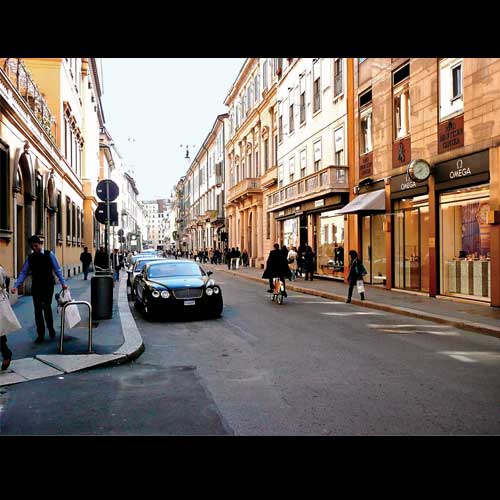 In the fashion capital of Italy, where even a destitute is dressed fashionably, is the Via Montenapoleone that's considered by the world's fashion heavyweights as one of the best fashion districts in the world. Commonly referred to as the Quadrilatero della moda (the fashion quadrilateral), the via is quite strategically located in the centre of Milan.
Take a walk around the square and its many streets particularly Via Manzoni, Via della Spiga and Corso Venezia for a quick lesson in international fashion retailing, thanks to all the brands housed here. Luxury brands like Armani Privé, Versace, Gucci, Guess, Chanel, Burberry, Bottega Veneta, Balenciaga and Zegna share space with Italian shoemaker brands and local boutiques that stock up prêt wear that's equally gorgeous. If the glamour of fashion leaves you in a tizzy, take some time out at the Caffe Cova. Built in 1817, it is one of the oldest cafes in the city.
Shop here for: The finest Italian shoes
If it's a bargain you are looking for, hitch a ride to the Serravalle Designer Outlet. Located an hour's drive from Milan, Italy's largest designer outlet is located in Serravalle Scrivia and is a literal paradise for all bargain hunters. With year-long sales, freebies and discounts up to 70% on top brands including Calvin Klein, Bose, Prada, adidas, Dolce & Gabbana among others, you'd probably want to camp there.
Forever.
For more details www.mcarthurglen.it
Fuencarral, Madrid, Spain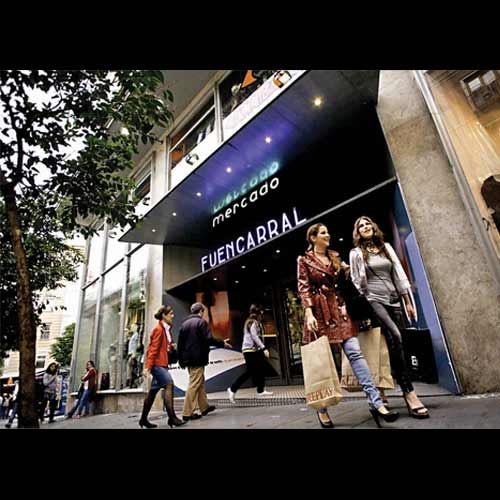 This fashionable neighbourhood finds its place in this list solely for the fact that it's got attitude. There's nothing mainstream about it — think graffiti art on its walls and clothes wonderfully affordable. Located between the more commercial streets of Gran Via and Tribunal, Fuencarral street is popular for its eponymous shopping centre. Built as 'the shopping centre for people who hate shopping centres (we kid you not), the three-storey-high Fuencarral centre warrants more than a look-see because it specializes in fashion that is avant-garde and alternative. Think punk and grunge fashion.
The story doesn't just end with shopping though. The centre also hosts DJ sessions, art exhibitions and cinema screenings. Cool or what?
Shop here for: Alternative designer wear and kitschy accessories
Champs-Élyssées, Paris, France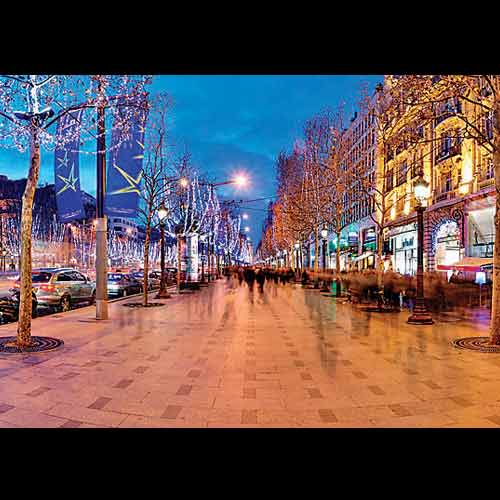 There's a reason why Paris features on top of every shopaholic's must-visit places. As the fashion capital of the world, Paris is where the action is at. And with shopping areas to suit every kind of budget, its fair enough reason for the city to be feted so. With choices that can leave the best of us confused, our advice — when in Paris to shop, start off in style by heading to the world's most beautiful avenue, the Champs-Élyssées.
It's an easy choice really, because besides being home to the Louis Vuittons, Cartiers and Hugo Bosses of the world; it also houses international retail stores such as Zara, Gap and Sephora along with local designer boutiques where you can shop guiltlessly. With the Arc De Triomphe and the Grand and Petit Palais in the same neighbourhood, you could do the touristy thing too, while you are at it. If you are a devotee of fashion, Faubourg Saint-Honoré district, home to couture houses Versace, Hermès and Yves Saint Laurent and other concept stores, is your mecca.
Shop here for: Perfumes, skin care products, and eclectic Parisian designerwear
Shibuya, Tokyo, Japan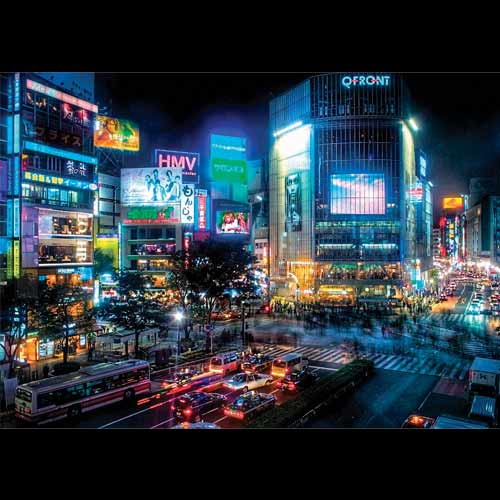 The thing about shopping in Tokyo is that the experience is quite out-of-the-ordinary. Yes, there are the neon lit signages, glitzy malls and tinted offices of MNCs here but what brings in character are the Japanese themselves, with their own whimsical take on fashion trends. Now, if you find yourself in Tokyo and shopping is what's on your mind, then Shibuya is where you should head to.
One of the 23 special wards of Tokyo that was established in 1947, Shibuya is a shopping district that has mushroomed around the eponymous metro station. Today, the entire stretch from Shibuya to Harajuku in the north is one big shopping area where Tokyo's fashionable youngsters love to splurge. One of the popular haunts here is the Shibuya 109 shopping centre, which houses popular Japanese brands for men, women and kids. By the way of interesting trivia, the Shibuya crossing is quite the popular filming spot. Some of the major films that have been shot here include Lost in Translation and The Fast and the Furious:Tokyo Drift.
Where Shibuya is ideal for budget shopping, the upscale Omotesando avenue is where you can treat yourself to some luxury shopping. Go swipe-happy at the haute couture stores including Louis Vuitton, Gucci, Gap, Zara or at local shopping centres, Laforet and Oriental Bazaar where you can shop for souvenirs. Head here even if you are cash-strapped to enjoy the pretty sight the tree-lined avenue makes for. Reason why it's often referred to as Tokyo's Champs-Élyssées.
Shop here for: Electronic goods and photography equipment