Gemfields' Project Blossoming lights up the lives of lesser privileged girls with their auction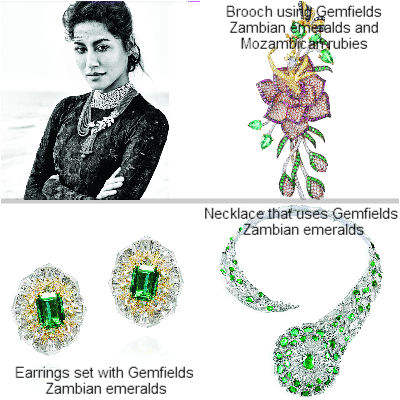 When the world of opulence and glamour meets a worthy cause, you know that the result is going to be a splendid one. A collaborative partnership between Gemfields, the leading supplier of responsibly sourced coloured gemstones in the world and India's leading jewellers such as Hazoorilal and Mirari from Delhi, Anmol Jewellers and Moksh from Mumbai, Amrapali from Jaipur, Talwarsons from Chandigah, Tibarumals from Hyderabad, LalaJugal Kishore Jewellers from Lucknow, Abaran from Bangalore and Narayan from Vadodra, has led to creation of unique and outstanding pieces of jewellery, using Gemfields' Zambian emeralds and Mozambican rubies.
The Project Blossoming collection is a perfect amalgamation of luxury with a purpose. Not only will each piece make its owner proud of being associated with such a noble cause but it will also bring hope and promise to over 2000 girls. The money raised from the sale of these pieces will support Project Nanhi Kali, which works to provide quality education to the under privileged girl child.
The collection having finished a successful tour across the partnered jewellery boutiques, has now been brought back to Mumbai. The pieces were auctioned by Christie's at an exclusive black tie event on June 6th, 2014. Speaking on the occasion, Rupak Sen, Regional Marketing Direct, Gemfields – Asia, said, "Gemfields strongly believes in giving back to the environment and to the society and Project Blossoming is a creative way of giving back to the country, which has contributed greatly to the success of Gemfields. The collection is an interesting mix of different design sensibilities and craftsmanship. Each piece in this collection is one of a kind; where all the pieces are inspired by the notion of 'blossoming'. And with the auction of these pieces, we are hoping to raise enough money to cover the education of 2500 girls."
The global brand ambassador for Project Blossoming is none other than the ravishing and inspiring actor, Chitrangda Singh. She says, "As a public figure, I am very aware of my responsibility to young girls and through the sale of these extraordinary pieces of jewellery I hope that we can make a real difference to the lives of many. Nanhi Kali being a reputed organization is providing a platform for others to contribute to the nation. It is a genuine initiative where the functioning is very transparent."