Lakshmi Hyundai CEO Ravi Raghavan talks to Caroline Diana about cars, customers and creativity.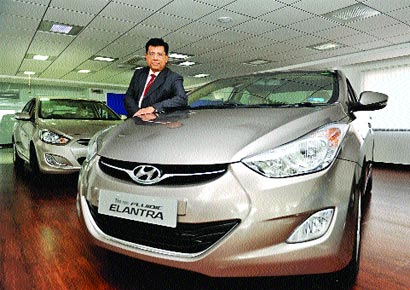 The ever-cheerful CEO of Lakshmi Hyundai, Ravi Raghavan, knows how to run the car business. Enthusiastic about nurturing his fellow workers, he says he loves to teach and learn during the process. The company functions like one big family and strive towards a bigger goal.

Lakshmi Hyundai is a young company, at least in Bangalore. Tell us about your inception and where you have headed so far.
Although Lakshmi Hyundai is extremely popular in Andhra Pradesh, we hit the Bangalore market only six months ago. So, we had to do everything from scratch — right from finding office space to setting it up and bringing in customers. As a company that takes pride in being well-planned, we made sure that even the location that we chose was special. If you come to the vicinity, you will find that there are no other car showrooms nearby. Every step was meticulously planned and only after taking careful consideration did we make inroads into Bangalore. I am proud to say that business is picking up, as we end up selling at least 100 vehicles in a month.
As with any other city, competition is fierce in Bangalore, with several car brands and dealerships. How do you ensure that Lakshmi Hyundai stays ahead of its competitors?
Our company believes in 3 Cs: Customer, customer, customer. Right from the time the customer walks into the store, he is in for a memorable experience. Our responsibility does not end with selling and delivering a car. We have a lot of pre-sales and post-sales activities. This is to remind our customers that they can rely on us anytime. We also make sure that the staff are friendly and knowledgeable. This gives our customers the confidence to buy the car they need.
Do you impart training to your staff on a regular basis?
Yes, we do. The first thing we teach them is to smile and greet the customer. Irrespective of the mood of the staff, we tell them to treat the customer well. Second, every member of the staff undergoes product training. Even while making a live sale or talking to a potential customer, the team leader will be monitoring the staff and will come to the rescue if he or she falters or gets a little comfortable. But the whole idea is to understand the customer's requirement and give him the car he needs.
Besides tackling competition, what other challenges are you facing as a car dealer?
Right now, the biggest challenge is getting the right manpower. Because most of the times, the salary does not meet their expectations. This results in attrition. Therefore, getting the right set of people, training them and making them stay for a long-time is something that I am working on right now. I also believe in involving all my staff members in the company's activities. Since ideas and creativity can be found anywhere, irrespective of the rank. I was in Muscat for many years, and everyday is a new learning for me too. I am still learning how the Indian automobile market works.
Selling cars requires more time and focus. How do you balance life and work?
It's true that the work demands lot of energy. I work for almost 11 hours. But I have been in the business for long and I am passionate about what I do. But I spend quality time with my family. I also do lot of yoga. This helps me stay alert and give my best to the employees and customers. If you are leading a team, it's important to spread positive vibes to those around you.
What's the company's roadmap?
We see Bangalore as a big market opportunity. Plans are in the pipeline to open more branches in the city.

Festive Bonanza
Hyundai Motor India Limited (HMIL) has announced a 'Festive Bonanza' offer to add to the celebrations. This Diwali, Hyundai has lined up mega discounts and offers on its cars.
In just one year, its trendsetting Eon model has set the benchmark for other cars in the segment. The Hyundai Eon is available at a start price of Rs2.51 lakh. Hyundai Eon also comes with LPG and CNG variants. But that's not all. The good news continues with other models too.
There are offers of up to Rs55,000 on the new next gen i10. iGen i20 (petrol) is available with a whopping discount of up to Rs41,720. Enjoy up to Rs25,000 benefit on the new Fluidic Verna (petrol). As for its luxury and premium range of vehicles — the new Sonata and Santa Fe — Hyundai is offering a three year/ 60,000 km total maintenance assurance.