Adarsha Seelan, general manager, Cauvery Ford, explains why his team never loses the drive to perform.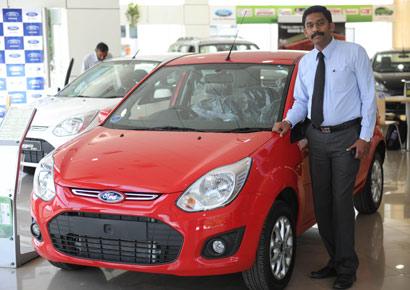 After the death of Henry Ford, a cardboard shoebox containing his personal belongings was found under a workbench in the experimental laboratory at his home. In it, among other things, was a tightly sealed test tube with a neatly printed label that said: Thomas Edison's last breath.
Ford was devoted to Edison because the inventor encouraged him to go ahead with his petrol-driven automobile back in 1896 when most people were scoffing at the idea.
After that, there was no looking back, both for Ford and the cars he created. His enthusiasm is visibly evident even today, not just in the Ford conglomerate, but also among its dealers and distributors.
A case in point is Cauvery Ford. Nestled in the heart of the city, this exclusive Ford dealer ensures that the customer gets the best Ford experience. The showroom is spearheaded by Adarsha Seelan, general manager, Cauvery Ford. His calm, composed persona accentuates his undying passion for work, which is also his hobby. "I don't have any other hobby besides selling cars and talking to customers," he says with a grin.
Thirteen years at Cauvery Ford has taught him to trust people, their talent, and their commitment to work. "I totally believe in my manpower. That's why I ensure that the workplace has a feel-good factor. People should feel like coming back to work every day. If the employees are happy and motivated, sales will automatically go up," he says.
Constantly keeping the workforce in good spirits is a challenge to any company. Nonetheless, Seelan, through its unique motivational programmes, helps the salesforce scale new heights. "When the IPL was going on, I came up with an employee competitive programme called the CPL, or the Cauvery Premier League. That month, sales went up by 25% and profits by 40%," he recalls.
Customer experience and satisfaction is the key to the company's growth. "Although our showroom is located bang in the middle of the city, many a time, customers do find it hard to visit us. So, we end up approaching them at their doorstep and make it convenient for them. By doing this, we've noticed that customers make quick purchase decisions," he says.
Customers, both existing and would-be, are important to Cauvery Ford. "About 45% of the sales happen through referrals. So we keep both the old and new customers engaged through exclusive activities," he says.
Although Ford cars are top notch and with a world-class tag, selling them even to those who can afford these can be painstaking. The reasons are aplenty, cites Seelan. Earlier, there were very few car dealers. Today, that number has gone up. Some dealers house multiple brands in their showrooms, giving the customers the option and opportunity to pick and choose what they want.
"But being a Ford-exclusive showroom, this poses to be a challenge. But fortunately, we end up doing our job and keep the numbers rising. I always believe in a brighter tomorrow," says Seelan, who is an eternal optimist and converts every problem into an opportunity.