Image consultant Samita Sawhney explains how you can avoid being thin-sliced just by choosing the right jewellery for your colour palette.
The outfit is immaculately styled, the make-up is flawless and yet, something isn't quite right about the entire ensemble. Samita Sawhney, an image consultant at Finishing Touches—a finishing school that amalgamates skin care, make-up, image consultancy through styling, corporate grooming, wellness, etiquette—highlights how sometimes it could merely stem from the colours opted for on that day.
Skin tones
Designers and stylists are always hurling around words like "warm" and "cool" colours and more often than not, we buy it as some fashion-meets-unnecessary-jargon term. However, it isn't just another load of hogwash; there is such a thing as wearing your colour palette. In fact, Sawhney shares that there are three types of skin tones: warm, cool and neutral. And the way to determine that is more straightforward that we'd imagine: rub your hands hard against each other until they turn red. As the pink tinge begins to fade away, your skin will either have a blue hue to it or a yellow one, making you either cool skin toned or warm skin toned respectively.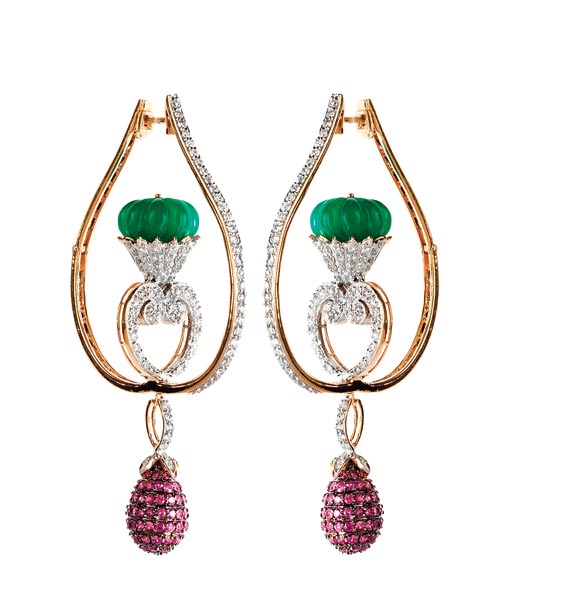 18 K yellow gold floral earrings with semi-precious stones, studded with diamonds (Manubhai Jewellers)

Deepika Padukone, for instance, falls under the warm skin tone category, Priyanka Chopra would be considered cool and finally, Kareena Kapoor is neutral. Sawhney explains that warm skin tones work well with gold, cool ones are highlighted with silver and platinum and neutral ones can pretty much work with any colour on hand. Diamonds might be a girl's best friend but unless used right, the best friend can look anything but attractive.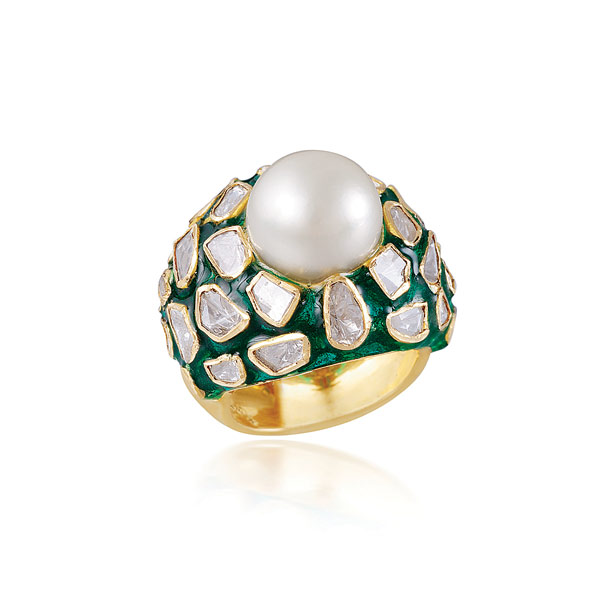 Chunky yellow gold ring with pearl and green enamelling (Mahesh Notandass)

Eye colour
Indians do not usually have contrasting eye colours, explains Sawhney. But those that do, need to factor in skin tone along with eye colour when opting for jewellery. Kajol and Rani Mukherjee have green eyes and have a warm skin tone; brown clothes along with warmer-coloured jewellery would suit them to the T, believes Sawhney. People with lighter eyes but neutral skin, on the other hand, have more leeway in terms of the colours they can play around with.
Hair colour
Sawhney explains that hair colour plays a large role in highlighting certain hues and nuances in our skin tones. Skin tones, in fact, have three phases of evolution: 16 to 20 years old, 35 to 40 and finally above 50. Cool tones tend to get warmer with age whereas warm ones get cooler with time; add to that the fact that some women highlight their hair and you have yourself an entire new colour palette to play with.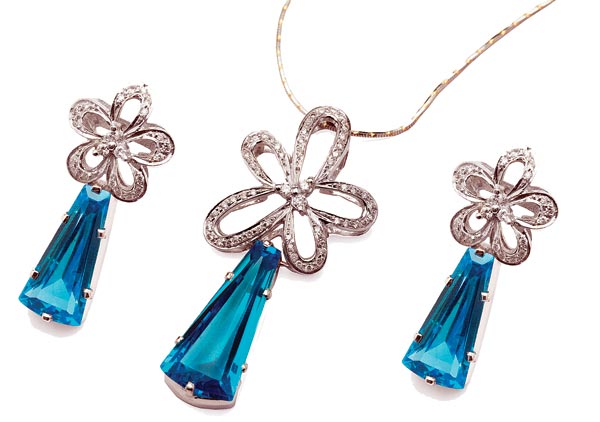 Delicate pendant and earrings set in 18 K white gold with semi-precious stone and white round diamonds (Manubhai Jewellers)

The next time you hit a fashion snag with your saree fitting you like a glove but the entire look making your face look bland—the outfit may not be the reason why you seem to fade into the background. Next time, opt for jewellery tones that might just complement your skin colour in a way that you hadn't thought of before!