With the recently concluded Coachella festival sending out heebies-jeebies across the style spectrum, After Hrs decodes sartorial choices appropriate for music fest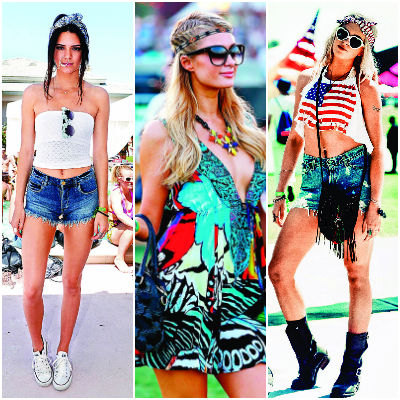 Bindis and nose rings were the two leitmotifs at Coachella 2014. A blogger commented, "Celebrities are wearing a lot of dumb things at Coachella, and bindis are definitely the worst."
She went to add, "Hudgens is the living and breathing incarnation Coachella, and such she's the best indicator of a year's big Coachella trends. Last year was full to bursting with flower crowns, crocheted tops, and heart-shaped sunglasses. This year, everyone is wearing bindis. No Fashion Woodstock costume is complete without a little cultural appropriation." Phew!
Designer Namrata Joshipura says, "I think the big nose ring at Coachella was highly inappropriate. Don't just add anything random to the look to merely stand out."
NY Mag lamented that 2014 is the year when the festival fashion truly died. "Coachella's style tropes are broad, ranging from just-off-the-runway Carven to Laurel Canyon boho to rave-inspired cartoony costumes," the mag posted.
We spoke to our style arbiters on what's the appropriate ensemble for music fests in the Indian scenario.
Florals, Fringe, Flats: No brainers
Music and fashion commentator Zahra Khan says, "I think many people will agree that today, music festival season has legitimately become the other fashion season in India after fashion week. Music and fashion have always gone hand in hand, and bohemian style icons like singer-actress Monica Dogra and Anushka Manchanda are always popular. Taking a cue from their unique personal style, it's important to dress in a manner that is reflective of your individual personality. Having said that, I think the three Fs - florals, fringe and flats - are pretty much no-brainers when it comes to music festival style. Crop tops paired with shorts or midi skirts, boho maxi dresses or roomy racer-backs paired with fitted pants and boots all work really well. The idea is to go with a look that's easy-breezy but still makes a statement through bold colours or funky prints."
Zahra adds, "And ladies, resist the urge to wear heels. You'll be wandering from stage to stage checking out various acts, shopping at the flea markets or just generally chilling around the bar, so comfort is key. Especially avoid tottering around in stilettos (yes, that happens!). I've lost count of the number of women I've seen hobbling around in heels at festivals and I always wonder what devil possessed them to do that. Even the shortest heel will feel like hell after a point!"
The fine line
Designer Namrata Joshipura says, "Irrespective of whichever part of the world the music fest is taking place, the style has to be slightly more High Street. For instance, at the Glastonbury in London the vibe is mucky, grime and people live in tents. Icons like Kate Moss go in a pair of shorts worn with a great top. However, one has to remember that one's not going for a run. The choice of accessories and shoes has to be interesting but not an overly dressed up look. There's a certain demographic who dresses up like they are going to a club. There's difference between dressing up for a club and dressing for a music fest."
Be precarious and bold
Singer and designer Monica Dogra says, "Music festivals are portals into an alternate reality where self-expression and indulgence are of the utmost importance. Costumes, jewellery, signage, sunnies, flags, rags, skin, layers - anything goes - just lean into the opportunity to be precarious and bold in way that real life doesn't not afford you the opportunity."