Indians were shocked at the death of Savita Halappanavar, who died in Ireland recently after being denied an abortion. But with six pregnant women dying every hour in India, the situation within our borders is much worse.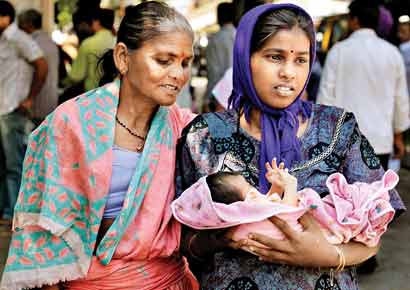 India might think it is championing dentist Savita Halappanavar's cause, who died in Ireland recently due to pregnancy-related complications after being denied a medical termination of her pregnancy. While welcoming the support, her widowed husband Praveen Halappanavar would like the government to set a few things in order in India as well. "From the first day, Ireland Health Service authorities have talked of India's poor Maternal Mortality Ratio." While insisting that this has got little to do with how Savita lost her life, he says that he understands the grief of families in India who have lost child-bearing women, "I would never want to be in their position," he says.
In 2010, the government recorded around 57,000 deaths due to complications in pregnancy and child birth. That translates to six deaths of pregnant women every hour, and one every 10 minutes according to the health ministry figures given to the UN. Currently, the Maternal Mortality Ratio (MMR) of India is 212 per one lakh live births — the country hopes to reduce this figure to 109 per one lakh live births by 2015.
But the callousness of authorities is appalling even in urban areas. Take the case of 22-year-old Manda Manje, who died in February at Sion Hospital. "By the time she was referred to Sion (hospital) after going to Shahapur, Ulhasnagar and Kalwa, the baby had died in her womb, and her body was in shock. At Sion Hospital, the nurses insisted that I buy an injection worth Rs500, which we did not have. When we told them that we only had Rs80, treatment was stopped and Manda died."
According to rules, patients like Manda, who have a Below the Poverty Line (BPL) card, are entitled to free treatment. But there are many cases where the families are forced to pay up.
The Shid family from Thane district landed up in Sion Hospital a month after Manda had died there. Kavita Shid, who was nine-months pregnant, had fainted while winnowing rice, and was taken to the rural hospital in Murbad. She was referred to Sion Hospital where — following a Caesarean — she delivered a baby girl.
Barely had Kavita been shifted out of the ICU, when the hospital staff asked the family to pay Rs4,000 for blood given to Kavita. "We work as labourers, and don't even have money for a plastic awning over our hut's leaky roof in the monsoon. I showed them our BPL card but they said we'll still have to pay," said Narayan Shid, Kavita's father-in-law.
"The local primary healthcare staff had told us that the mother-to-be and the new-born are the government's responsibility from the time the mother leaves her home till she comes back. Had we known it'll lead to debt, we would have simply had her deliver the baby at home from a local midwife," says her husband Mahendra, who along with his father, is now working as a bonded labourer at a local brick kiln to pay off the Rs5,000 they borrowed from the kiln owner to pay the hospital.
"Everybody wants to stand with the well-to-do to help them fight for their rights, so the Indian government's stand is understandable. Who will want to hear poor adivasis like us?" smiles Narayan, reacting to the Indian government stand over Savita Halappanavar's death.
The situation within Mumbai is no better. In the Cheeta Camp slum in Trombay, many women prefer to go to the local dai instead of the civic hospital in Govandi. Arefa Shahanawaz Sheikh, lost her sister-in-law, Nargis, and her baby, during a delivery at home three months ago. Yet, she wants to have her own second baby at home. "For my elder one, some neighbours asked me to register, and go to the hospital. While I was howling in pain in the last stage of labour, the staff kept mocking me, asking I was shouting since I must have enjoyed the sex." She says she was willing to tolerate the same blood-soaked gowns that other women had worn and the poor hygiene standards at the hospital. "But the way they taunted me made me weep. I decided then and there that I will never come back."
It's worrying that these cases are from Maharashtra, which has a comparatively better track record on maternal mortality. "We already have an MMR of 104," gloats state health services director Archana Patil, referring to the government of India's goal of reaching an MMR of 109 by 2015. She admits though, "There is still scope for improvement and we are doing our best."
That "best" is not enough, says Delhi-based health activist Rekha Rao. "If you think Maharashtra has such horror stories, you can imagine what it is like in Uttar Pradesh, where the MMR is 314, or Assam, where the MMR is 448."
As Shalini Bharat, professor at the School for Health System Studies, Tata Institute of Social Sciences, puts it, "At a time when India wants to sit at the high table as an emerging super-power, indices like MMR are an indicator of the gulf between the poor and the rich."